Pandemic Yet Another Challenge for Drazin and Monmouth
Image: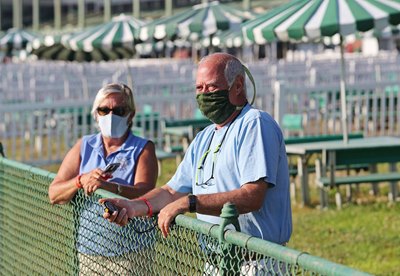 Description: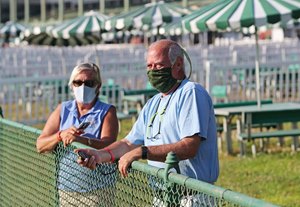 Monmouth Park has surely faced more than its fair share of obstacles and challenges in the last decade and a half.
"You can start with the Breeders' Cup and since then there's been a lot of bumps in the road," trainer Kelly Breen said.
For those with foggy memories of the 2007 Breeders' Cup, Monmouth Park's lone chance to play host for the World Championships was heavily dampened by a prolonged monsoon that soaked fans and turned the main track into a quagmire and reduced the turf course to bog.
In the ensuing years, failed attempts to add casino wagering led to a prolonged financial decline, but in 2019 the long and insufferable wait for an alternative source of revenue finally came to end on two important fronts. 
Thanks to the legal prowess of Monmouth Park CEO and chairman Dennis Drazin, the track was victorious in a case brought to the Supreme Court that paved the way for Monmouth Park, the rest of New Jersey, and other parts of the country to offer sports betting.
Coupled with a new $10 million annual purse stimulus from the state, racing at Monmouth Park was suddenly on the upswing and optimism was high for a banner 2020 season.
Then the pandemic hit.
Yet as the first major holiday of the summer approaches, that indomitable will to survive that kept Monmouth Park afloat during the lean times of recent years has once again come to the fore during what promises to be a unique 75th season of racing at the Jersey Shore. Embracing the challenge of operating during a pandemic that hit New Jersey particularly hard, Drazin and his team went to work on establishing protocols that have enabled the Oceanport, N.J., facility to open for racing July 3 with a limited number of fans in attendance and a purse level of about $500,000 a day that's similar to the end of last year's meet.
"We've been working on this for a while," Drazin said. "(New Jersey Gov. Phil Murphy) has been good to the industry and he's taken a leadership role in the country in trying to do the right thing in terms of coronavirus and safeguards. We've worked hard with the governor's office and his committees, trying to advance re-opening the state, and we were pleased when we got the heads-up that we could open with fans.
"We're hoping to have a great meet," he continued. "We have a lot of horses on the backside. People are anxious to run. We hope to have 12-14 races on (July 4-5) and move forward from there."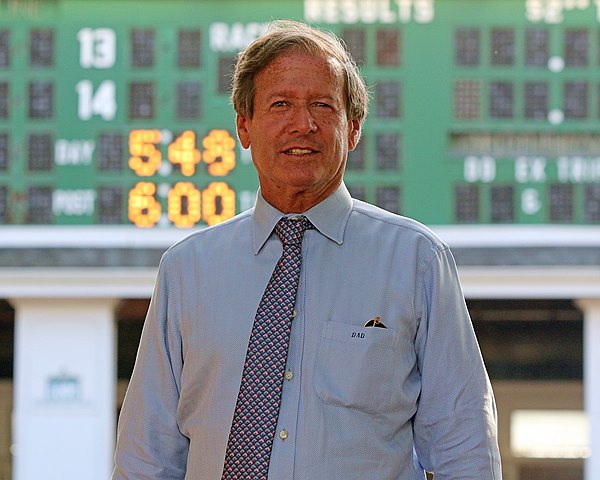 Originally scheduled to begin May 2 with a 56-day meet, racing will resume with the first of its weekly 5 p.m. Friday twilight cards that will usher in 37 days of racing with 35 stakes and no parking or admission fees except for the July 18 TVG.com Haskell Invitational Stakes (G1) program.
The initial card attracted 57 horses for six races, though how many people will be on hand remains cloaked in mystery. A typical Saturday opening day at Monmouth Park could draw between 10,000-15,000 fans, and while guidelines will allow 25% of capacity throughout the grounds, there's no telling if 5,500 or 5,000 people will turn out on a regular basis.
"I'm curious to see how many people will turn out," said John Heims, Monmouth Park's director of racing and racing secretary. "Will it be the thousands who are clamoring to be outside or will there be thousands who stay away because they are afraid. I can't answer that at this point."
What the horsemen and spectators on hand can expect to find at the racetrack and its William Hill Sports Book, which re-opens July 2 after closing March 16, is a strict adherence to social distancing and safety protocols such as face masks.
"I can't open Monmouth without following all of the governor's guidelines," Drazin said, "so we will be doing all of the health checks, taking temperatures, and doing the screening. We are going to make sure people maintain social distancing. We will go to extremes in cleaning everything, and keeping people six feet apart in lines. We're all partners in this, in trying to prevent deaths and prevent a spike, but it's a matter of whether people will cooperate. If people are not social distancing, we will have guards and you will have to leave.
"This is a deadly disease that spreads like wildfire and if you are elderly or compromised, it could be life or death, so we are doing everything we can, though there is no fail-safe," he added while saying there has not been a COVID-19 case on the backstretch. "But it's our intent to show people that we are working hard to do everything possible to protect them and give them a sense of security so they can feel good about coming here. I know some people will not come back this year, and I understand that, but we will do the best we can to protect people."
While owners and spectators will be allowed inside the racetrack, they will not be allowed in the paddock (only a trainer/assistant trainer and no more than two handlers are permitted) or the winner's circle. Backstretch access is also limited to essential personnel, which does not include owners, though morning workouts can be viewed from the racetrack's Blu Grotto Ristorante.
The saddling stalls in the paddock will be sanitized after each race and riders will have individual six-foot areas with partitions in the jockeys' room. Riders will also need to be tested for coronavirus prior to the start of the meet.
In addition, measures will be taken to set up a safe buffer between tellers at the wagering windows and customers. With outside food and beverages banned, safe distancing will be established at concession stands and outdoor dining areas.
Monmouth Park already had a successful dry-run for bringing people into the grounds June 20 when a couple of hundred patrons turned up throughout Belmont Stakes Presented by NYRA Bets (G1) Day for outdoor seating at the Lady's Secret Café and the Blu Grotto despite the lack of wagering machines or live racing.
"It's been a challenge and we did everything we could, going above and beyond what was necessary, to make sure we could race this summer. We want to avoid crowds, and we don't anyone coming back and saying we are not following the protocols. If anything, we will be stricter than we need to be to make sure everyone is safe," Heims said. "Our barn area has been insulated since day one and we are going to continue with that. I've had owners complain that they can't see their horses and I understand they are unhappy, but if they want, they can move their horses to somewhere else. We are not going to take any risks for this insulated community that we've created to allow people who are not essential to be there. It's nothing personal and most people understand, but you do get exceptions."
Judging by what Breen has heard from his owners, there's a ground swell of interest in being able to get out of the house and spend a summer day outdoors at the races.
"People need to come out of their houses and Monmouth Park has a big open area, so people should be able to come out and have fun," Breen said. "As long as it's not like what we're seeing in some bars and beaches, people need to get out a little bit. Hopefully this will be a good experience for them. Monmouth Park is one of the prettiest spots in all of New Jersey and with the chance to have some fun and gamble a little, this is the place to go."
The shortened meet did not impact the Haskell itself and, if anything  it has enhanced the meet's centerpiece day. Monmouth's other grade 1 stakes, the $300,000 United Nations Stakes (G1T), was shifted to the July 18 card that features five graded stakes, which is half of the track's total for the meet.
Without question, the competition for top-level 3-year-olds in mid-July will be fierce. The Ohio Derby (G3) attracted 13 starters June 27 and from July 4-16 there will be stakes opportunities and Kentucky Derby Presented by Woodford Reserve (G1) qualifying points on the line in the July 4 Los Alamitos Derby (G3), July 8 Indiana Derby (G3), July 11 Toyota Blue Grass Stakes (G2), and July 16 Peter Pan Stakes (G3). 
Helping the Haskell's cause is that it offers the alluring combination of grade 1 status plus the highest purse of all at $1 million as well as the maximum non-Triple Crown 100-40-20-10 Kentucky Derby qualifying points, a free spot in the Longines Breeders' Cup Classic (G1) through the Breeders' Cup Challenge Series, and a $1 million bonus if a horse can sweep the Haskell, Kentucky Derby, and Classic.
As result, Heims says he has about 11 potential starters for the nationally televised (NBC) 1 1/8-mile stakes for 3-year-olds, led by Authentic, trained by eight-time Haskell winner Bob Baffert, Dr Post, Max Player, Ny Traffic, and Ete Indien.
"There are a lot of incentives to run in the Haskell," Heims said.
Overall purses are healthy as reflected in values of $47,500 for maiden special weight races, $59,375 for a New Jersey-bred maiden special weight, and $21,000 for a $5,000 claiming race.
"The purses are good, the money is good," Breen said "I'm like a lot of people in the Northeast whose horses haven't been able to run. We all need to make a dollar so I'm happy to be racing and excited about being at Monmouth Park on the Fourth of July. It's much better than a few months ago when it was like living in a scary movie and you're wondering what's going to happen next. Where's the big scare or what can go wrong next?"
Also, due a short seasonal meet as opposed to year-round racing at larger circuits, Monmouth Park can cover workers' compensation costs and pay owners at least $500 a starter and give trainers $300 for each start at the meet.
The elephant in the room is what racing at Monmouth Park will resemble without perennial leading trainers Jorge Navarro and Jason Servis, who are facing federal race-doping charges and could be jailed for several years if convicted. Navarro, the leading trainer at Monmouth Park the last seven years, and Servis combined to rake in 16% of the purse money at the Oceanport track.
At one point, with uncertainty about racing in neighboring states, Monmouth had 2,500 stall applications and a waiting list for one of the approximately 1,500 spots on the backstretch. With Friday's opening card a few days away, there are roughly 1,250 horses on the grounds, with more expected to arrive after the July 8-12 Keeneland meet and some stables facing problems in shipping in due to travel restrictions from areas where COVID-19 has recently spiked, such as Florida.
Given all of the circumstances, Heims is delighted with a barn area that includes 48 horses from Breen and about 50 from four-time Eclipse Award winner Chad Brown as well as strings from newcomers such as Jerry Hollendorfer and Nick Caruso and returning outfits handled by the likes of Michael Stidham, Jose Delgado, Pat McBurney, and Gregg Sacco, plus a larger presence for Jonathan Thomas.
Among a riding colony topped by Joe Bravo and Paco Lopez will be apprentice Ferrin Peterson, whose agent is Hall of Fame rider Julie Krone, a three-time rising champ at Monmouth Park.
"We've been laying the groundwork for this the last few years," Heims said. "We've gone to Louisiana to talk to horsemen as well as South Florida and Tampa and Arkansas. People know we cover workmen's comp and that's a serious issue for people. It makes a difference when you are trying to operate a serious business if that money does not have to come out of your pocket. You'll see at the end of the year that racing in New Jersey can make a difference. On top of that, owners get $500 and the trainer gets $300 a start.
"We know New Jersey is an expensive place to live during the summer, even if that may be an anomaly this year because of the pandemic," he continued. "If I come in with a stable of 20 and can make 50 or 60 starts, that $18,000 can be enough to cover my rent."
So far the horses and horsemen have come. As for how many fans will come and spend part of the Fourth of July holiday at the Jersey Shore racetrack, more will be known this weekend as Monmouth Park once again deals with yet another obstacle.