I'm So Anna Edges Teddy's Barino in Fleet Treat
Image: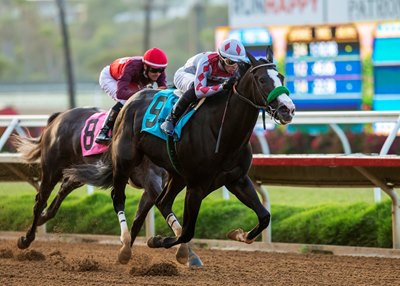 Description: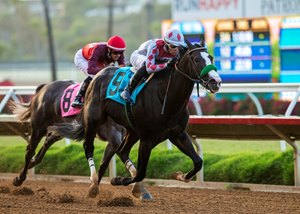 KMN Racing's I'm So Anna  fought off a determined rival in Red Baron's Barn and Vaya Con Suerte's Teddy's Barino  and drew clear late for a length tally the $176,000 Fleet Treat Stakes for 3-year-old California-bred fillies July 23 at Del Mar.
The homebred daughter of the late stallion Fast Anna was hooked by Teddy's Barino right from the git-go and was still fighting her off at the sixteenth pole. But the winner had a bit extra in the tank and got home to give rider Kyle Frey his first stakes win at Del Mar.
Teddy's Barino finished second, a half-length in front of the race favorite, Harris Farms' rallying runner Closing Remarks . Final time for the seven-furlong test on a fast track was 1:24.34 following fractions of :22.58, :45.86, and 1:10.98.
"She had a pretty good battle down the lane (with Teddy's Barino), but I wasn't so much worried about the horse inside me, I was concerned about once coming from the back," said Frey. "That's a bad way to lose a race.
"Yes, I was planning on heading back up (to his base) Northern California after a week here, but I'm doing so good I must admit I am seriously considering sticking around. We'll see."
I'm So Anna ($13.40) is trained by Steve Sherman, who races primarily in Northern California and had his father Art—famous for his handling of two-time Horse of the Year California Chrome  —deputized for him to saddle the dark bay or brown filly.
"She's just a hard-trying filly. She's won a couple of stakes (at Golden Gate Fields), we always loved her, and we've had her down here before," said Art Sherman. "She can run on the grass or the dirt. I'm looking at the replay and she was hooked all the way but showed her heart. She wants to beat you. I love her.
"The owner breeds some nice horses and Steve was lucky enough to get this filly as a 2-year-old. This stake has been on the radar for a while. You got a Cal-bred that can run, it's nice." 
KMN Racing is the nom du course of Kimberly and Kevin Nish of Orlando, Fla.    
Fast Anna, a son of the top stallion Medaglia d'Oro  , stood at Three Chimneys Farm in Kentucky before succumbing to laminitis earlier this year.
I'm So Anna increased her earnings to $289,740 from a 4-2-3 record in 12 starts. She is the lone starter from three foals out of the winning Jet West  mare So So Fast , who was produced from the stakes-winning Tizakitty , a half sister to grade 1 winner and stallion Paynter  .