Breed-Shaping Broodmare Leslie's Lady Dies at 26
Image: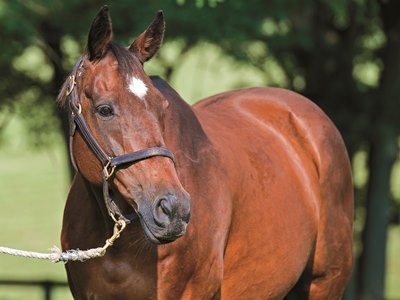 Description: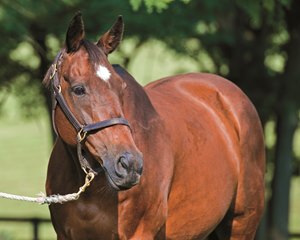 Clarkland Farm's horse of a lifetime and 2016 Broodmare of the Year Leslie's Lady  died peacefully during the early morning hours of Jan. 24, according to Marty Buckner, who runs the family farm with her father Fred Mitchell. The daughter of Tricky Creek was 26.
"She did what 'Leslie' does. She went out with dignity and on her own terms," said Buckner. "Her last day was a good one. She was living in retirement with Hidden Assets, and they have a beautiful spot, a nice big field."
Leslie's Lady was buried near the farm's entrance.
Fred Mitchell and his late wife Nancy bought Leslie's Lady for $100,000 at the 2006 Keeneland November Breeding Stock Sale. She was a stakes winner of more than $187,000 and had already produced several foals, including at the time a Harlan's Holiday yearling named Into Mischief  .
"Like a lot of the good horses, you remember where you were when you first saw them," Buckner said. "She was typical of what my mom was looking for—she was a stakes winner at 2, had just turned 10, and already had a few foals on the ground to get her started and one of them had already won its second race."
Fred Mitchell said when shopping for broodmares, he focused on conformation and Nancy vetted the pedigrees. Leslie's Lady was being sold in 2006 as part of dispersal for the late James Hines' estate. The dispersal had two mares that appealed to the Mitchells, the other being Ruby Surprise, a daughter of Farma Way, whose dam the Mitchells had owned for several years. They ended up buying both mares.
"Nancy really loved 'Leslie's' pedigree," said Mitchell. "I liked her because she had a gorgeous eye, a tremendous shoulder, girth, and enough of a hindquarter on her. When she stood out in a field up on a hill, and the sun was on her, that was what you would picture a Thoroughbred mare to look like."
A Day in the Life: Broodmare of the Year Leslie's Lady
Leslie's Lady would produce 15 foals, of which nine became racehorses and seven were winners. Her most successful horses bred by Clarkland Farm were Beholder , who won 11 grade 1 stakes, earned four championship titles in 2012-13 and 2015-16, and retired with $6,165,600; and, grade 1 winner and sire Mendelssohn  , who earned $2,542,137. At auction, Leslie's Lady's progeny generated more than $13 million in sales for Clarkland Farm. Her daughter America's Joy, by Triple Crown winner American Pharoah  , sold for $8.2 million at the 2019 Keeneland September Yearling Sale.
Clarkland has retained ownership of Leslie's Lady's last two foals—a 3-year-old named Marr Time  (Not This Time  ), who won her racing debut at Keeneland in October; and, a 2-year-old filly by Kantharos   named Love You Irene.
"You can't put into words how important she has been. She secured the future of my parents and took so much pressure off the farm," Buckner said. "She provided to every family member and every crew member on the farm so many tremendous thrills. You could not dream this up. It was such an honor to take care of her."
"She made the farm and the horse business more enjoyable than I ever thought it could have been," added Mitchell.