McGrapth Pleads Guilty to Cruelty, Felony Charge Added
Image: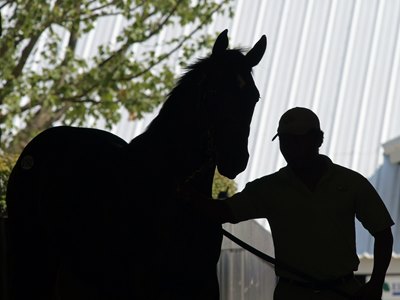 Description: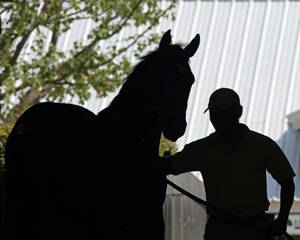 With the entry of a guilty plea to multiple counts of animal cruelty in Bourbon District Court on May 11, the case against Xavier McGrapth moved closer to a conclusion, but McGrapth's legal problems now include a separate felony charge lodged against him.
McGrapth, with Lexington attorney Braxton Crenshaw present, changed his not guilty plea to guilty as charged on 13 misdemeanor counts of animal cruelty in the second degree. He submitted himself to sentencing by District Judge Mary Jane Phelps June 22.
The case arose on March 19, 2021, when two dead and nearly a dozen malnourished horses were found by Bourbon County sheriff's deputies on a farm McGrapth leased near Paris, Ky., for his fledgling boarding and training business. Over three weeks later, McGrapth turned himself in and was arrested. He's been free on bond since then.
A person convicted or pleading guilty to the offense of animal cruelty in the second degree is, by the terms of the statute, subject to the court ordering restitution be paid for damage to the property of others and reasonable costs incurred in "feeding, sheltering, veterinary treatment, and incidental care of any equine that was the subject of the offense."
Bourbon County Attorney G. Davis Wilson told BloodHorse last year attempts to settle the case were difficult. "There are a lot of victims that believe they are owed restitution, and that has been a complicator in this case," he said.
BloodHorse also previously reported that, according to some of the affected horse owners, a proposed settlement made by the county attorney was rejected by the owners a few months ago. Under the proposal, McGrapth would have been sentenced to 360 days in jail and serve 180 days with the balance to be probated for two years on the condition that there be no new offenses, no contact with horses or animals within or without an animal-related occupation, and that restitution be made.
The impasse was partially broken in late April when Crenshaw filed a motion asking leave for McGrapth to enter a guilty plea as charged without a jury trial so that Phelps could decide the case after hearing everyone out.
While accepting the plea May 11, Phelps ruled that the county attorney may file victim impact statements no later than June 15 to be considered by the court at sentencing a week later. A jury trial set for May 12 was removed from the court docket.
Whether a restitution order resulting from the sentencing hearing would bear fruit is in doubt, according to New York owner/breeder Blaine Gerow.
"Xavier doesn't own anything, and he has no money, so I don't know that restitution means much," Gerow told BloodHorse early this year. He said the neglect cost him $15,000 to $20,000 and lost training time.
Lurking in the background of McGrapth's legal problems is a class D felony charge levied earlier this year called theft by failure to make required disposition of property. The incarceration range is one to five years, while the misdemeanor animal cruelty charges against McGrapth carry a maximum of 12 months of incarceration.
The felony complaint alleges McGrapth failed to use funds totaling $2,940 paid to him in January and February 2021 by Gerow and Donald Peterson to train and board a Thoroughbred in Bourbon County.
The same day McGrapth is set to be sentenced in the animal cruelty cases, a preliminary hearing is scheduled for the felony charge. Assuming the hearing takes place, Phelps must make a determination as to whether there is probable cause to believe McGrapth committed the offense. If so, the case will be forwarded to a grand jury.