Sodashi Back on Turf in BC Challenge Race in Tokyo
Image: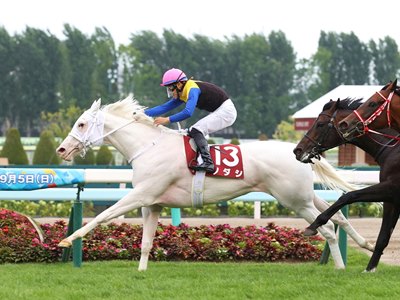 Description: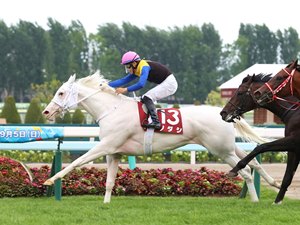 A white filly, an injury returner, and a Saudi winner contribute to quite the mix for the Victoria Mile (G1) field May 15 at Tokyo Racecourse—a "Win and You're In" event for the $2 million Maker's Mark Breeders' Cup Filly & Mare Turf (G1T).
The white one, of course, is Sodashi. The Kurofune  filly retains a huge Japanese fan base even though her career has tapered off since she won her first five starts, including a pair of grade 1 events.
Daring Tact, a 5-year-old daughter of Epiphaneia, was diagnosed with a suspensory injury after a third-place finish in the Queen Elizabeth II Cup (G1) in April of 2021 in Hong Kong and has not started since.
Songline, a 4-year-old Kizuna  filly, leads what's sure to be a parade of Japanese runners returning to local competition after starting their season in the Middle East. She was last seen capturing the 1351 Turf Sprint presented by STC (G3T) in Riyadh Feb. 26.
That trio will face off against some others who have demonstrated the ability to perform at this level. Lei Papale  has finished second in each of her last two, most recently the Osaka Hai (G1) at Hanshin, and cuts back in distance. Resistencia was second in both the Sprinters Stakes (G1) at Nakayama in October and the Longines Hong Kong Sprint (G1) in December.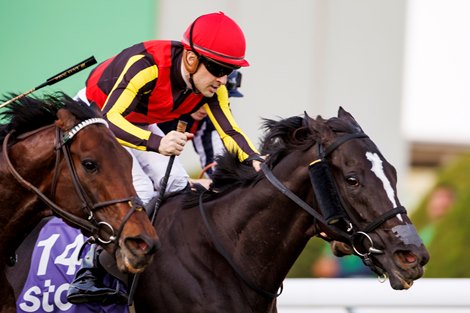 Meisho Mimosa comes to the Victoria Mile off her first-ever graded stakes win—a grade 2 event at Hanshin—in her 26th career start.
Many of the punters, though, will be focusing on the three aforementioned rivals.
Sodashi showed some signs of life in finishing third in her last start, the February Stakes (G1) on a sloppy Tokyo dirt track. Before that, she had been soundly trounced in three of her previous four starts, albeit against top-shelf rivals.
Trainer Naosuke Sugai commented on the eye-catching filly: "I thought it was a good result last time in the February Stakes. It seems that she's suited by the mile at Tokyo, with just the one turn over that distance. She has had her break at the farm, but in recent training since being back, she's been running well and showing good speed."
Hayato Yoshida will get Sodashi going from the No. 5 gate in a field of 18 as she returns to the grass course and both trainer and jockey said the popular miss seems to have tempered her sometimes volatile behavior with maturity.
"Hopefully for her many fans she'll give a good account of herself," Sugai said.
Daring Tact's main job in the Victoria Mile is to show she's fully recovered and not too rusty to compete. Trainer Haruki Sugiyama in mid-April said the 2020 Yushun Himba (Japanese Oaks, G1) winner was about 70% and, after the May 13 barrier draw, jockey Kohei Matsuyama said the filly continues to advance.
"In her last piece of work, I just checked her changing leads and her overall rhythm," Matsuyama said. "She moved well, and I was careful not to overdo things with her. She feels a little bigger now but I've been able to see her improvement these past three weeks … It feels like a fresh start with her now, so I want to do my best."
And for Songline, trainer Toru Hayashi says a bit of rest and relaxation has restored her fettle after the long Saudi trek.
"She is in very good condition after her stay at Northern Farm Tenei, and since returning to the stable, she's been showing just how well she can run in her recent work. Mentally and physically she's in great shape."
Daring Tact drew the No. 1 gate to start the long run down the backstretch to the turn. Songline starts right next to her with Kenichi Ikezoe named.