Stars on Earth, Circle of Life Rematch in Japanese Oaks
Image: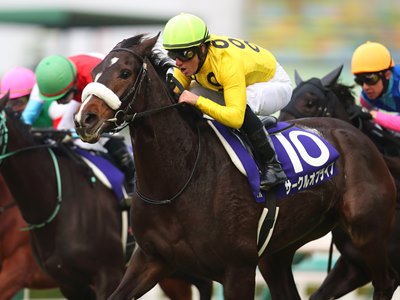 Description: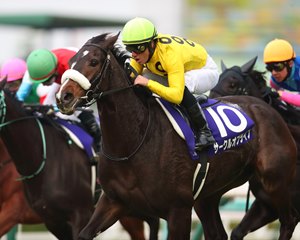 Familiar rivals Stars on Earth and Circle of Life get marquee status in a wide-open lineup for the Yushun Himba (Japanese Oaks, G1) May 22 at Tokyo Racecourse.
Circle of Life flashed potential while winning the Hanshin Juvenile Fillies (G1) to cap her 2-year-old season. A third in the Tulip Sho (G2) in her 3-year-old debut was a disappointment, followed by a fourth-place finish behind winner Stars on Earth in the Oka Sho (Japanese One Thousand Guineas, G1) in their last start.
Now both fillies jump from that one-mile test to race 2,400 meters (about 1 1/2 miles) in the Oaks, plus the added challenge of the uphill climb through the Tokyo Racecourse stretch.
Stars on Earth, by Duramente , was a surprise in the Oka Sho, scoring her second career win while trying grade 1 company for the first time. She had to fight for running room in the stretch in that race and displayed a nice turn of foot to get the win once she saw daylight. Trainer Mizuki Takayanagi said traffic may have worked to her benefit.
"In the Oka Sho, she took the bit nicely from early in the race, and did get into position," Takayanagi said. "It was further back than ideal though, and she had trouble making progress. In the stretch, some horses on the inside moved out on her, but with horses on both sides of her, she didn't lug out as usual and she gained nicely to the end."
As to distance, he said Stars on Earth "debuted at 1,800 meters and I think she'll like having more distance."
Sakae Kunieda, who trains Circle of Life, said the Oka Sho "unfolded in such a way that it favored horses with inside gates and those with early speed. The jockey was aware that race favorite Namur was on the outside and that may have affected his timing. She went wide into the stretch and, even so, was able to run solidly to the end. It wasn't a bad performance."
He also said his filly should be able to handle more distance and judged the move to Tokyo "a plus."
"I'm expecting her to do better than she did in her last race," Kunieda said.
Water Navillera, third in the Hanshin Juvenile Fillies and second by a nose in the Oka Sho, also returns.
"It was frustrating to lose by a nose but there are no regrets," said trainer Koshiro Take. "I don't know how she'll do at this distance but all the horses are in the same boat."
The major trials for the Yushun Himba include the Sankei Sports Sho Flora Stakes (G2) at 2,000 meters at Tokyo and the Flower Cup (G3) at 1,800 meters at Nakayama.
Erika Vita, a daughter of King Kamehameha , Personal High, by Deep Impact , and Sincere Wish, a Kizuna  filly, finished 1-2-3 in the Flora and return. Also back are the first two from the Flower Cup: Stunning Rose and Nishino Love Wink.
Erika Vita makes just her fourth start. She won her debut at Tokyo, finished 10th in the Fairy Stakes (G3) in January, and then rebounded to win the slowly run Flora Stakes April 24 at 2,000 meters, also at Tokyo.
Art House, a Screen Hero  filly, won the listed Wasurenagusa Sho at 2,000 meters at Hanshin, another race known to produce Oaks contenders, in her last start and will take her chance in the Oaks, too.