Golden Pal Among Five Ward Trainees to Breeze for Ascot
Image:
Description: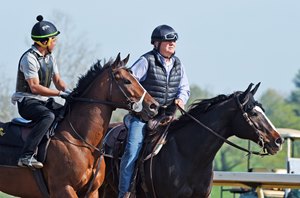 Led by 2021 Breeders' Cup Turf Sprint (G1T) winner Golden Pal , trainer Wesley Ward worked five horses May 20 on the Keeneland turf course for stakes engagements next month at Royal Ascot.
The Keeneland-based Ward annually brings an American equine raiding party to Royal Ascot, where he has 12 wins since 2009.
Mrs. John Magnier, Michael B. Tabor, Derrick Smith, and Westerberg's millionaire Golden Pal , coming off a front-running 4 3/4-length win in the Shakertown Stakes (G2) at Keeneland April 9, breezed five furlongs on "good" turf in 1:02 4/5 in preparation for the King's Stand (G1) June 14.
All the works took place over the outer portion of the turf course, outside plastic orange cones commonly referred to in racetrack lingo as "dogs."
"I thought he had an unbelievable breeze today," Ward said. "The turf was soggy, and I love to breeze on a deep, soft turf. They come in and out of the works so good.
"He broke off 10 lengths in front of a 2-year-old filly, Love Reigns —she's no match for a horse like him at this stage of her career—but she had a target. She had a great work (1:03 3/5) following the fastest horse in the world. He skipped over it—it was unbelievable. That's what you want to see."
Love Reigns, owned by Stonestreet Stables, scored a 9 3/4-length victory at Keeneland in her April 29 debut at 5 1/2 furlongs on turf. She is to race in the Queen Mary (G2) June 15.
She appeared to briefly try to move inside the plastic cones on the turf course in her Friday breeze before being corrected by her rider.
Stonestreet also owns Royal Ascot hopefuls Campanelle , who went five furlongs in 1:04 toward the Platinum Jubilee (G1) June 18, and TVG Limestone Stakes winner Ruthin , who went the same distance in 1:04 4/5 leading up to the June 17 Palace of Holyroodhouse. Campanelle worked behind Ruthin before moving to the front late in the tandem workout.
Campanelle is bidding for her third win at Royal Ascot, following triumphs in the Queen Mary in 2020 and Commonwealth Cup (G1) in 2021.
Ward's other Royal Ascot worker was Andrew Farm and For the People Racing Stable's No Nay Hudson , who recorded the slowest time of the group with five furlongs in 1:06 2/5. A winner of his debut over 4 1/2 furlongs on dirt at Keeneland April 28, he is ticketed for the June 15 Windsor Castle.
Ward's Royal Ascot team has two more works at Keeneland on upcoming Fridays, weather pending, before departing June 8. They leave on a direct flight from Indianapolis to London Stansted Airport, "and they land and have a 10-minute ride to Chelmsford Racecourse, where they'll stay for three days until they go to Ascot," Ward said.
The leading trainer during Keeneland's spring meet, Ward appreciated the opportunity to work on Keeneland's turf course. On May 10, he worked Golden Pal and other horses over the turf course at Churchill Downs.
"The key to working on the grass is for them to come in and out of the works sound," Ward said, "And there's no better place to do that than the Keeneland turf course. It's awesome. I want to thank everyone involved at Keeneland for letting us breeze so we can get to Ascot 110%."