Sales Success No Accident for Winchell and Guevara
Image: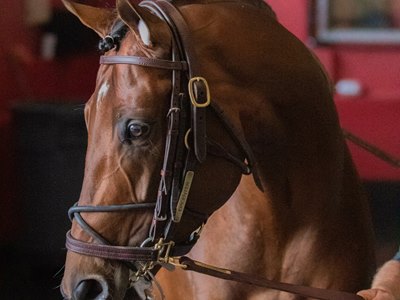 Description: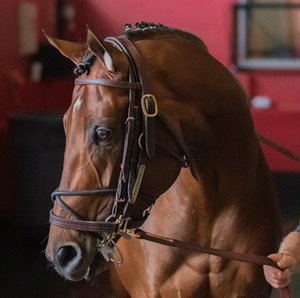 Buyers shopping the yearling and juvenile sales are always on the hunt for the classic two-turn horse, and 2020 was the perfect storm for six of this year's Preakness Stakes (G1) contenders, while two other runners passed through the sales ring in 2019 as weanlings, and one returned last season as a 2-year-old.
Winchell Thoroughbreds will saddle their star 3-year-old colt Epicenter  May 21 in the 147th running of the Preakness at Pimlico Race Course. The son of Not This Time   was bred in Kentucky by Westwind Farms, which consigned the colt to Book 3 of the 2020 Keeneland September Yearling Sale through their Bettersworth Westwind Farms banner. The team behind Winchell Thoroughbreds consists of owner Ron Winchell, farm manager David Fiske, trainer Steve Asmussen, and Equine Analysis founder Dr. Dave Lambert and CEO Matt Weinmann.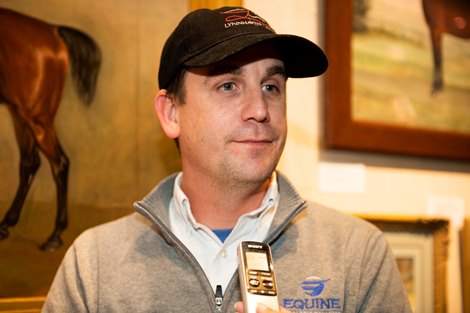 "Each year, we go into the Keeneland September Sale and test a large chunk of the colt population for Winchell, working through the numbers and breaking it down to a smaller population of horses that fit that target," Weinmann said. "We all go and see the shortlist derived from the data and then sit down at the table and discuss. Epicenter came up in Book 3, and he fit the bill of a classic type horse; at the yearling sale, we thought he could be a Derby horse and luckily, it ended up that way."
Part of what Equine Analysis does is put mathematical numbers on traditional horsemanship. For example, when a horse is stood up and is noted as having a beautiful hind leg and a nice shoulder—Equine Analysis measures that. Putting quantifiable measurements on traditional horsemanship so it can be captured into their database, creating case histories that go back as far as the 1980s can be recalled, in perfect detail, not relying on human memory.
Winchell and Lambert have a long history going back to Ron's father, Verne, who began Winchell Thoroughbreds. After his passing in 2002, Ron took over in partnership with his mother Joan and has continued to see success with their sales purchases.
"Ron has always embraced technology and been forward-thinking to help find success in this industry," Weinmann commented. "We have had a lot of success with horses like Tapit  , Gun Runner  , Midnight Bourbon , and now Epicenter. Winchell's program mainly focuses on colts that can be future stallions, with a particular focus on classic two-turn dirt horses."
"First of all, we are very high on Not This Time as a stallion. We thought he would produce some pretty good progeny and knowing his physiology, we knew he could produce a classic type horse," Weinmann continued. "When we saw this nice colt by Not This Time, he had the frame—bone lengths and angles—that we associate with the classic two-turn horse, the genetics, and cardiovascular system of a classic two-turn horse. It all added up… a big, strong, proper two-turn type of heart to go with his two-turn body style and genetics."
Winchell and Fiske were the final bidders at $260,000 to secure the colt, who has gone on to win four of his seven starts, including the 2021 Gun Runner Stakes and this year in the Risen Star Stakes Presented by Lamarque Ford (G2) and the Twinspires.com Louisiana Derby (G2). He was narrowly defeated in the Lecomte Stakes (G3) and the Kentucky Derby Presented by Woodford Reserve (G1).
Two days after Epicenter sold, Skippylongstocking  went through the pavilion as part of Book 4, where Luis Enrique Guevara bid on the colt by Exaggerator  , securing the future pinhook for $15,000.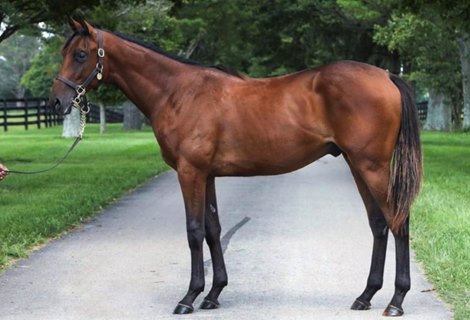 "I purchased him at the September Sale in partnership with Eduardo Jakubowicz," Guevara said. "To be honest, my father Tito Guevara saw him first and told me to go look at him, see if I liked him. He was one of the last horses to go through the ring that day. Looking back, it's crazy; it was nearly 7:00 at night, and I was ready to ignore my dad and leave for the day. But Mike Recio of South Point Sales told me I needed to see the colt, he had the half brother working down in Miami, and he was going very well. He was very immature but correct with a nice walk and presence about him. Exaggerator was pretty cold at the time, so I knew he wasn't going to bring very much in the ring, and luckily we got him for a cheaper price tag."
The April foal out of the War Chant  mare Twinkling shipped down to Guevara's Florida home base to mature for sales in the following year. The small operation sticks to what they know, generally pinhooking five-10 yearlings for the next year. Tito, a retired jockey from Venezuela, oversees all presale training and brings a lot of hands-on experience.
"Skippylongstocking had a dramatic physical change; he filled out nicely over the few months while in training. After he turned 2, he became more active and had a bit of an attitude around feeding time, everyone around the barn knew him, but for the most part, he was very straightforward and did everything we asked of him," Guevara commented.
Top Line Sales consigned the colt at the Ocala Breeders' Sales Spring Sale of 2-Year-Olds in Training, where he breezed in :10 2/5 on the second day of the under tack show and proceeded to sell for $37,000 to Daniel Alonso. The latter campaigns the colt with trainer Saffie Joseph Jr. Five months later, Skippylongstocking broke his maiden on third asking over a mile at Gulfstream Park. Most recently, he ran third in the April 9 Wood Memorial Stakes Presented by Resorts World Casino (G2) at Aqueduct.
"We almost didn't sell him as a 2-year-old, we wanted $50,000 for him, and he failed to meet his reserve because he was still a bit immature. Tori Gladwell at Top Line Sales said we shouldn't worry if we decided to keep him because with Exaggerator being by Curlin  , he would be a late bloomer," Guevara explained. "But at the last minute, we got a final offer on him and decided to sell, and the rest is history."
The team behind Skippylongstocking will be keeping their fingers crossed around 7:00 p.m. ET when the horses are loading into the starting gate for the 1 3/16-mile test on the dirt against eight other hopefuls.
Guevara added: "If Skippylongstocking wins the Preakness, he will be our most accomplished pinhook. I sold Sarah Sis  at the 2014 OBS June Sale. She was a multiple grade 2 and grade 3 winner and was just shy of earning $1 million. The winner of the 2017 Inside Information (G2), Distinta  was another pinhook I sold at the 2014 OBS March Sale for $80,000; she later sold for $650,000 as a broodmare prospect. Lazy Daisy  was another of our pinhooks; she became a grade 2 winner and ran in the 2019 Breeders' Cup Juvenile Fillies (G1)."