Two Frankel Colts Sell at Magic Millions Weanling Sale
Image: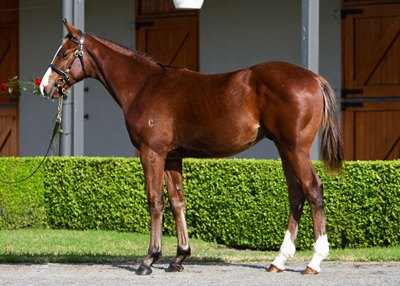 Description:
Frankel  fever reached the Gold Coast May 20 at the Magic Millions National Weanling Sale, with two colts by the champion Juddmonte stallion selling for a combined AU$1.21 million (US$848,203)—and both will be retained to race rather than be reoffered for sale as yearlings.
The most expensive of those was the son of 2012 Coolmore Stud Ascot Vale Stakes (G1) winner Nechita, who was bought by Evergreen Stud's Tony Bott for AU$650,000 (£368,000/€434,000/$455,711).
Bott's Hong Kong client P K Sui already races the Treasury Brisbane J.J. Atkins (G1) and Mostyn Copper Randwick Guineas (G1) winner Converge, who is also by Frankel, and the weanling will be broken in at their Heatherbrae property near Newcastle before joining the stables of trainer son Adrian Bott and Gai Waterhouse.
Bott told ANZ Bloodstock News: "Whether lightning will strike twice, who knows, but they've got another ticket in the lottery. He's been bought to race unless circumstances change but at this stage he was purchased to race and, with a pedigree like that, if he could win a few races, he's got some upside as a potential stallion prospect at a later date. 
"We were going to buy a mare in foal to Frankel. We had a look at a couple at the Chairman's Sale and there's a number coming up in the broodmare sale next week, but we thought we don't get the chance often to buy a weanling with this pedigree, so we thought we'd have a look at him."
The dam of northern hemisphere-bred but Australian-raced Harpo Marx, a group 3 winner, and the European group 3-winning mare Forbearance, Nechita was brought back to Australia by Coolmore after a southern hemisphere cover to Frankel. Nechita is in foal to Justify   this season. 
Bott did his bidding online in order to buy the colt after making a flying visit earlier in the week to inspect the two sons of Frankel.
"We had seen him, as had the vets and a few other people, so we were quite well aware of him," he said.
"The two colts were very different and I think if you lined half a dozen people up, some would prefer the other one, who is a bit more of a refined type, or this one who has got a lot of Fastnet Rock  in him as well.
"We thought he walked out well, had clean X-rays, and he ticked a lot of boxes."
The sire of 95 stakes winners worldwide, Frankel has produced eight southern hemisphere-bred stakes winners from just 48 runners, including group 1 winners Converge and Hungry Heart, and this season's group 3-winning 3-year-old filly Argentia.
The first colt by Frankel to go through the ring was sold earlier in the day for AU$560,000 ($392,333) to Brisbane-based agent Jim Clarke and he will not see a yearling sale ring either. 
Clarke convinced his loyal clients, Sydney trainer Bjorn Baker and Cunningham Thoroughbreds, to invest early in the impressive colt as a racing proposition, taking the chance on buying him as a foal in the realization they would likely be forced to pay a lot more if they waited until next year.
"I told Bjorn Baker I thought we needed to stump up the money because Frankel is without a doubt the best stallion in the world," said Clarke. 
"He is one of those rare ones in that he is as good here as he is in the northern hemisphere. I think more than 25% of his horses get black type in both hemispheres, so that's a pretty amazing feat. 
"They are rare commodities and when you find one you have to stump up to buy one, but if he came back here and tried to buy him at a yearling sale we would have had to pay a bit more for him, so we took the opportunity to buy him at a weanling sale."
Also offered by Coolmore as Lot 234, he is the fifth foal out of dual group 2 winner and group 1-placed New Zealand mare Fix, whose three foals to race are by Galileo .
Fix was covered to southern hemisphere time by Juddmonte's champion stallion in September 2020 before being sent to Australia by Coolmore with the colt in utero. Fix is in foal to Justify this season.
Coolmore Australia farm manager John Kennedy said Friday's results justified the global operation's decision to sell the colts as weanlings.
"They've been very straightforward since the day they were born, they've taken everything in their stride, showed themselves very well this week, and they've both made a great price," he said.
"It just shows the strength of the market down here in Australia. We're really starting to take consideration into sending the best mares here, and not only to support our stallions but to take advantage of the market.
"That's why more of these good mares are going to come back to Australia in the next couple of years."
There will be 13 mares in foal to Frankel offered at next week's Magic Millions National Broodmare Sale.
Final-Day Flourish
Pinhookers and end users went head-to-head in a surging final day of the sale, the clearest sign so far that those putting their money on the line believe the insatiable thirst for Australian racing stock will continue into 2023.
Four weanlings made AU$500,000 ($350,347) or more on Day Two—the session highlighted by a Zoustar  filly fetching a record-equaling AU$750,000 ($525,821) and the two sons of Frankel and a colt by I Am Invincible  making AU$650,000, AU$560,000, and AU$500,000 respectively—to close out the Gold Coast foal sale, the precursor to next week's broodmare auction. 
With 33 lots selling for AU$200,000 ($140,218) or more, the sale's average closed at AU$89,373 ($62,641) on Friday night, down 14% on last year's Shadwell dispersal-fueled sale, but the median rose from the 2021 figure of AU$52,500 to AU$55,000 ($38,527). 
The 249 horses traded over the two days generated AU$22,254,000 ($15,588,810) in turnover, AU$12,280,500 ($8,603,654) coming in Friday's competitive session.