Jockey Zayas 'Extremely Hungry' for Return to Saddle
Image:
Description: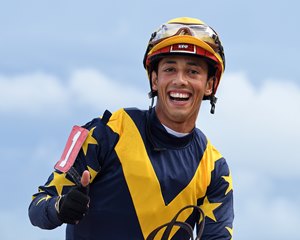 Edgard Zayas was riding a wave of momentum into the 2021-2022 Championship Meet at Gulfstream Park last December when he had to make a tough decision.
The 28-year-old South Florida-based jockey, who had enjoyed a breakout 2020-2021 Championship Meet that was followed by Spring/Summer and Fall Meet titles, opted to undergo shoulder surgery that would sideline him for the remainder of Gulfstream's prestigious winter session.
"It was really, really frustrating, because I was expecting to have a really good Championship Meet, and it started out amazing," said Zayas. "It was really frustrating watching horses that I was riding regularly win. It was like, 'That could have been me.'"
Six months after undergoing surgery on his left shoulder, the Rio Grande, Puerto Rico, native will return to action June 24 at Gulfstream, where he is scheduled to ride in three races on the 10-race Happy Hour program that will begin at 2:55 p.m. ET.
"I'm extremely hungry, to be honest," Zayas said. "For this meet, it's a little late, but I'm just going to try to pick up some nice babies and build up my business again and get prepared for the winter."
Zayas has been galloping and breezing horses for the past few weeks. He could have put off the inevitable surgery and continued riding last winter, but he is confident he made the right decision and is happy that his shoulder issues are behind him.
"It was an injury that happened in the middle of last year. It was dislocated. Towards the end of the year, it dislocated again. I went and got it checked out and I decided to get surgery on it," Zayas said.
"It took a lot longer than I thought it would. The doctor didn't think it was that bad until he went in and saw it was a little worse than we thought."
During recovery and rehabilitation, Zayas got to spend some quality time with his wife, Ashley, and daughters, 5-year-old Lillian and 18-month-old Lilah.
"To be honest, I really enjoyed it, but it got to the point where I was ready to get back to work. At the beginning it was a little nice, but after a couple of weeks, it was frustrating," he said.
Zayas has ridden 1,930 winners since launching his career in late 2012, benefiting from early mentoring from Hall of Famers Angel Cordero and Edgar Prado. He was an Eclipse Award finalist for outstanding apprentice in 2013 (losing to Victor Carrasco) after riding more than 200 winners and notching a grade 1 victory that summer aboard Starship Truffles  in the Princess Rooney Stakes at defunct Calder Race Course.
Zayas rode more than 200 winners in six of nine complete years of his career. He is named to ride Ralph Nicks-trained first-time starter Flag Woman in the third race, Antonio Sano-trained Don't Get Khozy  in the seventh, and Saffie Joseph Jr.-trained Li Li Bear  in the eighth.