Medina Spirit/Baffert Appeal Hearing Pushed to Aug. 22
Image:
Description: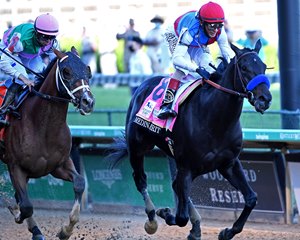 An appeal of Medina Spirit 's disqualification from the 2021 Kentucky Derby Presented by Woodford Reserve (G1) and a 90-day suspension and $7,500 fine issued toward Hall of trainer Bob Baffert have been delayed from June 28 until Aug. 22, representatives confirmed.
The postponement was a "mutual decision by all sides," according to Craig Robertson, one of Baffert's attorneys. The appeal of the stewards' decision will be open to the public, according to Kristin Voskuhl, executive director of communications for the state's Public Protection Cabinet. 
Robertson said earlier this month that "the primary relief that can be granted is a reversal of the DQ," with Baffert nearing the completion of his Kentucky Horse Racing Commission-issued suspension, which will conclude in early July. California trainers Sean McCarthy and Tim Yakteen have overseen the majority of Baffert's runners since April.
The regulator-issued suspension differs from the private party-issued ban by Churchill Downs Inc. that bars Baffert from competition at its tracks through mid-2023. That ban is being contested in the court system.
The appeal before a KHRC hearing officer is likely to include contrasting interpretations of studied urine samples taken from Medina Spirit shortly after the Derby, which showed the presence of prohibited raceday presence betamethasone. Attorneys for Baffert and owner Amr Zedan of Zedan Racing Stables contend this was caused by treatment on Medina Spirit's hindquarters for a skin condition with a betamethasone valerate-containing product called Otomax.