Hollie Doyle Helps Bring Prestige to Female Jockeys
Image:
Description: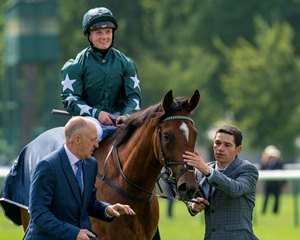 Hollie Doyle was hailed as one of the best in the business June 20 as her weighing room colleagues applauded her landmark success aboard Nashwa  in the Prix de Diane Longines (G1) at Chantilly.
Sunday's win in France was the first for a female jockey in a group 1 European classic and came just five days after Doyle partnered her third winner at Royal Ascot with Bradsell  in the Coventry Stakes (G2). 
Josephine Gordon, who became just the second female rider in Britain to partner more than 100 winners in a year in 2017, progressed through the riding ranks alongside Doyle and was delighted to see her friend win a first classic.
"It was a brilliant performance," Gordon said. "I was absolutely over the moon for her and she deserves it. We get on really well. We started riding at the same time and she's one of the best around. Horses just run for her."
Hayley Turner was also on the mark at last week's Royal Ascot with Latin Lover and Gordon feels it is a sure sign of progress that instead of the focus falling on the sex of the winning rider, it is now about their ability in the saddle. 
"I think we've moved on and rather than it being 'a girl has just ridden a Royal Ascot winner,' we're actually named," she said. "She's not just a good girl jockey; Hollie Doyle and Hayley Turner are up there with the boys and are good jockeys.
"There's a lot of girls around now and I said a good few years ago that in another five or 10 years it's going to be 50-50 girls and boys over here."
Gordon and her mount Peggy Sioux finished a close third behind Turner and Latin Lover in the Palace of Holyroodhouse Stakes last week, with Gordon coming within half a length of a first success at the royal meeting.
She added: "It's tricky when you're only just beaten that far, you always think what have I done wrong? But she ran a blinder. Ideally I could have done with the rain coming, but it was a good day."  
Joanna Mason, who rode her 100th winner at Redcar Racecourse on Saturday, was another to celebrate Doyle's classic strike and thanked her weighing room colleague for her work in recent seasons to promote female riders.
"It's brilliant, she's the first female jockey to win that race and fair play to Hollie, she's a grafter," said Mason. "She's made the pathway for a lot of us girls. We're very thankful to her. She's breaking down the barriers of stereotypes of girls and boys."