Lawsuit: Maylin Will Not Produce Medina Spirit Research
Image: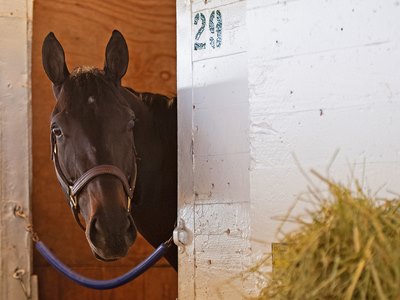 Description: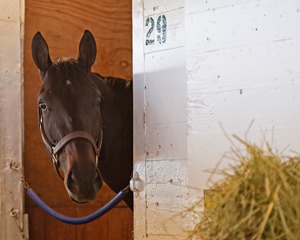 After three months of wrangling, the Kentucky Horse Racing Commission says in a New York lawsuit Dr. George Maylin refuses to disclose research records he claims support his opinion that betamethasone found in a post-race sample of Medina Spirit's blood came from the topical application of Otomax and not an injection.
Routine post-race testing of blood samples after the 2021 Kentucky Derby Presented by Woodford Reserve (G1) revealed Medina Spirit was positive for betamethasone. At first, Baffert indignantly said the substance could not have been administered from anyone in his stable, but it wasn't long before the trainer said the betamethasone came from the topical application of Otomax, a skin rash salve, not an injection.
Enter Maylin, who attorneys for Baffert and owner Amr Zedan said would work to prove the drug's origin. While KHRC has never agreed the route of administration of the drug is relevant, it agreed to the request. Post-race samples taken at Churchill Downs from Medina Spirit were flown to New York and handed over to Maylin on July 14, 2021.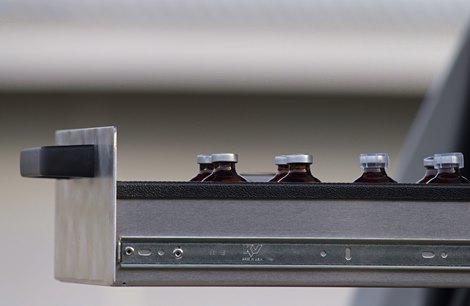 Maylin issued a report letter on Dec. 3, 2021, that BloodHorse retrieved from the New York lawsuit record. In essence, it says two components of Otomax, betamethasone valerate and clotrimazole via its metabolite, were found in a urine sample taken from Medina Spirit; and these analytes were also detected after topical administration of Otomax to two Thoroughbred research horses. The letter says data to support Maylin's findings, as well as his studies, were available for review in his laboratory by an expert scientist, but he also wrote he considers this a research project that will be peer-reviewed and as such is "confidential until the data has been submitted for review."
In a sworn affidavit signed by Maylin in February 2022, obtained by BloodHorse from the same court record, Maylin described testing urine from Medina Spirit but did not mention performing a study with two Thoroughbreds.
KHRC first asked to take Maylin's deposition no later than March 2022. It also pursued records described in a subpoena duces tecum issued by KHRC hearing officer Clayton Patrick on April 8 and served on Maylin's attorney. The subpoena describes, among other things, "all documentation regarding the alleged unpublished study involving the administration of Otomax to two Thoroughbred horses." BloodHorse found the subpoena in the New York court record.
Maylin said he would not give an in-person deposition, citing COVID-19 concerns. On April 11, Franklin Circuit Court Judge Thomas Wingate ordered Maylin to personally appear for a deposition prior to May 13 and ordered him to produce all documents responsive to the KHRC subpoena. The order also required COVID-19 protocols during the deposition. The legal team for Baffert and Zedan filed motions to set aside Wingate's order, and they were denied on April 20.
A petition filed by KHRC on June 8 in Tompkins County, N.Y., where Maylin resides, says Maylin continued to refuse to be deposed in person and avoided service of papers commanding his presence. Finally, KHRC hired a process server to cause what is known in New York as "substitute service" on him. A process server called on Maylin on April 30, May 2, May 4, May 5, and May 10 without rousing anyone, and copies of the subpoenas were plastered on every door at his residence.
In the midst of these maneuvers Maylin and KHRC finally agreed he would be deposed via Zoom, but with the requirement that Maylin produce records of the study on two Thoroughbreds. The deposition took place on June 10, two days after the KHRC lawsuit was filed—but Maylin again failed to produce records of the study, according to the KHRC petition, prompting a hearing in the New York case set for June 22.
Attorneys for Baffert and Zedan told Wingate and KHRC attorney Jennifer Wolsing Maylin has not worked for them or their clients. KHRC wants Maylin to produce records of any communications Maylin has had with Baffert, Zedan, their agents and attorneys, and anyone else acting on their behalf, as well as documentation of any payment by them to Maylin.
During a January 2022 hearing when the New York Racing Association sought to ban Baffert from its tracks, Maylin's work on the Medina Spirit case was described, but he did not appear. Instead, Dr. Clara Fenger, a veterinarian, testified she assisted Maylin in the project. She was called as a Baffert witness and did not claim to be independent.
BloodHorse emailed both Maylin and his attorney, Joseph Farraldo, on June 21 asking if Maylin intends to comply with the documents subpoena. There was no response, but on June 22 Farraldo informed Judge Elizabeth Aherne the KHRC appeal hearing in Kentucky was postponed from June 28 to Aug. 22. He assured Aherne that Maylin has a meritorious defense and asked that the hearing in her court be delayed.