Secretariat, Pucker Up on Hiatus to Preserve CD Turf
Description: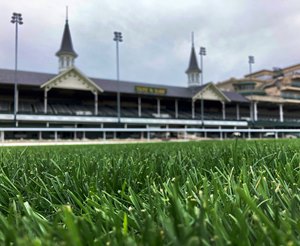 Churchill Downs has placed the $300,000 Secretariat Stakes (G2T) and the $200,000 Pucker Up Stakes (G3T) on hiatus, and will run the Arlington Million (G1T) and Beverly D. Stakes (G1T) in two different lanes Aug. 13 as efforts to mature its new turf course continue, officials announced Aug. 4.
The Louisville, Ky., track is set to host a stand-alone Arlington Million Day program for the first time after Churchill Downs Incorporated shuttered Arlington International Racecourse, the northern Illinois racetrack that long hosted the Arlington Million. The race was run with a diminished purse last year and renamed for that running as the Mr. D. Stakes, honoring Richard Duchossois, who owned Arlington from 1983 until its sale to CDI in 2000. He died in January.
CDI reached an agreement last fall to sell the Arlington property to the National Football League's Chicago Bears.
Churchill Downs debuted its new $10 million turf course April 30 but ran into increased issues with the surface approximately a month into the spring meet. Installed in October and given from then until the end of April to take root, the widened course with a new irrigation system was unable to withstand usage. The track suspended turf racing June 11 through the July 4 end of the spring meet following an equine fatality June 10 that followed racing on the course.
"While our new Bermuda-hybrid turf course continues to mature to its ultimate potential, we are being appropriately conservative by limiting the number of races in the best interest of long-term preservation of the surface and growing root system," Churchill Downs president Mike Anderson said in a release. "The course is healthy and vibrant, and we are extremely optimistic about its performance now and in the future. However, we don't want any setbacks to its progression, especially right now during its critical growth season.
"Our plan is to take advantage of the width and versatility of the new course and run the two marquee races—the Arlington Million and Beverly D.—in two separate running lanes to provide fresh ground for each important race."
The 39th running of the $1 million Arlington Million for 3-year-olds and older at 1 1/8 miles on turf will be run late in the program from Lane 1, with a maximum of 14 entrants.
The 32nd running of the $500,000 Beverly D. for fillies and mares at 1 1/8 miles on turf—a Breeders' Cup Challenge event for the Breeders' Cup Filly & Mare Turf (G1T) division—will be staged early in the 11-race card and will be run in Lane 3, 24 feet off the inside rail with up to 12 runners.
There will be two stakes races on dirt: the $200,000 Fort Larned Stakes for 3-year-olds at 1 3/16 miles and the $200,000 Lady Tak Stakes for fillies and mares at six furlongs.
The latest graded stakes cancellations on turf at Churchill Downs follow the cancellation of the Wise Dan Stakes (G2T) at Churchill July 2 after the track indicated in mid-June it still hoped to run it. Other stakes races from that same weekend were moved from turf to dirt. 
The track has two full meets remaining this year, a September and later a fall meet, with the latter stand taking place mostly in November. Besides its customary stakes races, Churchill is to host the Claiming Crown Nov. 12. Three turf races for starter horses are scheduled as part of the Claiming Crown card.
Churchill Downs experienced problems with its prior turf course during its cooler fall meets, leading to a suspension of grass racing in the fall of 2020. The new course, laid down with sod last year, was intended for increased durability with a different grass mixture of Tahoma 31 Bermudagrass overseeded with ryegrass.