Olympiad Puts Win Streak on the Line in Whitney
Image: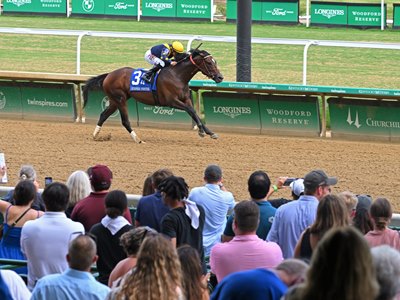 Description: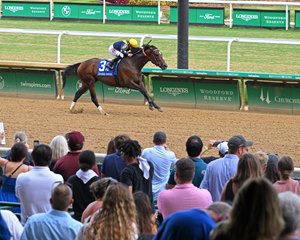 Hall of Fame trainer Bill Mott may not be a mathematician, but he understands the numbers game well enough.
"Five is not 16," he said.
No, it's not. It's a little less than a third of 16—and it's those two numbers that tell the story of the most intriguing horse in the Aug. 6 $1 million Whitney Stakes (G1).
It was more than 25 years ago when Mott trained the "unconquerable, invincible, unbeatable" Cigar. The legendary champion went from a disappointing turf runner to a Hall of Famer and two-time Horse of the Year in 1995 and 1996, winning a staggering 16 consecutive races in a row at one point.
WATCH: Mott Reflects on Improvement of Olympiad
These days, Mott has another colt with a winning streak, whose career will be shaped by what happens Saturday at Saratoga Race Course in one of the year's premier dirt stakes for older runners. 
Grandview Equine, Cheyenne Stable, and LNJ Foxwoods' Olympiad  heads into the Whitney off a stretch of five straight wins for Mott, the last three in grade 2 stakes. The chances are slim to none that he will match Cigar's winning streak, largely because it's highly unlikely the 4-year-old son of Speightstown   will race 11 more times.
Yet the number that's far more significant for a colt bred by Emory A. Hamilton is three. If he can win three more races in a row (the Whitney, the Longines Breeders' Cup Classic, G1, and a prep race sandwiched between them), it would almost assure him a title as Horse of the Year.
"Don't get me excited thinking about that," said Robert Clay, who operates Grandview Equine and is the majority owner of Olympiad, a winner of seven of 10 career starts. "Ones like him do not come around too often, and I don't think we've seen the best of him yet."
Increasing the winning streak to six promises to be the most formidable challenge to date for Olympiad. Reflective of the challenge he will face, for the first time in 2022, after those five straight wins, he will not be favored. That role should go to CHC and WinStar Farm's Life Is Good . The Todd Pletcher-trained son of Into Mischief   was pegged as the 6-5 morning-line favorite, with Olympiad next at 2-1 in the field of six.
That was hardly a shock, given Life Is Good's mark of seven wins in nine career starts and victories in the 2021 Big Ass Fans Breeders' Cup Dirt Mile (G1) and the Pegasus World Cup Invitational Stakes Presented by 1/ST BET (G1) earlier this year. But the price on Olympiad also shows how the patient approach by Mott and the owners has turned Olympiad into a worthy challenger for Life Is Good who will be given his screen test for championship honors Saturday in just his second appearance in a grade 1 stakes.
"We've come across the monster here in Life Is Good, but Olympiad is training well. Bill feels confident and (jockey Junior Alvarado) loves him. We have to take our shot. Is he good enough to beat Life Is Good? We'll find out," Clay said. "We need to get a grade 1 win under his belt and this has been the one we've targeted for a while."
Olympiad's initial foray into grade 1 waters came in December when he endured an adventurous trip, ironically enough, in the 2021 Cigar Mile Handicap Presented by NYRA Bets (G1). 
"I don't know what you would call his trip in the Cigar," Mott said.
There are plenty of adjectives that can adequately describe what happened in the Dec. 4 stakes, though none are flattering. After clipping heels and racing wide on the final turn, he finished fourth behind Whitney entrant Americanrevolution .
After that came a slow, meticulous climb back to the grade 1 level. It started with a Jan. 15 allowance optional claiming win at Gulfstream Park. Then came his first stakes win, when he captured the Mineshaft Stakes (G3) at Fair Grounds Race Course & Slots. Then came the New Orleans Classic Stakes (G2), followed by shipping to Churchill Downs, where he won the Alysheba Stakes Presented by Sentient Jet (G2), over Whitney Stakes starter Happy Saver , and then avenged his loss to Americanrevolution by winning the Stephen Foster Stakes (G2) by 2 1/4 lengths over that rival.
"Bill's the master at being patient and developing a colt and getting this horse to the point where is now," said Everett Dobson of Cheyenne Stables. "We're very fortunate to have Bill on board. From a fan's perspective, this is about as good as it gets."
Now comes a defining bid for six in a row.
"We could have picked an easier grade 1 than the Whitney and traveled around, but the top two horses in the country are Flightline  and Life Is Good. They are the most talked about horses and if we want people talking about our horse we have to beat them," Mott said. "He will have to repeat, if not improve on, his recent races to win the Whitney, for sure, but he's run good every time. Every race you say, 'That was good,' then the next one turns out to be a little better."
The genesis of the ownership group started in 2013 when Clay sold Three Chimneys Farm. Eager to stay involved in the sport, he started buying some horses and later formed Grandview Equine in 2018, teaming with a couple of his old clients, the Roth family of LNJ Foxwoods and Everett Dobson of Cheyenne Stables on what proved to be the purchase of two groups of about 30 young horses through a few bloodstock agents that included Solis/Litt.
"They were both friends. The Roths had their mares at Three Chimneys and Everett partnered with me on some stallions. We decided to take a risk and get all colts and it looks like we hit a home run," Clay said. "It's been a fun ride for us. It's great to work with people like this. You don't have to explain to them what bucked shins are. They know the risks."
From the first group of about 16 horses bought in 2018 and 2019, the best of the now 5-year-olds was the multiple grade 1-placed, stakes-winning Shoplifted  , who earned $583,635 for trainer Steve Asmussen and is now a stallion at Valor Farm in Texas.
The next group of horses who are now 4-year-olds was the bonanza for the ownership. The purchases included multiple grade 3 winner Scalding , who was recently retired, and Vindictive , who was second in the Pimlico Special Stakes (G3) in May.
And then came Olympiad, who cost the most of any of the group's purchases—a ritzy $700,000 from the Gainesway consignment to the 2019 Keeneland September Yearling Sale—but has already exceeded that purchase price with earnings of $1,407,560 and possibly more to come Saturday based on how he fares in a race that also includes Life Is Good plus grade 1 winners Hot Rod Charlie , Happy Saver, and Americanrevolution and will award the winner a free spot in the Nov. 5 Longines Breeders' Cup Classic (G1).
"We decided to take a risk and get all colts and we hit a home run," Clay said about the second of five foals and first stakes winner from the Medaglia d'Oro   mare Tokyo Time. "Olympiad had it all. He had the pedigree and the looks. He's quite an athlete. He checked all the boxes. When you get one of those you are going to have to pay more for him because everyone is on him. I know the mother and breeders. I know Helen Alexander raised him and she's a friend of mine. There was a comfort level in buying him."
Mott was pleased with the juvenile he saw when Olympiad arrived at his barn.
"We liked him from the time we had him as a 2-year-old," Mott said.
Olympiad's first start was a third, nearly 10 lengths behind, in an Aug. 1 six-furlong maiden race at Saratoga. The results were dramatically better the following month when Olympiad, who has an unraced 2-year-old half sister by War Front   and a yearling half brother by American Pharoah  , cruised to a 2 3/4-length score in a seven-furlong test.
Yet after that a stress fracture in a hind ankle sidelined him for a year until he returned in a Sept. 4, 2021, allowance race at the Spa and ran into a Mott-trained buzz saw named Baby Yoda , finishing second by 4 1/4 lengths in a 6 1/2-furlong sprint. A seven-furlong allowance at Keeneland was a prep for the Cigar Mile, which has proved to be Olympiad's last start at a one-turn distance as he heads into a race that should clarify his status among the top older dirt horses.
"We're looking forward to the Whitney," said Dobson, whose colt is undefeated in 2022 and ranked third behind Flightline and Olympiad in the latest National Thoroughbred Racing Association Top 10 poll. "We've had this on our calendar for a long time and we're thrilled to be a part of it."
The Cigar was also Olympiad's last loss, and on Saturday in the Whitney, the numbers game will take on added significance when a bid for a sixth straight win will take place on Olympiad's biggest stage with the potential to paint a vivid picture of his chances of joining Cigar as a Horse of the Year recipient.
"Five is not 16," Mott said, adding, "but by the same token it's a start. He's a good, honest horse. He's a handsome individual and well-bred and it would be great to do well in the Whitney from the standpoint of his stallion value. We've seen a lot of horses who show one big race or two big races and you never see them again. He's been able to put them together back-to-back several times over, and that's special."