Mandella Talks Beholder, Her 2-Year-Old Teena Ella
Image: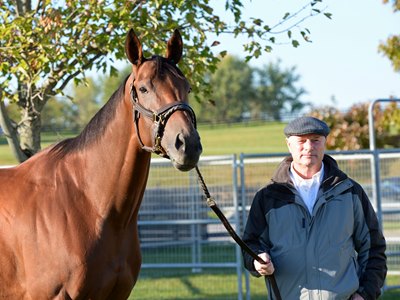 Description: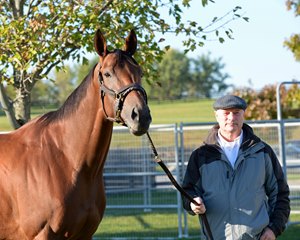 Just a quick glance at her résumé is proof enough that Beholder belongs in the Hall of Fame. Anyone who saw her run between 2012 and 2016 would have no problem putting the daughter of Henny Hughes  among the greatest. And a brief chat with her Hall of Fame trainer, Richard Mandella, will convince any second-guessers.
Beholder took her place in the Hall of Fame in Saratoga Springs, N.Y., Aug. 5, alongside fellow inductees Tepin , Hillsdale, and Royal Heroine, as well trainer Oscar White, and Pillars of the Turf James Cox Brady, Marshall Cassidy, and Ben James Ali Haggin.
"I wish I was there," Mandella said, back at Del Mar after a recent bout with COVID-19. "The filly was so good to us for so many years. She'd be a favorite in anybody's mind. Just warm feelings thinking about her."
Mandella trained Beholder her entire racing career for Spendthrift Farm. It included four Eclipse Awards, three Breeders' Cup wins, and 13 graded stakes, 11 of them grade 1s, including a trouncing of the boys in the $1 million TVG Pacific Classic (G1) in 2015 at Del Mar. Mandella says it's one of the best memories he has of Beholder.
She finished her career with 18 victories and six runner-up finishes from 26 starts with earnings of more than $6.1 million.
"It was a lot of fun," Mandella said, "but it was also a lot of responsibility. If you ever got her beat, which we did a few times, you feel pretty guilty about it when one's that good."
Of course, that didn't happen very often.
"No, she always ran well," Mandella noted. "A few beats, had a few excuses, but she didn't need a lot of excuses, she was really great."
Her final Breeders' Cup win came in what is arguably the best Breeders' Cup race of all time, a nail-biting stretch-long duel with Songbird in the 2016 Longines Breeders' Cup Distaff (G1). It was the final race of her illustrious career.
Mandella currently has some of Beholder's produce in training, including a 2-year-old filly named Teena Ella (War Front  ).
"She's up to a half-mile," Mandella said. "She's not ready to run, but she's shown good promise."
Owned and bred by Spendthrift Farm, Teena Ella went four furlongs July 30 in :47 3/5 at Del Mar, recording one of the quickest gate breezes of the morning. That was her first half-mile breeze after a trio of three-furlong breezes at Santa Anita Park and Del Mar.
Two other foals for Beholder have raced: Q B One  (Uncle Mo  ) and Karin With an I  (Curlin  ). Neither has won, though Karin With an I, now 3, has kept an active workout schedule this summer. She ran seventh in her debut at Santa Anita April 2 for Spendthrift Farm and Mandella.
Beholder also has a yearling filly by Bolt d'Oro  , and she foaled a Curlin colt earlier this year.