Distance Is the Question for Romantic Warrior in HK G1
Image: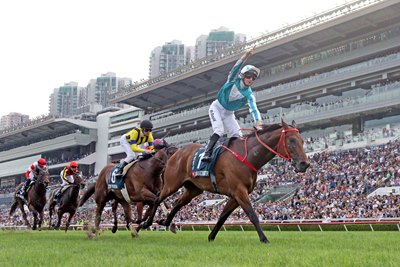 Description: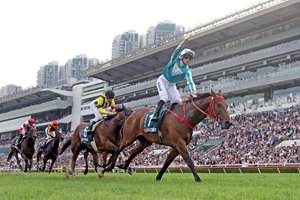 There's no question Romantic Warrior is the brightest star in the Standard Chartered Champions & Chater Cup (G1) May 28 at Sha Tin Racecourse. But there is the lingering question about his ability to handle the race's 2,400 meters (about 1 1/2 miles)—a distance he'll be trying for the first time.
Romantic Warrior, a 5-year-old Acclamation  gelding, is a multiple group 1 winner at 2,000 meters and also won the Hong Kong Derby at that trip. He would be riding a seven-race winning streak except for two seconds behind an even brighter star, Golden Sixty. But he has never gone farther than 2,000 meters (about 1 1/4 miles), leaving that question to be answered.
"Going to 2,400 meters is a bit of a test for him," admitted his jockey, Zac Purton. "He hasn't run over it before. He did win over 1,200 meters (for three consecutive wins at the start of his career in 2021). Not many horses can win over 1,200 meters and 2,400 meters, so the distance is a question mark, really.
"He's obviously got the class. It depends on how the race will be run."
That uncertainty leads the eye to last year's winner, Russian Emperor , and the 2021 victor, Panfield, both of whom line up again.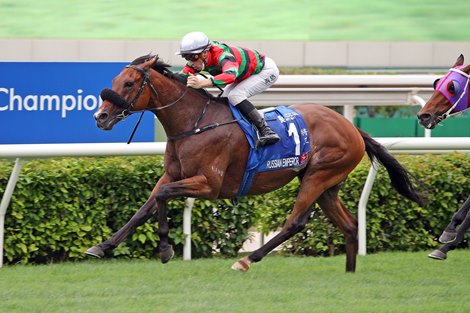 Russian Emperor has made eight starts since the year-ago highlight with only a single win to show for it, that coming in the H H The Emir Trophy in Qatar in February.
Granted, Russian Emperor has faced some tough customers along the way, particularly in Dubai. In his first race back in Hong Kong he finished sixth in the Queen Mother Memorial Cup (G3) May 7, albeit beaten only three lengths.
Trainer Douglas Whyte said Russian Emperor held his form well through the Middle East travels and had excuses for his disappointing return.
"I thought at his last run, he ran with a lot of purpose and (jockey Hugh Bowman) was happy with him," said Whyte, who won the Champions & Chater Cup three times during his own stellar riding career. "He got his momentum going and couldn't go anywhere turning for home, so he was a victim of circumstances.
"So, when Hugh jumped off and said he would like to stick with the horse that's a good indication that the horse ran well. ... I'm happy with the way he's come out of that race and he's worked well since."
Still, Whyte admitted, "It's going to be very hard to beat Romantic Warrior."
Panfield finished fifth, beaten 6 3/4 lengths, in last year's Champions & Chater Cup and disappointed in the Queen Mother Cup in his last but jockey Karis Teetan is far from despairing of his chances.
"The big boys are there, Romantic Warrior, but it's the first time that he will be going over the trip. It's going to be a competitive field," Teetan said. "He's (Panfield) in good health and with a good track on the weekend, I think he should be able to perform at his best again."
Panfield also holds an entry for the Takarazuka Kinen (G1) at Hanshin in Japan on June 25.
Caspar Fownes saddles three of the nine entries for the Cup with Straight Arron, winner of the Queen Mother Cup, chief among them. As a 4-year-old, he is a youngster by Hong Kong standards and Fownes believes his handicap mark doesn't do justice to his ability and potential.
"Look, we're 102-rated. We're out of the ratings in this race on Sunday. But we don't know where this horse's true rating is. He keeps improving and I think he'll be a better horse come December because he's just starting to strengthen up and do things right," Fownes said.
By comparison, in the local ratings system, Romantic Warrior is pegged at 130 and Russian Emperor is 117.
Fownes' optimism therefore would indicate wherever Straight Arron might finish in the group 1 finale of the 2022-23 season, the trainer is looking forward to the first big day of the coming term, the Hong Kong International Races in December.