Former Jockey Bobby Jennings Dies at 79
Image:
Description: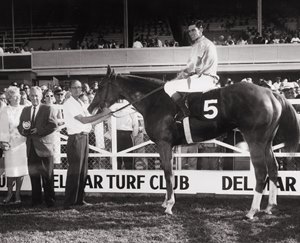 Bobby Jennings, a successful California-based jockey who won more than 1,100 races but was best known for being a racing anomaly as a six-foot rider, passed away at a care facility in Sacramento, Calif. May 23 following a lengthy illness at age 79.
A two-time winner of the prestigious Longacres Mile, in 1965 with Siempre and in 1966 with the Melvin Stute-trained Aurelious II, Jennings, whose nickname was "Skinny," won stakes at both Hollywood Park and Del Mar but spent nearly his entire career as a regular at Northern California tracks such as Bay Meadows, Golden Gate Fields, and the Northern fairs.
"I've never seen a rider that was that tall and was as good a rider as Skinny," said Arizona-based trainer Clay Brinson, who rode with Jennings in California in the 1960s. "There was a jock named Eldon Hall that was a little taller than Bobby, but he was probably the second-tallest jock I ever knew.
"(Jennings) was a good horseman and a helluva rider. He won a ton of races up north for R.L. Martin (former perennial leading trainer in the Bay Area)," Brinson said. "At one time, they were rolling big up there. After he quit riding, he trained for nine or 10 years. He had a good time, Skinny ran hard."
Following his time as a licensed trainer, Jennings worked as an assistant starter, primarily in Northern California, but also at Fairplex Park.
"My dad was a racing official and I was a kid when Bobby was winding up his career as a jock, back in the early 70s," recalled trainer Dean Pederson at Clockers' Corner on Wednesday.
"Bobby was a lifetime racetracker. He was a very talented rider, a good hand with 2-year-olds and he was a big, tall guy. He was talented at a lot of different things, which I'm sure helped him later on when he trained."
According to the American Racing Manual, Jennings won his first race in 1960 at age 16 and his final race in 1972, ending up with 1,122 wins. His career-high in terms of races won, came in 1965, when he booted home 177 winners, including a win in the Del Mar Derby aboard the Richard Chew-conditioned Hasty Trip. From 1962 through 1968, Jennings won 97, 121, 149, 177, 151, 170 ,and 129 races respectively.