CDI Working for Answers on High Number of Fatalities
Image: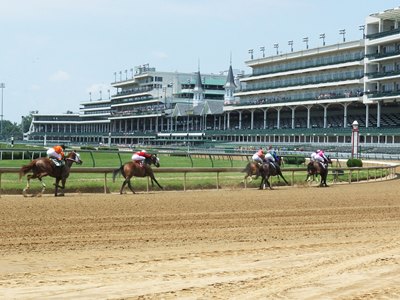 Description: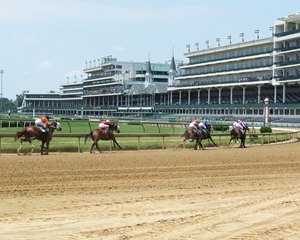 Churchill Downs, beset by a spate of equine fatalities over the last month, issued the following statement after racing May 27:
In the first race May 27, Kimberley Dream  sustained a significant injury—a distal sesamodean ligament rupture—to her left front leg. A similar injury occurred to Lost in Limbo  during Friday's seventh race. Unfortunately, in both scenarios, attending veterinarians determined that the injuries were inoperable and unrecoverable and made the difficult but most humane decision to euthanize. We send our deepest and most sincere condolences to the connections and all who loved and cared for Kimberley Dream and Lost in Limbo.
There have been 12 equine fatalities at Churchill Downs since the stable area reopened for training on March 30. It is with absolute dismay and sorrow that we report this highly unusual statistic. Our team members mourn the loss of these animals as we continue to work together to discover cause and determine appropriate investments to minimize, to the degree possible, any avoidable risk in this sport and on our property. We do not accept this as suitable or tolerable and share the frustrations of the public, and in some cases, the questions to which we do not yet have answers. We have been rigorously working since the opening of the meet to understand what has led to this spike and have yet to find a conclusive discernable pattern as we await the findings of ongoing investigations into those injuries and fatalities.
As with any matter under investigation, justice or answers are not always swift, but the commitment to being thorough is incredibly important. We understand the justified desire for answers, yet also respect the process and authority of the Kentucky Horse Racing Commission (KHRC) and the Horseracing Integrity and Safety Authority (HISA) when managing these important investigations. We are actively working in cooperation with these regulatory authorities and share their goal to improve the safety of this sport.
In recent weeks, we have been focused on our responsibility to provide the safest racing environment possible on our property. Part of that effort has included increasing the frequency with which our surfaces are tested. Earlier this week, Churchill Downs commissioned Dr. Mick Peterson, Executive Director of Racing Surfaces Testing Laboratory and Professor of Biosystems and Agricultural Engineering at the University of Kentucky, to perform additional diagnostics on our racetrack. The report indicated that the measurements from retesting do not raise any concerns and that none of the data is inconsistent with prior measurements from Churchill Downs or other tracks.
We simply will not allow these equine fatalities to be in vain. We are engaged in an epidemiological study with the Jockey Club to review each individual horse to determine if there are any undetected patterns that have not been previously identified. These findings can be incorporated into our daily review of entries and potentially trigger additional interventions using advanced diagnostic modalities.
Additionally, we have worked to uncover ways to invest in research and resources that may be made available to trainers, so that together we can better detect pre-existing injuries and work to avoid catastrophic injuries in racing. We have made promising progress in determining ways to increase the use of technology to better inform and intervene when abnormalities in horses present and are eager to share these announcements with horsemen and the public in the coming days. This is in addition to mining and enhancing our already comprehensive safety protocols and policies (Churchill Downs "Safety from Start to Finish"), all developed over the years to improve upon every opportunity we have to advocate in the best interest of our equine and human athletes.
We are troubled by this recent string of fatalities. It is extremely inconsistent with the outcomes we have experienced over the years, with the reputation we have developed over the decades and with the expectations we set for ourselves and owe our fans. We are committed to doing this important work and updating the public with our developments.