Spirit of Makena Overpowers Rivals in Triple Bend
Image: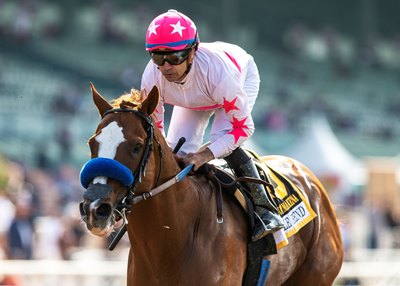 Description: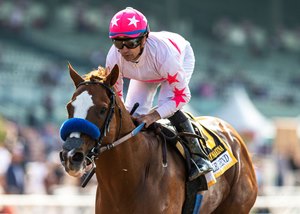 Bruce Chandler's Spirit of Makena  made plenty of people in Hawaii happy when he scored May 27 in the $201,000 Triple Bend Stakes (G2) at Santa Anita Park.
"We have all of Makena watching right now," Kris Chandler said from the winner's circle. "Makena, Maui is my favorite place in the world."
Spirit of Makena, the lightest-raced of seven sprinters in the seven-furlong Triple Bend, went off as the 9-10 favorite in only his second stakes attempt and fifth start. He was coming off a victory in the March 11 San Carlos Stakes (G3), and he deftly put together back-to-back graded wins.
Forbidden Kingdom  went to the early lead, completing the first quarter-mile in :22.86, but jockey Joe Bravo kept Spirit of Makena close to the pace, only about a length behind. Midnight Mammoth  from the rail raced fairly close in third, with the 9-year-old multi-millionaire C Z Rocket  in fourth.
Bravo asked Spirit of Makena for his move on the turn, and the 5-year-old produced. He ranged up outside of Forbidden Kingdom, drawing even with the pacesetter as they headed into the stretch.
"Around the turn, he's breathing, he's going comfortably," Bravo said after the race. "You can't disrespect the horse on the inside."
Spirit of Makena pulled away from Forbidden Kingdom with the proficiency of a much more seasoned competitor. C Z Rocket was closing ground from fourth, but Spirit of Makena hit the wire 3 1/4 lengths ahead of that rival, stopping the clock in 1:23.07. Desmond Doss  finished a nose behind C Z Rocket in third, with Forbidden Kingdom weakening to fourth.
"Makena just got underneath me turning for home, and you saw what happened," Bravo said. "Good horses just make you look good."
The winning Jockey of the Triple Bend Stakes (GII) for the second straight year was Joe Bravo.@bravoace is with @andie_biancone and is always a classic interview. Check this out!

Watch more on @FanDuelTV. pic.twitter.com/zpRzKAisKG

— TVG (@TVG) May 28, 2023
A very emotional Chandler accepted the trophy in the winner's circle alongside trainer George Papaprodromou. This sprinter is particularly special to Chandler, who lives on Makena Road in Makena. She and her late husband, Bruce, have put "Makena" in the name of several of their horses. They also bred his dam, the Gilded Time  mare Win for M'lou , and Kris named the mare after her mother.
Bruce Chandler is the owner and breeder of record of Spirit of Makena.
"My husband gave me the title, director of breeding, saying, 'Krissy, you're breeding all the horses.' So I convinced him to breed to Ghostzapper  ," Chandler said. "I liked the breeding because it was the same breeding as Shaman Ghost  . And Makena is where we've lived for the last 25 years."
Bred in Kentucky, Spirit of Makena was foaled in 2018, but he did not make his first start until Aug. 5, 2022, at Del Mar.
"He had some quarter crack issues," explained Papaprodromou. "We've been dealing with that."
Added Bravo, "He overcame a lot of things in his younger age, and in giving him some time off, he really developed."
Papaprodromou's patience paid dividends. Spirit of Makena won his initial maiden start by 2 1/2 lengths. In his second race, Sept. 11 at Del Mar, he lost by just a head to the much more experienced Holden the Lute , now an earner of $323,700.
After another five months away from competition, Spirit of Makena returned at Santa Anita, winning an allowance optional claimer Feb. 11 prior to his stakes debut in the San Carlos. In that seven-furlong race, he defeated two-time graded winner Forbidden Kingdom by 1 1/2 lengths.
Video:

Triple Bend S. (G2)