Torch Passed to Castellano
Image: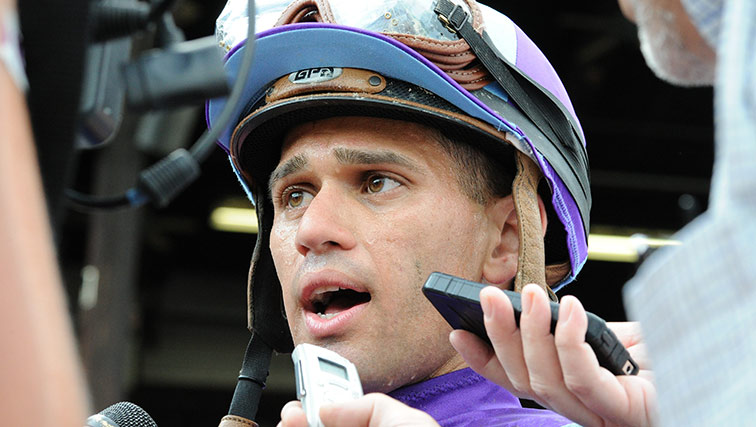 Description:
Javier Castellano won his first Eclipse Award as outstanding jockey in 2013. (Photo by Eclipse Sportswire)
Among the many things to come out of last weekend's Eclipse Awards was national recognition of the changing nature of the New York riding colony.
In the Empire State, where John Velazquez was the kingpin several years ago and then Ramon Dominguez ascended to the throne, Javier Castellano now sits at the top of the pack.
In naming him as the top jockey in 2013, Eclipse Award voters duly recognized Castellano's dominance in New York and his rising stature on the national scene.
And with Velazquez now 42 years old and returning from a serious injury and Dominguez retired after a tragic accident, there's every reason to believe Castellano, 36, has everything in place to enjoy another sensational season in 2014 and become entrenched as the No. 1 option for New York trainers looking for a rider with the skill and savvy to guide their horse from the starting gate to winner's circle.
Among the highlights of Castellano's season was setting a new North American record for earnings with $26,213,507, edging past Dominguez's mark of $25,634,852.
The national leader in 2013 wins with 362, he won the bulk of them (239) in New York and was the leading rider at the New York Racing Association's Belmont spring and fall meets as well as Saratoga Race Course, where his 66 wins were two less than the record-breaking 68 wins Dominguez posted in 2012.
With an Eclipse Award as the icing on the cake, Castellano should now move up a notch or two on the speed-dial configuration of East Coast horsemen.
The early returns in 2014 already reflect that interest. Castellano won the riding title at last year's winter meet at Gulfstream and he's leading the pack again this year at the Hallandale, Fla. track with 48 wins through Jan. 20 and is winning at a 29 percent clip – an improvement off his 21 percent figure at the 2013 meet.
Yet for all of the superlatives contained in Castellano's stellar 2013 totals, there was one area that did not reflect the dominance he displayed on a daily basis. Though he set a record for earnings, he had the fourth best total of graded stakes wins among all jockeys (24), but captured only four Grade 1 stakes, the seventh-best total of the year.
But look for those totals to rise in 2014 – if East Coast-based trainers and owners are smart.
In New York, which boasts the nation's most competitive collection of jockeys, the torch has been passed.