Making the Grade: Vicar's in Trouble
Image: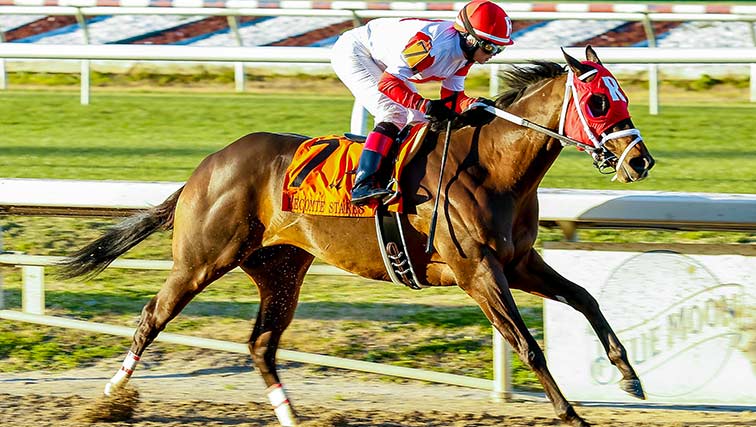 Description:
Vicar's in Trouble surges to victory in the Lecomte Stakes on Jan. 18 at Fair Grounds. (Photo courtesy of Eclipse Sportswire)
Making the Grade, which will run through the 2014 Belmont Stakes, focuses on the winners of the big races, usually from the previous weekend, who could impact the next Triple Crown. We'll be taking a close look at impressive winners and evaluating their chances to win classic races based upon ability, running style, connections (owner, trainer, jockey) and pedigree.
This week we take a closer look at Vicar's in Trouble, winner of the Grade 3 Lecomte Stakes on Jan. 18 at Fair Grounds.
Given a significant class test in the Lecomte Stakes, Vicar's in Trouble aced the exam with a dominant victory that gave him 10 valuable points on the Road to the Kentucky Derby. This week we'll take a look at whether or not this Into Mischief colt is a legitimate classics contender.
Vicar's in Trouble
Dark Bay or Brown Colt
Sire (Father): Into Mischief
Dam (Mother): Vibrant, by Vicar
Owners: Ken and Sarah Ramsey
Breeder: Spendthrift Farm (La.)
Trainer: Mike Maker
Ability: Ken and Sarah Ramsey, the 2013 Eclipse Awards winner for both outstanding breeder and owner, purchased Vicar's in Trouble for $80,000 at the 2013 Fasig-Tipton Midlantic 2-year-olds in training sale. He showed plenty of speed in that sale when working an eighth of a mile in :10.40 and that ability was evident in his first two races, both sprints. He finished a respectable third in his career debut on the synthetic surface at Keeneland Race Course but came back two months later and streaked to a 13-length romp on the dirt at Fair Grounds. He jumped from an 81 Equibase Speed Figure to a 100, a significant spike that indicated he learned plenty from his first start and probably prefers racing on dirt. The big hurdle in the Lecomte was whether Vicar's in Trouble could handle stretching out in distance to a two-turn race. It was pretty clear entering the stretch that Vicar's in Trouble was not purely a sprinter as he left his challengers reeling in his wake, but he did show some immaturity by weaving his way through the stretch.
"He certainly seemed to handle the distance with no problems," winning jockey Rosie Napravnik said. "The horse has been improving and I think he is still a little immature but I think he can move up a lot from this race."
Vicar's in Trouble improved to a 105 Equibase Speed Figure, a 5-point jump that indicates he can be effective going around two turns, especially if he runs straight through the stretch.
Running style: Napravnik mentioned following the race that Vicar's in Trouble's natural, high cruising speed gave her plenty of options in the race. After leading from start to finish in his previous start, Vicar's in Trouble raced in second under a firm hold from Napravnik in the Lecomte. He appeared a bit eager to run early but then settled into a confortable rhythm on the backstretch. When he was given his cue to accelerate late on the far turn, he inhaled pacesetter Roman Unbridled and surged to a commanding lead. That type of push button acceleration will come in handy on the Derby trail for getting out of trouble, gaining valuable position in races and getting the jump on the late runners.
Connections: Trainer Mike Maker ranked fourth by wins with 228 and eighth in purse earnings with $8,357,325 among North American trainers in 2013. Maker won the Breeders' Cup Dirt Mile for the Ramseys in 2009 with Furthest Land and also trained 2011 Breeders' Cup Juvenile winner and champion 2-year-old male Hansen. A winner of more than 1,200 races, Maker's best finish in the Kentucky Derby was an eighth by Stately Victor in 2010.
Ken and Sarah Ramsey were the dominant breeders and owners in North America in 2013 and took home a pair of Eclipse Awards in recognition of their excellence. The Ramseys earned their third career Eclipse Award as outstanding owner and their first as top breeder. Homebred champion Kitten's Joy has been the key to the couple's success as breeders. Kitten's Joy, the 2004 champion turf male, was the leading sire in North America in 2013. The Ramseys best finish in the Derby came with Ten Cents A Shine, who ran eighth in 2003. The couple's best finish in a Triple Crown race came with Nolan's Cat who was third in the 2005 Belmont Stakes.
Rosie Napravnik in 2012 became only the second female rider to win a Breeders' Cup race when she guided Shanghai Bobby to victory in the Juvenile. She joined Julie Krone, who won the Juvenile Fillies with Halfbrided in 2003. Krone also is the only female rider to win a Triple Crown race, accomplishing the feat in 1993 with Colonial Affair in the Belmont Stakes. Napravnik has emerged as the top female rider in the U.S. if not in the world and has a great opportunity to join Krone as a classic winner. She finished fifth in the Belmont Stakes in 2012 aboard Five Sixteen. Napravnik finished ninth in her only Kentucky Derby start aboard Pants On Fire in 2011.
Pedigree: Vicar's in Trouble is from the second crop of Into Mischief, who ranked third on the freshman sire list in 2012 and fifth on the second-crop sire list in 2013. Breeders' Cup Dirt Mile and Santa Anita Derby winner Goldencents came out of Into Mischief's first crop as did graded stakes winner Vyjack. Goldencents and Vyjack finished 17th and 18th, respectively, in the 2013 Kentucky Derby.
Vicar's in Trouble is out of the winning Vicar mare Vibrant, who won five races at distances ranging from six to seven furlongs and is a half-sister ([same dam [mother], different sire [father]) to graded-stakes-winning sprinter True Direction. Vicar won the Florida Derby in 1999 and finished third in the Blue Grass Stakes but was unplaced in both the Kentucky Derby and Preakness. Vicar's in Trouble is Vibrant's first stakes winner.
Vicar's in Trouble's second dam (maternal grandmother), Ms Paragon, also was a winner at six to seven furlongs and his third dam (maternal great-grandmother), Jabot, was a graded stakes winner at a mile on the grass.
Vicar's in Trouble appears to have plenty of natural ability, but it's fair to question how far this pedigree will carry him as the distances of the key races get longer on the Triple Crown trail.