#TrendingNow for Jan. 21
Image: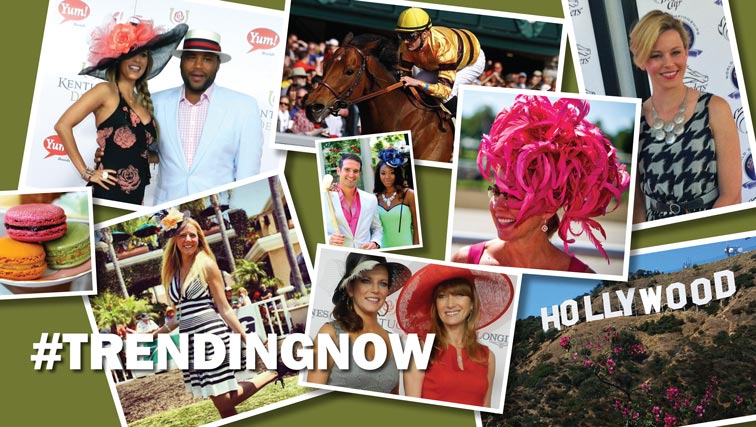 Description:
Find out what culture vultures and horse racing royalty have to say about what's #TrendingNow!
This week's featured guests are: John Hennegan, Trixie Minx, Jerry Bossert, Liz O'Connell
Pick your ideal winter vacation: ski patrol or beach bum?
Do you prefer to attend a football game in a dome or open-air stadium?
What horse racing event are you most looking forward to in 2014? 
Who's going to clean up at the Grammys?
John Hennegan
Raised around the NYRA tracks, John Hennegan lives in Brooklyn with his family working as a writer-producer-director focusing on the world of sports. Along with his brother Brad, the Hennegan Brothers are responsible for several projects focusing on horse racing including "The First Saturday in May".
Follow on Twitter: @HenneganBros
My ideal winter vacation is hanging with the Rastas on a Wednesday at Aqueduct. So I guess beach.
Outdoors. I hope it snows for the Super Bowl.
The Travers. Saratoga in August is tough to beat.
Probably somebody [crappy], but I can highly recommend the Grammy-nominated Pretty Lights' album "A Color Map of the Sun". And it would be cool to hear Ozzy accept an award.
Trixie Minx
Trixie Minx is New Orleans' own burlesque beauty and comedic cutie. She produces three burlesque shows based in NOLA (Fleur de Tease, Burlesque Ballroom and Creole Sweet Tease) and performs her uniquely playful style of strip tease around the world. For more info visit www.trixieminx.com.
Follow on Twitter: @TrixMinx
Beach bum! Beach is always the ideal vacation no matter what season.
I prefer the dome.  
Any horse racing event I can attend in a fancy hat. 
I'm gonna guess Justin Timberlake and Lorde but really have no idea this year. Besides, it doesn't matter who wins; it's creating great music that really matters.
Jerry Bossert
Jerry Bossert is a horse racing writer and handicapper for the New York Daily News.
Follow on Twitter: @JBossertNYDN
Without a doubt beach bum is the answer. I don't know how to ski but can lay on the beach with the best of them. 
It's football, so it has to be outdoors. I hope it's a blizzard for the Super Bowl. 
The Kentucky Derby. No doubt about it. The most exciting two minutes in sports.
I hope Bruno Mars and Lorde pick up a few awards. I enjoy their music. 
Liz O'Connell
Liz O'Connell is a lifelong horsewoman and writes about the horse racing industry and interior design for print and digital publications. 
Follow on Twitter: @nythoroughbred
Closer to being a beach bum than joining ski patrol. Although the tropical sun and beach part is tough with really fair skin and acute reactions to sunblock. The Gator products are my go-to. Having worked outside so much in the heat and elements, in the summer I am most fond of cool, dark bars. I excel at doing nothing, whatever the venue.
You might find me at an open-air football game. Precipitation doesn't bother me. Although seats in a skybox with wi-fi, snacks and valet parking would work. Valet parking works anywhere — see previous answer re: nothing. 
Met Mile, Breeders' Cup, Whitney, Vanderbilt, Gold Cup, the Arc, Genesee Valley Hunt Races, any races where horses I've foaled out run. I am eagerly anticipating Black Caviar's first foal.
Sara Bareilles for "Brave".
Pink,  "Just Give Me a Reason".
Sadly, What Does the Fox Say is not an option http://bit.ly/1dMb10N