Frey Back in Top Riding Form After Summer Hiatus
Image:
Description: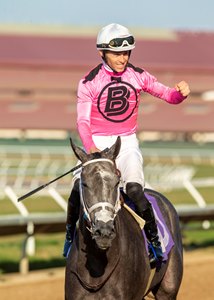 Jockey Kyle Frey is back riding at Del Mar this fall, picking up where he left off when he went on a self-imposed hiatus from racing during the summer meet. Through Nov. 17, after four days of racing, he has three wins, five seconds, and two thirds from 20 mounts. 
For a man who has a history of substance abuse, his departure mid-meet was met with speculation, but Frey will tell you it was a planned vacation, and by the time he returned in September, he was refreshed and ready to ride.
"I took a break," Frey said. "Just a refresher from work. Spent some time with family and took a deep dive into mental health. I took up an array of different forms of meditation. It was a really good experience."
Frey returned to racing on the last weekend of the Los Alamitos Race Course summer Thoroughbred meet and managed four wins.
"We crushed it that first weekend in," Frey said. "Luckily, a lot of guys take off, so that opens up business which helped me get back into it."
The 31-year old jockey followed with five wins at Santa Anita's autumn meet.
He's been riding professionally since 2010 and in 2011 he won the Eclipse Award for the nation's top apprentice. But alcohol has derailed his career at times over the years. He's always managed to get back on track but he's searching for answers to help him understand his addiction.
"You can combat the drug and alcohol portion of it," Frey said, "but you also have to include the mental health aspect as well. I never knew there was a deeper, underlying issue aside from alcoholism. Due to the mental health aspect of it, you tend to self-medicate."
Frey realizes people might jump to assumptions about his absence from racing last summer, but to be clear, he was not in rehab somewhere.
"People can assume, and that's very common," Frey noted. "But no, that wasn't the issue this time around. I've turned over the keys to the management office. If I ever try to take over the business again, we'll go bankrupt. It's an empowering feeling."
Frey lives with his wife and two children in Azuza, Calif., just up the road from Santa Anita. He approached the Bing Crosby Season with a renewed vitality toward his racing career and the fall meet is the perfect atmosphere.
"It's less chaotic," Frey said, compared to the busy summer along the Pacific coast.
Entering Saturday, Frey has 1,124 career wins, according to Equibase, with earnings approaching $29 million. His graded stakes winners include Blended Citizen  , Zakaroff , and Shane's Girlfriend . This year he has 42 wins from 418 starts and earnings of $2,237,880.