Ortiz Jr. Posts Five Wins Nov. 18 at Aqueduct
Image:
Description: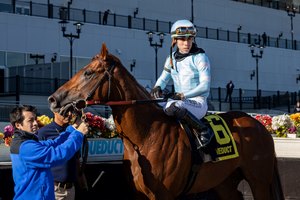 Jockey Irad Ortiz Jr. enjoyed a strong showing at Aqueduct Racetrack Nov. 18, scoring five wins from nine mounts on the 10-race card.
The 31-year-old Puerto Rico native's wins were led by stakes scores in two of the day's four featured stakes, including the $100,000 Notebook Stakes with Works for Me  and the $100,000 Key Cents Stakes with Tricky Temper .
"When you really like this sport, no matter what type of race it is, you just want to do your best out there and try to win," Ortiz said.
As of Saturday, Ortiz, Jr. ranks as the leading North American rider this year by wins (331) and purse earnings ($37,221,889).
"To be consistent you have to have health. I thank God, he gave me good health all year to be able to do it," said Ortiz, Jr. "After that, I have huge support from trainers and owners. My agent, Steve Rushing, does a great job, and I need them to support me to let me ride their horses and be able to win consistently because it's not easy.
"The horses do most of the hard work for us—we just try to tell them what to do and make some decisions. It's horse racing, not jockey racing. We have to make decisions for them, but they've been running for me, and I have to thank the horses, too."