Bernhards, Bregman Named New Owners of the Year
Image: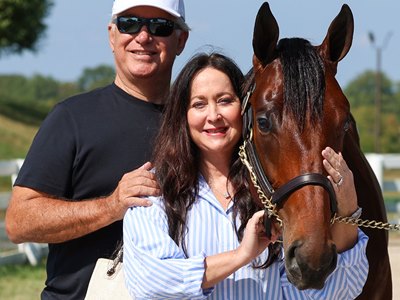 Description: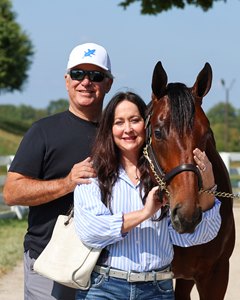 OwnerView announced Nov. 20 a dead heat for its 2023 New Owner of the Year award, sponsored by 1/ST RACING, with the honors going to both Jim and Dana Bernhard and Alexander Bregman.
The Bernhards have been Thoroughbred owners since 2021, and in November 2022 they bought Pin Oak Stud in Versailles, Ky. They campaigned Geaux Rocket Ride, winner of the Haskell Stakes (G1). Other horses campaigned by the Bernhards over the past year include Parchment Party , Boltage , Record Time , and Empirestrikesfast .
"We were so fortunate to be able to purchase Pin Oak, and we hope to continue Ms. Josephine Abercrombie's legacy and commitment to Thoroughbred breeding and racing," said Jim Bernhard. "Dana and I are very honored to receive this award, and we are committed to supporting the sport and modernizing the industry."
The Bernhards' commitment to the sport is evident in their pledge to donate all of the proceeds from their online shop to accredited Thoroughbred aftercare charities. As part of the modernization, Pin Oak has announced that its horses will be wearing biometric sensors during breezes, and at the tracks that have the necessary regulatory approval, these sensors will be in place for races as well.
Bregman, the third baseman for the Houston Astros of baseball's major leagues, and his wife, Reagan, entered the sport of Thoroughbred racing in 2023 with the purchase of eight horses and plans to race in states from West Virginia to California. Bregman campaigned three-time stakes winner No Nay Mets  along with Game Seven , Cadillac Candy , Goldblooded , Kodiac Wintergreen , Soloshot , Homerunhappy , and Miss San Gabriel .
Bregman Family Racing's first time at the track had more than a dozen of Bregman's teammates gathered around his phone in the locker room at Globe Life Field to watch Cadillac Candy finish second April 28 at Keeneland. 
Bregman was one of the prominent horsemen who pledged Breeders' Cup earnings to support the fight against antisemitism before the 2023 Breeders' Cup, and he has signed on as a Breeders' Cup celebrity ambassador. 
"The love of horse racing goes back generations in my family, and I've always been a fan," Bregman said. "It's incredible to have my own horses now and to be able to share the sport with my teammates and fans and to be an ambassador for the sport. I am very honored to receive this award."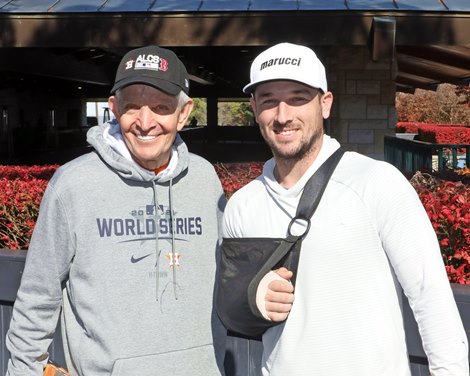 The New Owner of the Year award has been previously presented to MyRacehorse, Larry Best, the Churchill Downs Racing Club, Charles and Susan Chu, LNJ Foxwoods, Sol Kumin, Boat Racing, and Richard Dawson and Pat Kearney.
OwnerView is a joint effort spearheaded by The Jockey Club and the Thoroughbred Owners and Breeders Association to encourage ownership of Thoroughbreds and provide accurate information on aspects of ownership such as trainers, public racing syndicates, the process of purchasing and owning a Thoroughbred, racehorse retirement, and owner licensing.