Derby Trail: Three Rising, Three Trending Down
Image: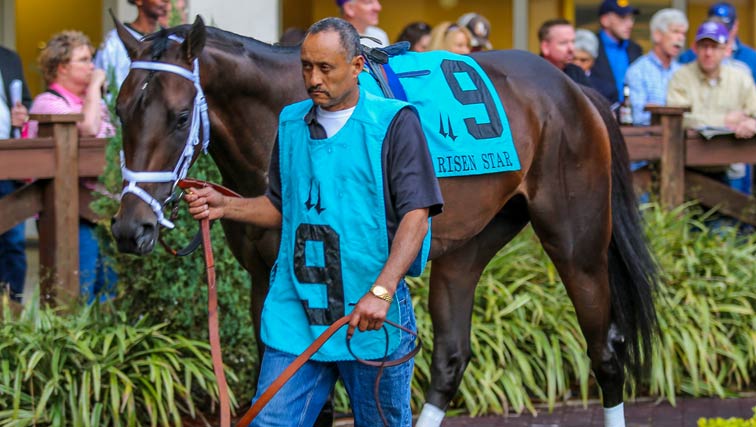 Description:
Intense Holiday in the paddock before he won the Risen Star Stakes on Feb. 22. (Photo by Eclipse Sportswire)
Below is a capsule look at three horses who are heating up on the Triple Crown trail and three horses whose Derby chances are not quite as strong as they once were.
Road to the Kentucky Derby Leaderboard
Heating Up
1. Intense Holiday
Eclipse Sportswire
I considered a number of 3-year-olds for the top spot this week, but in the end it comes down to which of the horses has the best chance to win the Kentucky Derby. Intense Holiday posted a career-best 106 Equibase Speed Figure, topping his previous best by 11 points, in winning the Risen Star by a nose. I've always liked this colt but thought he needed to improve significantly to be counted among the true Kentucky Derby contenders. He did just that in the Risen Star.
2. General a Rod
Eclipse Sportswire
The Fountain of Youth was an interesting race in that the generally accepted theory for that day is that it was a speed-favoring track at Gulfstream Park. Because of that, quite a few people jumped on the Top Billing bandwagon since he was one of the few horses to make up ground in late on the main track, but he was already second in my Derby Top 10. I'm not sold on winner Wildcat Red's chances to keep winning as the races get longer, but I seem to be one of the few who really liked runner-up General a Rod's race. It looked like he was hustled up so he wouldn't lose contact with pacesetter Wildcat Red and he battled him throughout the race only to come up a head short at the finish line. He really galloped out powerfully (note: I'm not a "gallop-out" guy, but it did look like he had plenty left). General a Rod was very close to a swift pace and still finished reasonably fast. And, he posted a career-best 105 Equibase Speed Figure. I see a lot to like here ...
3. Constitution
Eclipse Sportswire
I'm not sold that Constitution is a 1 ¼-mile Kentucky Derby horse, but boy did he overwhelm a nice field in a 1 1/16-mile allowance race on the Fountain of Youth undercard. He led from start to finish on a track that, as I mentioned above, appeared to be favoring speed. Still, he ran just two-fifths of a second slower than Wildcat Red and General a Rod in the Fountain of Youth and posted a career-best 103 Equibase Speed Figure. He's 2-for-2 now and needs some points quickly to qualify for the Derby. I think he'll find sufficient points somewhere on the Derby trail and wind up in the starting gate for the first jewel of the Triple Crown, but I see too much speed in his pedigree and not enough stamina to jump on board yet.
Cooling Off
1. Rise Up
Eclipse Sportswire
I'm not as down on Rise Up as a lot of others following his disappointing seventh-place finish in the Risen Star Stakes, but he definitely drops for me from eighth on my Derby Top 10 last week. He got off to a terrible start in the Risen Star, clearly didn't like being far behind the pace, and rushed up to contest front-running Albano. Rise Up ran out of gas early in the stretch and faded badly late. He was one of the fastest 2-year-olds of 2013 and this was his first start in three months, so I'll give him another chance. In fact, I think he'll run a big one in his next start. But at this point, it's impossible not to drop him out of the top 10 off a dud in his 2014 debut.
2. Gold Hawk
Eclipse Sportswire
Gold Hawk is by Belmont Stakes winner Empire Maker out of 2000 champion 2-year-old filly Caressing, so there is so much to like in his pedigree. Unfortunately, at this point he just doesn't appear to be fast enough. After finishing a well-beaten third in the Grade 3 Lecomte Stakes in January, Gold Hawk came up empty in the stretch of the Risen Star and finished fifth. He's going to need to improve quickly to develop into a real Derby threat and there's not a whole lot of time left.
3. Matterhorn
NYRA Photo
Much ballyhooed after a sensational career debut in November at Aqueduct, Matterhorn made his first start of 2014 in the allowance race on Feb 22 that was won by the aforementioned Constitution. Bumped at the start, Matterhorn was seventh early and never contended, finishing 18 ¾ lengths back as the 3.30-to-1 third betting choice. I think we'll see a better performance from this Tapit colt in his next start. But, he does not yet have any points on the Road to the Kentucky Derby Leaderboard and it would be tough to imagine him making his next start in a stakes race after a disappointing first race to begin his 3-year-old campaign.
3a. Shared Belief
Benoit Photo
Tick, tock. Tick, tock. Tick, tock. I hate to say it because I feel pretty strongly that Shared Belief is the most talented 3-year-old out there, but the Kentucky Derby on May 3 is unfortunately looking like a longshot for him. Hall of Fame trainer Jerry Hollendorfer just moved last year's champion 2-year-old male from Southern California to Northern California to train on Golden Gate Fields' synthetic Tapeta Footings surface as he continues to recover from a foot ailment. That could help, but the reality is that Shared Belief has no Kentucky Derby points; he has not had an official workout since Jan. 5; and counting this weekend, there are nine weekends between now and the Derby. It's pretty common for trainers to say a horse needs five workouts to prepare for a race off a layoff, and it doesn't take a mathematician to realize that if Shared Belief doesn't work this weekend or next, he's almost certainly going to miss the major prep races. Keep your fingers crossed, but time is not on his side.
Curry's Derby Top 10
1. Honor Code
Eager to see what he does in his 2014 debut.
2. Cairo Prince  
Soundly defeated Risen Star winner; he's really good.
3. Conquest Titan 
Love this closer's chances on Derby day.
4. Top Billing 
Fountain of Youth third solid, but I was expecting star performance.
5. Candy Boy
By far best of the West with Shared Belief still out of sight.
6. Tapiture
Loved his Southwest win, and we know he likes Churchill.
7. Intense Holiday
Shined brightly in Risen Star and finally ran fast. Gaining ground.
8. General a Rod
Seems I'm one of few on his bandwagon after Fountain of Youth.
9. Bayern
Outstanding in last race on Feb. 13, needs Derby points.
10. Samraat
Gotham Saturday determines if he's legitimate threat to win Derby.
Four on the bubble: Shared Belief, Constitution, California Chrome, Rise Up
Racing Terms
Allowance race – A race for which the racing secretary drafts certain conditions to determine weights to be carried based on the horse's age, sex and/or past performance.
Also-eligible – A horse officially entered for a race, but not permitted to start unless the field is reduced by scratches below a specified number.
Apprentice – A rider who has not ridden a certain number of winners within a specified period of time. Also known as a "bug," from the asterisk used to denote the weight allowance such riders receive.
Blinkers – A cup-shaped device that limits a horse's vision. Blinkers, often used to try to improve a horse's focus, come in a variety of sizes and shapes to allow as little or as much vision as the trainer feels is necessary.
Bullet – The fastest workout of the day at a track at a particular distance.
Claiming race – A race in which each horse entered is eligible to be purchased at a set price.
Closer – A horse that runs best in the latter part of the race, coming from off the pace.
Connections – Persons identified with a horse, such as owner, trainer, jockey and stable employees.
Disqualification – Change in order of finish by stewards for an infraction of the rules.
Dam – The mother of a horse.
Entry – Two or more horses with common ownership that are paired as a single betting unit in one race.
Front-runner – A horse whose running style is to attempt to get on or near the lead at the start of the race and to continue there as long as possible.
Furlong – An eighth of a mile.
Graded race – A non-restricted race with added money or guaranteed purse value of $100,000 or more which has been run at least twice under similar conditions and on the same surface and has been assigned graded status for the year contested by the American Graded Stakes Committee.
Handicap – This race type refers to a race where the weights are assigned by the track's racing secretary or handicapper based upon past performances.
Length – A measurement approximating the length of a horse, used to denote distance between horses in a race.
Off track – A track that has a wet surface and isn't labeled as "fast".
Pacesetter – The horse that is running in front (on the lead).
Past performances – A horse's racing record, earnings, bloodlines and other data, presented in composite form.
Prep – A workout (or race) used to prepare a horse for a future engagement.
Post Parade – Horses going from paddock to starting gate past the stands. The post parade provides spectators with a chance to get a final look at the horse before the race.
Post Position – Position of stall in starting gate from which a horse begins a race.
Rabbit – A speed horse running as an entry with another, usually a come-from-behind horse. The rabbit is expected to set a fast pace to help the chances of its stablemate.
Rank – A horse that refuses to settle under a jockey's handling in a race, running in a headstrong manner without respect to pace.
Scratch – To be taken out of a race before it starts.
Silks – Jacket and cap worn by jockeys.
Sire – Father of a foal.
Stakes – A race for which the owner usually must pay a fee to run a horse. The fees can be for nominating, maintaining eligibility, entering and starting, to which the track adds more money to make up the total purse. Some stakes races are by invitation and require no payment or fee.