Program Spotlight: Galloping Out
Image: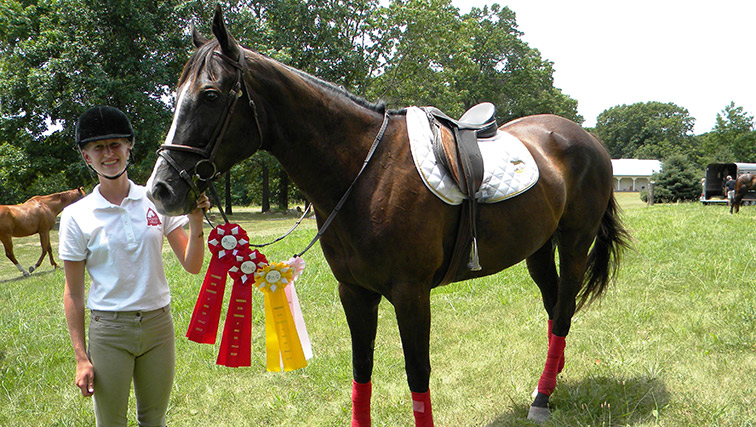 Description:
Galloping Out graduate Gathering Kings showing off his ribbons (Photos by Galloping Out).
Officially started on May 1, 2010, Galloping Out was formed after a long political campaign backed by Chicago-area racetracks.
"Galloping Out's beginnings trace back to 2004, when the [Cavel International Inc. horse slaughter plant] tried to reopen in DeKalb, Ill.," said Jan Ely, Galloping Out's program coordinator. "It took three long years of fighting and grassroots campaigning, and the financial backing of Arlington [International Racecourse] and Hawthorne [Race Course] to change Illinois law, making horse slaughter illegal here. During the time lobbying in Springfield, we were asked: 'what will happen to all those horses?' Along with the national movement for aftercare of all former racehorses, Galloping Out became Chicago's answer."
A joint venture between Hawthorne, Arlington and the Illinois Thoroughbred Horsemen's Association, Galloping Out has found new homes for 89 horses since its inception. The program is able to fund 30 horses at a time with the horses boarded at eight different farms specializing in different areas of recreational riding.
"Galloping Out differs from some retirement programs in that we do not have our own farm," Ely said. "We contract with eight different farms, some strictly rehab facilities, others retraining barns. We have hunter-jumper barns, dressage barns, a western-pleasure barn, and we move horses around to where they are best suited.  Our farms have a great working relationship and send potential adopters to one another when they have people looking for a horse."
CHOWDER WITH HIS NEW OWNERS
Every horse Galloping Out has in its program is associated with Illinois racing in some way. While many of the horses accepted into the program must be based in Chicago, Galloping Out will make exceptions for Illinois-breds that finish their careers outside of the state. The program checks the racing and workout history of any horse that is submitted for acceptance into the program to make sure the horse has spent time in Chicago. 
Farms are in charge of approving adoptions, which usually makes the process go quicker since they know if a horse and rider match is the correct one.
By the time potential adopters fill out a form to adopt one of Galloping Out's horses, the adoption can be approved in a matter of days, pending reference and site checks.
The program has seen many successful racehorses come through its doors including multiple stakes winner Mighty Rule, who earned more than $625,000 in his career; Scooter Roach, who won the Grade 3 Hawthorne Derby in 2002; and multiple stakes-placed runner Bold Days.
THE ALCOVA KID IS A THOROUGHBRED GALLOPING OUT HAS SPONSORED AT MURRAY STATE UNIVERSITY 
Galloping Out recently moved from just adopting out Thoroughbreds to promoting the breed by taking a more active role in community's show circuit.
"We are also actively reaching out to the riding and show horse community.  We have begun sponsoring all Thoroughbred classes at local horse shows, and rewarding top-placing Thoroughbreds in others. My goal is for every person preparing to buy a new horse, to look for a Thoroughbred first," Ely said.
While Galloping Out has the full support of Illinois horsemen when it comes to fund raising and donations, the program can always use more the public's help.
"Fans can support the program in a number of ways. Financially, of course, is the easiest. We have also had fans volunteer and help with T-shirt days or other fund-raising events.  We have even had fans hold their own fund-raising events to benefit Galloping Out," Ely said.
For more information on Galloping Out, you can visit www.gallopingout.org/default.html.
If you know of a Thoroughbred Aftercare program that you think should be covered in America's Best Racing's Aftercare Program Spotlight, email Melissa Bauer-Herzog (mbauer-herzog@jockeyclub.com) with the program's name and website.