Woodbine Adds Bonus to Ontario-Sired Program
Image: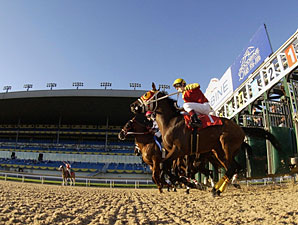 Description:
Woodbine Entertainment Group and the Horsemen's Benevolent and Protective Association Feb. 27 jointly announced restructuring of the Ontario-sired Thoroughbred racing overnight program at Woodbine.



The changes offer substantial incentives and bonuses to horsemen with Ontario-bred and -sired horses competing at all levels of the Woodbine overnight program. Specifically, a 40% purse bonus is now available to eligible Ontario-sired runners competing in "open" unrestricted races.



"The new 40% Ontario-sired bonus stacked on top of the pre-existing 20% Ontario-bred bonus for eligible horses in open races has stunning implications for the province's racing program," said Sue Leslie, HBPA's executive director. "Breeders with Ontario sires and horse people that are considering foaling Thoroughbreds in Ontario have tremendous financial incentive to do so with this reorganization of the Ontario sires incentive program."



For instance, eligible runners in an open maiden special weight event now run for a total purse of $89,460 (includes $55,900 base, an $11,200 Ontario-bred bonus, and a $22,360 Ontario-sired bonus).



The bonus program will be funded by adjustments in Ontario-sired restricted allowance race conditions offered to horsemen daily on the 133-date Woodbine calendar. The Ontario-sired maiden claiming $25,000 class has been discontinued. The Ontario-sired non-winners of three condition has been combined with the $40,000 claiming NW3. And the Ontario-sired maiden special weight and non-winners of two purses have been moved to $45,000 and $47,500, respectively.



"The reorganization of Woodbine's Ontario-sired purse and race infrastructure has benefits for both the horse people of the province and importantly, the fans and the bettors of Woodbine racing," said Steve Koch, WEG's vice president of racing. "The streamlined conditions allow more opportunities to fill open races with large fields, which horseplayers desire. The purse bonus rewards Ontario-based horse people for producing competitive runners."



All current registered Ontario-sired runners are eligible for the 40% purse bonus except for previously claimed horses (at any price) in $16,000 claiming or lesser events.



The bonus program, which is subject to Ontario Racing Commission approval, goes into effect for the start of the 2014 Thoroughbred season April 12.