Derby and Oaks Bright Spots for Churchill
Image: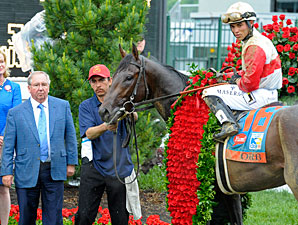 Description:
Once again, the success of the Kentucky Derby Presented by Yum! Brands (gr. I) and Longines Kentucky Oaks (gr. I) were the rare brights spots within the racing sector when Churchill Downs Inc. reported record revenues for 2013.



According to the racetrack and gaming operating company's annual results released Feb. 26, a $5.8 million increase in profitability for Derby and Oaks week last year was more than offset by declines within other areas of racing operations. Overall, revenues from horse racing totaled $274.3 million, down 9% from the previous year, and for the first time in company history were exceeded by revenues from the gaming sector.



Boosted by revenues from a Mississippi casino acquired in 2012 and a Maine casino purchased in 2013, gaming revenues soared from $223 million in 2012 to $297.5 million.



Within the racing sector, revenues at the flagship Churchill Downs racetrack in Louisville, Ky., totaled $132.8 million in 2013, up from $124.3 million in 2012; racing revenues at Calder Casino & Race Course fell by $28.3 million, a result of a decrease in live racing dates last year and the loss of host track simulcasting revenues in Florida; revenues at Arlington Park decreased 7% to $64.5 million; and revenues at Fair Grounds Race Course & Slots fell 8% to $40.1 million. (Calder and Fair Grounds have gaming operations that are included in the gaming division results).



Revenues from online wagering, previously one of the strongest growth areas of the company, increased 1% to total $184.5 million, with the company attributing the flat results to a halt in account wagering in Illinois and Texas during part of 2013.



During a Feb. 27 conference call in with investors, CDI executives said the Derby and Oaks will continue to add positive results to the bottom line and that they are continuing to work to resolve the developments in Florida and Texas that posed a drain on earnings in 2013.



CDI board chairman and CEO Bob Evans said the track has signed up a "significant and as yet unannounced sponsor for this year's Derby and Oaks." He also said sales for most of the premium seating areas are running even or ahead of last year's figures at this point. Subject to the caveat that the races are still more than two months away, Evans said this year's Derby and Oaks should be financial successes.



Other positives for the Derby-Oaks week are the 10-year renewal by NBC of its contract to televise the Derby and the current installation of a 15,224-square-foot, high-definition LED video board that will be completed in time for the spring meet. Churchill has teamed with Panasonic on the $12 million project that Evans said has one sponsor now but should prove an attractive lure to potential sponsors in the future.



Evans said there was nothing special about the timing of the decision to enter into the longterm television deal with NBC and declined to provide financial terms of the contract. "The market for sports media rights is extremely strong right now, and this reflects those market forces," he said the NBC extension.



In analyzing the 2013 financial results, Bill Carstanjen, CDI president and chief operating officer, said the company is continuing to find a solution to the competitive environment that resulted in the major losses at Calder last year.



Unlike previous years when only one South Florida track conducted live racing at a time and thus received the host track simulcasting fees, in 2013 Gulfstream Park and Tampa Bay Downs also were accorded host track status, cutting into Calder's revenues.



Carstanjen said CDI officials are gratified that the state's racing Department of Pari-Mutuel Wagering had issued a notice that permit holders must conduct at least three days of live racing per week to qualify as a host track, criteria he said were not always met by Gulfstream and Tampa Bay last year. He said a hearing has been scheduled for March 6 to promulgate the host track rule and that CDI will pursue recouping some of the lost host track revenues from last year.



"We have many discussions with The Stronach Group (owner of Gulfstream Park's parent) over the last several months to resolve the overlap that has led to a diminished product at both facilities," Carstanjen said. "We have not been able to agree on a compromise and will continue to work on an agreement to do what is best for Florida racing and for shareholders.
"The silver lining is we will race 39 live racing dates in the first quarter of 2014 to qualify for host fees when we have not traditionally raced those dates. Going forward, we should see an improvement in these results as we race the days traditionally raced by Gulfstream Park. And if we reach a compromise it should improve the company's results."



Carstanjen said CDI representatives recently appeared before a federal appeals court in Texas that is hearing the company's appeal of a state law banning Internet wagering on horse racing. He said CDI is hopeful of a favorable ruling and that online wagering in Texas will resume prior to this year's Derby.