Turf vs Tech Handicapping Challenge for March 1
Image: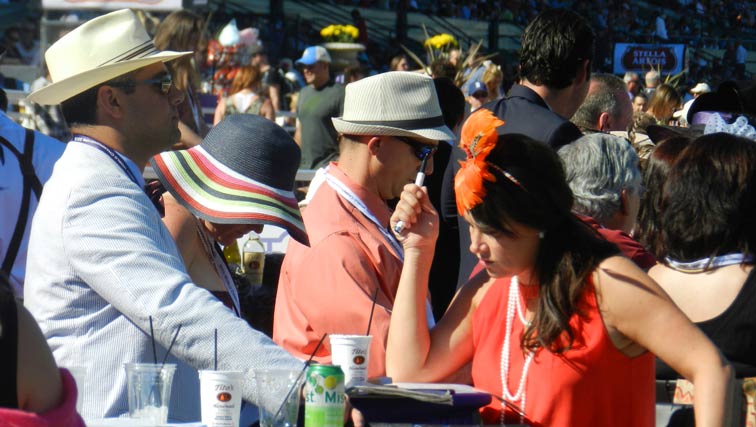 Description:
The Turf vs Tech Handicapping Challenge is a public tournament featuring some of the best handicappers from the world of Thoroughbred racing taking on some of the best and brightest from the tech world. Many of racing's new fans are building their own companies or working on the next great mobile app and we thought it would be great to see what happens when they take on established handicappers in some of America's best races. 
Stay tuned as this group of tech all-stars take on some of America's most recognizable handicappers in a winner-takes-all battle that pits the new school against the old school.
John Conte
An Eclipse award winner, an NHC champ and now a star in the "Horseplayers" reality TV show on the Esquire Network, John Conte is one of America's most accomplished handicappers. He has been involved with the game in all capacities as an owner and breeder in addition to having a daily featured column in the New York Post. John offers a handicapping service and can be reached at johnconteracing@optonline.net.
Darren Prasad
Darren Prasad is the marketing manager at a digital ad agency in Vancouver, Canada. A devoted fan of the Vancouver Canucks, and hockey in general, he also is an ardent supporter of Japanese super-horse Espoir City. He is looking to sharpen his handicapping skills on the Kentucky Derby trail this year and is always up for splitting Pick 4 tickets. 
GAME ON
This week our two handicappers will have a $100 bankroll with which to use on the following races on Saturday, March 1: the $500,000 Gotham Stakes for 3-year-olds, Aqueduct, Race 9; and the $200,000 Swale Stakes for 3-year-olds, Gulfstream Park, Race 9.
CONTE
GOTHAM STAKES  
$20 to win on #2 In Trouble ($20)
$1 trifecta box 1,2,4,10 (Noble Cornerstone/Samraat, In Trouble, Uncle Sigh, Harpoon) ($24)
$2 exacta box 1,2,4 (Noble Cornerstone/Samraat, In Trouble, Uncle Sigh) ($12)
Total: $56
SWALE STAKES
$20 to win on #1 Havana ($20)
$10 exacta key #1 Havana on top with #2 Can't Stop the Kid and #5 Spot ($20)
$2 exacta 2,5 (Can't Stop the Kid, Spot) with 1 (Havana) ($4)
Total: $44
PRASAD
GOTHAM STAKES   
$20 win on #1 Noble Cornerstone/Samraat entry ($20)
$5 win/place/show on #10 Harpoon ($15)
$1 trifecta box 1,7,10 (Noble Cornerstone/Samraat, Classic Giacnroll, Harpoon) ($6)
$9 show on #7 Classic Giacnroll ($9)
Total: $50
SWALE STAKES
$4 win/place on #2 Can't Stop the Kid ($8)
$1 exacta box 1,3,5 (Havana, No Nay Never, Spot) ($6)
$4 exacta box 1,2,3 (Havana, Can't Stop the Kid, No Nay Never) ($24)
$1 trifecta box 1,3,5 (Havana, No Nay Never, Spot) ($6)
$1 trifecta box 1,2,3 (Havana, Can't Stop the Kid, No Nay Never) ($6)
Total: $50