Dubai World Cup Set for March 29
Image: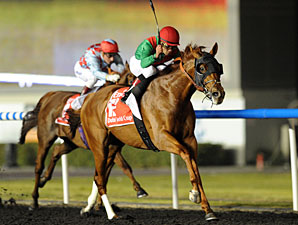 Description:
The 19th edition of the Dubai World Cup (UAE-I) is set March 29, 2014, according to the race schedule for the United Arab Emirates 2013-2014 season announced Aug. 28.
Emirates Racing Authority Chairman Sheikh Mansour bin Zayed Al Nahyan approved the dates, which will open with a Nov. 1 card at Jebel Ali Racecourse. Following the opener will be Sharjah Racecourse's first date, Nov. 2.
The first meeting at Dubai's Meydan Racecourse will take place Nov. 7, and Abu Dhabi's season gets started at Abu Dhabi Equestrian Club Nov. 10. A newcomer to the UAE's racing calendar, Al Ain City's Al Nakheel Equestrian Club, will see its first racing of the season Nov. 30.
The international racing series will kick off with the Dubai World Cup Carnival 2014 at Meydan Racecourse Jan. 9, 2014, and the closing event will be Dubai World Cup race day, sponsored by Emirates Airline.
Emirates Racing Authority vice chairman Saeed Humaid Al Tayer said the new season would include 57 race dates in total, representing an increase of five race dates compared with the previous season.
Of the new season's race dates, 15 days will be held at the Abu Dhabi Equestrian Club, while Al Nakheel Equestrian Club will host five race days in Al Ain. Meydan Racecourse will see the most horseracing action with 20 days. Jebel Ali Racecourse will host 11 dates and the Sharjah Racecourse will be home to six days of racing.
"We look forward to welcoming all the horse owners, trainers and jockeys that will be competing in our racing season," Al Tayer said.
Admission to the public areas at all racecourses and equestrian clubs participating in the year's horse racing events will be free of charge.