Sutherland-Kruse Looks to Break Trotting Mark
Image: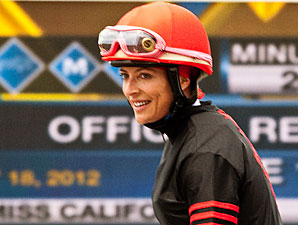 Description:
Jockey Chantal Sutherland-Kruse, currently riding at Del Mar, will attempt to set a North American record riding a Standardbred under saddle at The Meadows Racetrack & Casino in Pennsylvania Sept. 23.
The record bid is being sponsored by the Meadows Standardbred Owners Association, which represents harness horsemen at the racetrack south of Pittsburgh.
"I'm looking forward to riding a trotter in my 'pink saddle,' which has taken me from Canada to the States, Hong Kong, Dubai, then England, and now The Meadows in an attempt to break a world record," Sutherland-Kruse told Harness Racing Communications. "This is an exciting time for me to experience the Standardbred equine after having been in the Thoroughbred world for so long.
"It will be a joy to get back to my roots, to the good old days when my dad would take me to the Standardbred farms and tracks all over Canada. I used to jog horses sitting in the cart with him and also dangle my feet off the back of a pickup truck with a lead shank attached to a couple of young horses to drive them around our track to get them fit."
The current record of 1:59 1/5 under saddle for one mile on a five-eighths-mile track was set by Karen Isbell riding Fort Valley As June 29, 2013, at Mohegan Sun at Pocono Downs in Wilkes-Barre, Pa.
Sutherland-Kruse will team with harness racing's leading trainer, Ron Burke. The Burke Stable will send Sutherland-Kruse to the track aboard DW's NY Yank, a 4-year-old trotter that was won 10 of 17 starts so far this season. The gelding's fastest win time is 1:51 3/5, set July 20 at Pocono Downs.
The event will follow traditional harness racing "time trial" standards, using a starting gate with two prompters that can stay behind or along side of Sutherland-Kruse's mount. The record attempt will come between races at The Meadows, which has a first post time of 12:55 p.m. EDT Sept. 23.