Program Spotlight: Protecting Our Own
Image: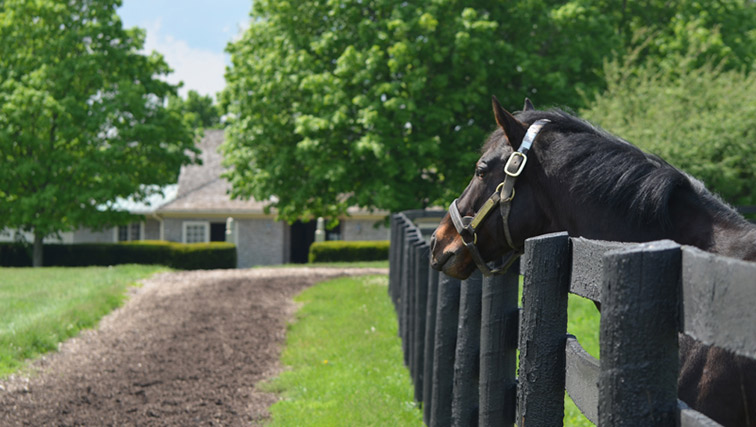 Description:
Three Chimneys Farm stallion War Chant looks towards one of the stallion barns. Three Chimneys is committed to helping Three Chimneys-connected horses, including War Chant's foals, find good home after their careers (Photo courtesy of Melissa Bauer-Herzog/America's Best Racing).
By Melissa Bauer-Herzog, @mbauerherzog, America's Best Racing
One of the most popular farms in Kentucky, Three Chimneys is home to world class Thoroughbreds. A few years ago, the farm became even more popular when they publicized their "Protecting Our Own" program.
"Three Chimneys has always retired our stallions and mares to the farm when their breeding days are behind them, and the farm always did their best to rehome their racehorses coming off of the track that wouldn't be incorporated into a breeding program," said Jen Roytz, Three Chimney's marketing and communications director.
While the farm had been involved in seeing that its horses went to the best homes possible after retirement, with the issue of retired racehorses coming to the forefront Three Chimneys decided to formally create the program.
After researching other industry programs, Three Chimneys finalized its own program and announced it to the public.
"In the past several years, the subject of unwanted horses and the plight some of them endure has been brought to the forefront of the public debate," Roytz said. "So we decided to use the experience we've gained rehoming our horses and do thorough research into what other farms and equine adoption organizations do. The result was a formalized 'best practices' approach to the situation, which is called our 'Protecting Our Own' initiative."
Two to four horses are assisted by the farm's initiative each month with Three Chimneys helping clients find homes for retired racehorses in addition to pulling Three Chimneys-connected horses out of any potential neglect or slaughter situations. Before someone can purchase a horse in the "Protecting Our Own" program, they must pass an application process. 
Potential adopters must provide three references confirming the adopter's character and horsemanship and the viability of the facility where the horse will live. When an application is approved and the adopter decides to adopt a horse, the adopter must sign a legal document agreeing to use the horse for suitable disciplines. For example, they must agree not to jump the horse if it has an injury preventing it from comfortably performing the task. Adopters must also give updates on the horse at certain intervals, but the horse doesn't have to stay with the owner for the duration of its lifetime. 
"They are allowed to sell the horse, but we ask that we be notified of any change of ownership, and that the contract stay with the horse and be transferred from one owner to the next," said Roytz.
While some horses will stay at Three Chimneys to be rehabilitated or reschooled until they are adopted, many go straight to their new owner when they are ready to leave the track. If the horse is coming from a rescue-type situation, Roytz will coordinate to have it shipped to a quarantine facility with the goal of having the horse adopted by the time quarantine is complete.
Three Chimneys horses have thrived after adoption with many of the graduates successfully showing in many different disciplines. For one group of graduates, it is a family affair as Three Chimneys has found new homes for multiple horses out of former broodmare Santaria. 
ONE OF SANTARIA'S SONS, MEDALLIST, WHO IS STANDING AT STUD
Photo courtesy of Three Chimneys Farm
While two of Santaria's sons are standing at stud, three others have been placed in new homes through the "Protecting Our Own" program. One of those horses is Mad for Smarty, who made headlines when one of Smarty Jones' biggest fans, Madison Scott, who the horse was partially named after, adopted the horse when he retired.
MAD FOR SMARTY AND SCOTT ENJOY SOME TIME AT THE BEACH
Photo courtesy of Three Chimneys Farm
Mad for Smarty's half-brother Formidable was also placed in a new home through the "Protecting Our Own" program after his racing career. He currently resides at the University of Minnesota, where he is a breeding stallion in addition to participating in the school's riding programs.
Roytz has seen a resurgence in the popularity of off-the-track Thoroughbreds in recent years, most notably in the hunter/jumper and eventing ranks. The Thoroughbred's ability to run long distances without getting winded, in addition to their willingness to try anything, make them a great fit for cross country, while their desire to work makes them great mounts for the jumping ring. 
"They are literally bred to be athletes, so they thrive on the precision and skill associated with jumping a course," Roytz said. "Plus, off-track Thoroughbreds are relatively inexpensive, which makes them the perfect project horse for young, up-and-coming trainers and riders to put some polish on and resell as show horses or pleasure riding mounts." 
WOODFORD MANHATTAN HAS EASILY TRANSITIONED FROM RACING TO EVENTING
Photo courtesy of Three Chimneys Farm
While Thoroughbreds make great mounts, Roytz recommends that they are given some time off after retirement from the track. Horses leaving the racetrack are accustomed to a high-energy environment so they need time to adjust to a quieter life. Asking them to do too much, too soon may result in the transition not going as smoothly as possible. Once the horse is ready to move on to its new career, she recommends setting small goals. 
"When the time comes to get the horse schooling in his or her new discipline, make the goals small and manageable and find reasons to reward and praise the horse," she said. "For some horses, that might be picking up the correct leads at the canter, while for other horses that might be simply standing still for five seconds at a time in between spurts of walking and trotting. The program and goals should be tailored to the horse, not the other way around."
GRADED STAKES PLACED FORMIDABLE HAS MANY ROLES IN HIS NEW JOB, INCLUDING "SPOKES HORSE"
Photo courtesy of Three Chimneys Farm
Roytz also recommends that buyers have a veterinarian check the horse before purchasing a Thoroughbred off the track, just like any other equine purchase. While many Thoroughbreds coming off the track are cheap or even free, vetting the horse can let a buyers know if it is suitable for what the rider wants.
"There are a lot of things an educated rider or trainer would miss or never be able to see that a veterinarian and a set of radiographs will pinpoint," Roytz said. "Not every horse is good for everything, so know what you are going to be asking of the horse and make sure the horse is a good candidate for performing said tasks from both a physical and mental standpoint."
The "Protecting Our Own" program is always thankful when the public emails the farm about any Three Chimneys-connected horses that may be in a compromising situation. While the farm tries to track horses connected to Three Chimneys, they can fall off their radar for many different reasons. 
"The best way the general public can assist us is to help to be our eyes and ears," Roytz said. "I can't put into words how much we appreciate those equine activists who assist us in learning about these horses."
For more information on the "Protecting Our Own" program, fans can go to Three Chimneys' website and click on "Protecting Our Own" in the upper right hand corner or click here. For additional questions that may not be answered on the website, Jen Roytz can be contacted at Jen@threechimneys.com.