Del Mar to Examine Pacific Classic Clocking
Image: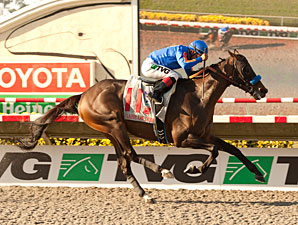 Description:
Officials with the Del Mar Thoroughbred Club Aug. 28 were planning to take a closer look at the final time for the 2013TVG  Pacific Classic (gr. I), won by a record 8 1/2 lengths by Game On Dude.



Game On Dude's official time for the 1 1/4-mile race was 2:00.69, third-fastest of seven runnings since the switch to a Polytrack surface in 2007. It was 1.15 seconds off the all-weather record established by Dullahan in winning the 2012 Pacific Classic.



Multiple looks at video tapes and stopwatches by track officials and representatives of the timing company Trakus could lead to a better appreciation of the speed of Game On Dude for the American classic distance.



The disparity between the visual impressiveness of Game On Dude's performance and the numerical reflection moved some analysts, notably TimeformUS head figure maker Craig Milkowski, to do frame-by-frame comparisons of the 2012 and 2013 Classics. He concluded that Game On Dude's time should be reconsidered.



Racing secretary Tom Robbins, track CEO Joe Harper, track oddsmaker/timer Russ Hudak, and vice president of operations Tim Read planned to do just that on the afternoon of Aug. 28, with representatives of the timing company Trakus to consider changing the official time. Trakus, which uses wireless technology and tags inserted in saddlecloths to track and time horses, had Game On Dude going 1:59.26, which would be a track record. Hudak's hand time was 1:59.96.



A decision isn't likely to be made immediately, Robbins said Wednesday morning. But an in-depth look into the matter will be made.



"There are any number of reasons why the timing might be a little off," Robbins said. "Beams can be tripped (by sources other than the horses)."



A change in time and speed figures—Game On Dude got a 109 Beyer which was later revised upward to 113—is not a major concern to Hall of Fame trainer Bob Baffert. 



"I thought it looked like a track record the way he did it, but it doesn't really matter," Baffert said. "He ran so much better than last year; it was a great day and he came out of it fine."