Del Mar Confirms TVG Pacific Classic Clocking
Image: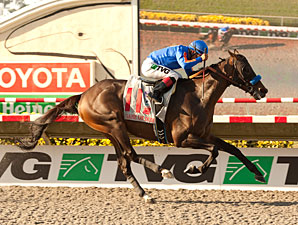 Description:
Officials with the Del Mar Thoroughbred Club announced Aug. 28 they will not adjust the final time for the 2013 TVG  Pacific Classic (gr. I), won by a record 8 1/2 lengths by Game On Dude.



Game On Dude's official time for the 1 1/4-mile race was 2:00.69, third-fastest of seven runnings since the switch to a Polytrack surface in 2007. It was 1.15 seconds off the all-weather record established by Dullahan in winning the 2012 Pacific Classic.



The disparity between the visual impressiveness of Game On Dude's performance and the numerical reflection moved some analysts, notably TimeformUS head figure maker Craig Milkowski, to do frame-by-frame comparisons of the 2012 and 2013 Classics. He concluded that Game On Dude's time should be reconsidered.
However, an extensive video review of the race, along with interviews with the track's timer and starter, and comparative time studies all failed to substantiate any need for a change.



"The bottom line," said Tom Robbins, Del Mar's director of racing, "is we haven't seen or heard anything that tells us a change is needed."



The fractions for the track's $1 million headline event were :24.19, :47.96, 1:12.61 and 1:36.61.



Track timer Russell Hudak confirmed that watching replays of the race left him with the impression that nothing unusual had occurred at the start or during the running. As he does for every race, he also hand-timed it and his clocking was in line with his standard findings matched up to Teletimer figures.



Robbins, track CEO Joe Harper, Hudak, and vice president of operations Tim Read met Aug. 28 with representatives of the timing company Trakus to consider changing the official time. Trakus, which uses wireless technology and tags inserted in saddlecloths to track and time horses, had Game On Dude going 1:59.26, which would be a track record.



A change in time and speed figures—Game On Dude got a 109 Beyer which was later revised upward to 113—is not a major concern to Hall of Fame trainer Bob Baffert. 



"I thought it looked like a track record the way he did it, but it doesn't really matter," Baffert said. "He ran so much better than last year; it was a great day and he came out of it fine."