Catching Up With Cat Thief
Image: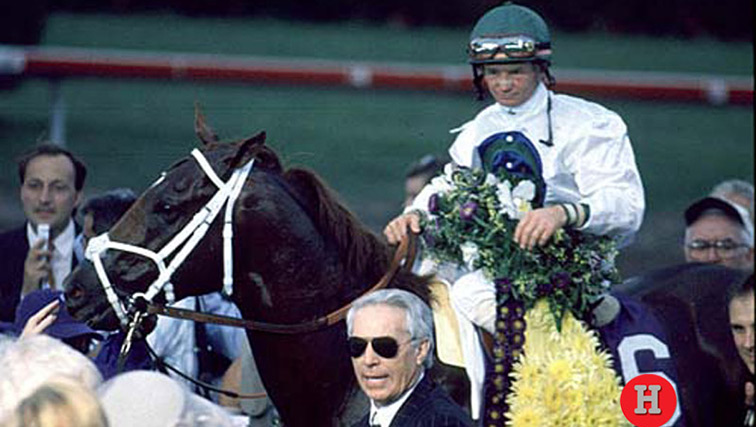 Description:
Cat Thief gave jockey Pat Day his then-record breaking 11th Breeders' Cup victory when he won the 1999 Breeders' Cup Classic (Photos courtesy of Horsephotos.com).
The third-place finisher in the 1999 Kentucky Derby, Cat Thief was a consistent racehorse leading up to that year's Breeders' Cup Classic.
The Storm Cat colt had only finished off the board four times in his 18 starts before the Classic, the type of consistency that most owners dream about in a racehorse. But the Overbrook Farm owned-and-bred racehorse stepped into a totally new dimension on the day of the Classic.
Sitting behind leader Old Trieste for the first half of the race, 19.60-to-1 longshot Cat Thief looked comfortable as he took the lead on the turn. It came down to a three-way battle in the stretch but Cat Thief proved best as he drew away from the group nearing the wire. In the end, he beat Budroyale and Golden Missile by 1 ¼ lengths, giving Pat Day his then-record 11th Breeders' Cup win.
"It's been a great day," Cat Thief's trainer, D. Wayne Lukas, told the Philadelphia Inquirer. "[Cat Thief] has been a hard knocker all year but just hadn't gotten the brass ring. When he saddled so well and warmed up so well, I thought we had a shot."
Courtesy of the Breeders' Cup
Cat Thief was back a month and a half later in California to take on the Malibu Stakes. He came close to getting his second straight Grade 1 victory, finishing third, less than a half-length behind the winner.
He stayed in California for his first three races as a 4-year-old, finishing second in his two preps for the Santa Anita Handicap. But he entered a pace duel during the Big 'Cap and faded to sixth.
Cat Thief hit the board three more times during his career, including a runner-up finish in the Grade 1 Whitney Stakes. However, he never made it back to the winner's circle and was retired after finishing seventh in the 2000 Breeders' Cup Classic, won by Tiznow. 
Cat Thief earned $3,951,012 during his career with four wins, nine seconds, and eight thirds in 30 starts. 
CAT THIEF AND PAT DAY WIN THE BREEDERS' CUP CLASSIC AT GULFSTREAM PARK
Cat Thief entered the breeding shed for the first time in 2001, standing at Overbrook Farm next to his sire. The next year, 55 foals were born to the freshman sire, many of them finding their way to the winner's circle. 
Cat Thief spent his first eight seasons in Kentucky and sired 29 stakes horses, according to Blood-Horse, before he moved to Pennsylvania in late 2008. When Overbrook Farm dispersed its stock after Storm Cat was pensioned, Penn Ridge Farm bought the stallion. The farm also stood Kentucky Derby winner Real Quiet at the time and felt the addition of Cat Thief would be an asset to both Real Quiet and the farm. 
"We knew he would be a great asset to the farm and Real Quiet. He fit right into the current Pennsylvania program that was on the rise with casinos coming into the state. We knew he threw solid, sound horses that had long racing careers and that is very important to our clients," said Erin McElwee, racing manager Penn Ridge Farm. 
"He was a tough racehorse and is sound and has clean legs. After winning the Breeders' Cup Classic as a 3-year-old in 1999, some horses would have stopped and went to stud then, but he is a competitive athlete and wanted to continue. Finding a stallion with talent is easy but finding one with heart is challenging, and that what we were looking for."
Cat Thief quickly settled in to his new routine and showed that he was a professional in the breeding shed. The stallion turned into the farm's mare greeter, a task he continues today by hollering whenever he sees a trailer pull in to the farm. 
But mares aren't the only visitors to the farm to see Cat Thief, as he still has a devoted fan base. As Cat Thief has a sweet tooth and loves candy, he appreciates it when fans come to visit because he often receives treats from his admirers.
"Many people come to the farm to see him and take pictures with him," McElwee said. "It is a special moment when they get to feed him candy and carrots and get close to a $3.9 million winner. He exudes confidence and ignites excitement in his fans, and it makes them know why they love this sport so much." 
Cat Thief has turned into a good sire, with two champions to his credit. His racehorses have earned more than $22.5 million on the track with 18 stakes winners and 39 of his foals competing in stakes races. The stallion also makes it easy to tell which foals are his, as he always stamps them with a noticeable feature. 
"He throws solid, correct horses that have great chest, shoulders and hind ends," McElwee said. "They aren't ever very big but they are built to last. We all joke around the farm because you can tell what babies are his by their big butts. To this day he still has a very strong hind end and all of the offspring inherit that as well." 
CAT THIEF AT CHURCHILL DOWNS IN 2000
Cat Thief is also doing his part to help retired racehorses. He recently painted three Moneigh Paintings for ReRun Horse Rescue which will be selling on eBay to raise funds for the rescue.
McElwee says Cat Thief has charisma and energy that seems to impact everyone around him, much like the charisma that attracted his lifelong fans to the stallion when he stepped on the track 15 years ago.