Hall of Famer Faulk Discovers Magic of Racing (también en español)
Image: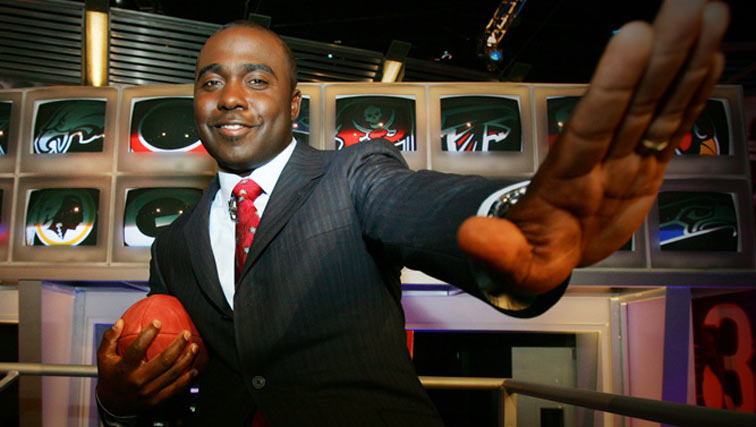 Description:
Marshall Faulk on the set of NFL Network where he works as a pro football analyst. (photo courtesy of 8nineagency.com)
As a star running back in college and professional football, Marshall Faulk was able to use his acceleration and speed to carve up opposing defenses.
A two-time consensus All-America selection at San Diego State and a Pro Football Hall of Famer, Faulk now serves as an analyst for the NFL Network but he also recently became involved in another venture in which speed is an invaluable asset – Thoroughbred racing.
Faulk was introduced to Team Valor International by a mutual acquaintance who had previous experience as a racehorse owner with Team Valor partnerships. Team Valor raced 2011 Kentucky Derby winner and champion Animal Kingdom.
Faulk bought into a promising 3-year-old colt named Infinite Magic following the colt's U.S. debut, a victory on the grass at Keeneland Race Course in April.
Another Team Valor partner in Infinite Magic is Bob Bowman, the longtime swim coach of Michael Phelps, who is the most decorated athlete in the history of the Olympic Games with 22 medals, including 18 gold medals.
Following a pair of unplaced finishes – on a sloppy track for the Grade 2 Peter Pan Stakes and on rain-softened turf in the Grade 3 Hill Prince Stakes – Infinite Magic won the $200,000 American Derby at Arlington Park on July 13 for team Valor and trainer Rick Mettee. The Grade 3 American Derby was Infinite Magic's first stakes win and fourth victory overall in nine races.
INFINITE MAGIC IN TRAINING
Faulk will be at Del Mar this weekend to watch Infinite Magic in person for the first time in the $300,000 Del Mar Derby on Sunday. A bay colt by More Than Ready, Infinite Magic was flattered when the two horses who finished directly behind him in the American Derby – Admiral Kitten and Stormy Len – came back and finished first and second, respectively in the Grade 1 Secretariat Stakes on the Arlington Million card on Aug. 17.
Faulk was a consensus All-America selection in 1992 and 1993 and finished second and fourth, respectively, in those years in the Heisman Trophy voting. He led the NCAA in touchdowns from scrimmage in 1991 and 1993 and led the country in yards from scrimmage with 2,174 in 1993.
A STAR AT SAN DIEGO STATE
Photos courtesy of SDSU media relations
Drafted second overall by the Indianapolis Colts, Faulk made a seamless transition to the National Football League, where he continued his assault on opposing defenses by leading the AFC in rushing and touchdowns en route to Rookie of the Year honors.
A dual threat carrying the football as a running back and catching the ball out of the backfield, Faulk amassed 100 touchdowns rushing and 36 touchdowns receiving during his 12-year career and rushed for 12,279 yards. In his first year with the St. Louis Rams in 1999, Faulk set an NFL record with 2,429 yards from scrimmage as the primary weapon on the Super Bowl-winning Rams.
A three-time All-Pro who went to seven Pro Bowls, Faulk was inducted into the Pro Football Hall of Fame in Canton, Ohio, in 2011.
On Sunday at Del Mar, Faulk could make his mark in a different sport if his talented 3-year-old colt Infinite Magic delivers in the Del Mar Derby.
 También en español - Traducción por Michael Burns
Miembro del Salón de la Fama Faulk Descubre la Magia de las Carreras 
Estrella en el fútbol americano como "running back", tanto en la universidad como profesional, Marshall Faulk fue capaz de utilizar su aceleración y velocidad para desmarcarse de la defensiva rival.
Dos veces elegido como el jugador "All American" por el consenso de la Universidad del Estado de San Diego y Miembro del Salón de la Fama del fútbol americano, Faulk ahora labora como analista de la cadena "NFL Network" pero también recientemente se ha involucrado en otra aventura donde la velocidad es un muy valioso recurso - las carreras de caballos.
Faulk fue introducido a "Team Valor International" por un mutuo conocido, quien había tenido previa experiencia como propietario de caballos de carrera con la sociedad de "Team Valor". El compró una parte del promisor potrillo de 3 años de nombre Infinite Magic luego que éste marcara su debut en los EE.UU., una victoria sobre la pista de césped del hipódromo de Keeneland Race Course en Abril.
Otro socio en Infinite Magic es Bob Bowman, el coach de natación de Michael Phelps, quien es el más condecorado atleta en la historia de los Juegos Olímpicos con 22 medallas, incluso 18 medallas de oro.
Luego de haber llegado fuera del marcador en un par de actuaciones - sobre una pista húmeda con ocasión del Grado 2 Peter Pan Stakes y sobre una pista de césped fangosa por la lluvia en el Grado 3 Hill Prince Stakes - Infinite Magic ganó el $200,000 American Derby en Arlington Park el 13 de Julio para "Team Valor" y el preparador Rick Mattee. El Grado 3 American Derby fue el primer triunfo clásico para Infinite Magic y su cuarta victoria en nueve carreras.
Faulk estará este fin de semana en Del Mar para ver en persona a Infinite Magic por primera vez en el $300,000 Del Mar Derby el Domingo. Un potrillo castaño por More Than Ready, los bonos de Infinite Magic subieron cuando los dos caballos que remataron directamente detrás de él en el American Derby - Admiral Kitten y Stormy Len - regresaron para llegar primero y segundo, respectivamente en el Grado 1 Secretariat Stakes en el programa del Arlington Million el 17 de Agosto.
Faulk fue seleccionado por consenso como "All-American" en 1992 y 1993 y finalizó segundo y cuarto, respectivamente en esos años en la votación del Heisman Trophy. Asimismo lideró la NCAA en "touchdowns" desde la línea de ataque en 1991 y 1993 y lideró el país en yardas desde ese mismo punto con 2,174 en 1993.
Elegido segundo en el Draft por los Indianapolis Colts, Faulk pasó sin interrupciones a la Liga Nacional de Fútbol americano, donde continuó su asalto ante las líneas defensivas rivales al liderar la AFC en "rushing" y "touchdowns" en ruta a recibir los honores como Novato del Año.
Doblemente peligroso cargando el balón como corredor y receptor del balón en el campo, Faulk corrió para 100 "touchdowns" y recepcionó otros 36 durante su carrera profesional de 12 años y corrió 12,279 yardas. En su primer año con los St. Louis Rams en 1999, Faulk estableció un récord en la NFL corriendo 2,429 yardas y convirtiéndose en el arma principal de los Rams, ganadores del Super Bowl.
Tres veces All-Pro quien participó en siete Pro-Bowls, Faulk fue inducido al Salón de la Fama de la NFL en Canton, Ohio en el 2011.
El domingo en Del Mar, Faulk podría dejar su marca en un deporte diferente si su talentoso potrillo de tres años Infinite Magic responde en el Del Mar Derby.
Interested in learning more about how to become a racehorse owner? Learn more about the thrills and excitement of owning your own racehorse or joining a partnership or syndicate at: https://www.ownerview.com/getting-started/journey