Big Saturday for Johnny Manziel, Racehorse Namesake
Image: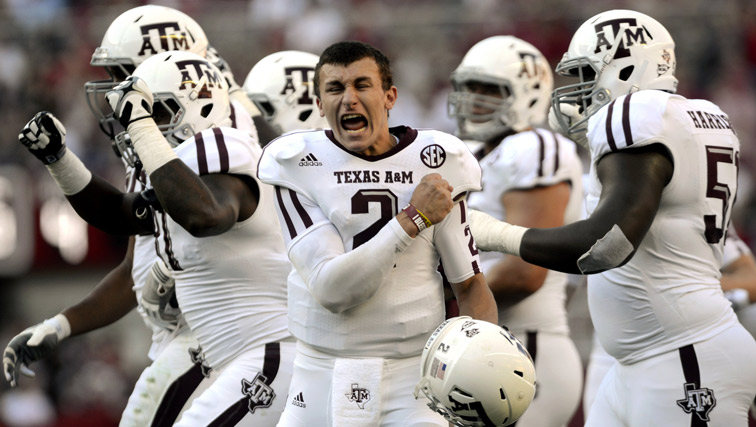 Description:
Johnny Manziel's horse racing namesake Johnny Football will debut the same day Johnny Manziel makes his 2013 debut on the football field.
Heisman Trophy winner Johnny Manziel will generate plenty of buzz this weekend when he trots out on the field to start the second half of Texas A&M's season opener at home against Rice. About an hour before the star quarterback, nicknamed Johnny Football, takes the field, Johnny Football the racehorse will make his career debut for native Texan Bill Casner's Casner Racing at Saratoga Race Course.
Casner's wife, Sue, purchased the colt for $110,000 at the 2011 Keeneland November breeding stock sale. He has been working steadily for trainer Eoin Harty and was entered in the second race on Saturday at the Spa, a 1 1/16-mile race on the turf for 2-year-olds. Johnny Football is listed at 8-to-1 odds for his debut.
Kickoff for the Texas A&M and Rice game actually is slated for 1 p.m. ET, 30 minutes before post time for the race Johnny Football – the horse - is slated to contest. But after an offseason shrouded in controversy, Johnny Manziel - the quarterback – was suspended for the first half of the game because he violated an NCAA bylaw.
Manziel had been accused of receiving payment for signing autographs, which would have been a significant NCAA infraction, but a joint statement from Texas A&M and the NCAA on Wednesday said that there was not evidence that Manziel took money for his autograph. Instead, Manziel was suspended for the first half of the opener for violating a rule that forbids players from permitting use of their name or likeness for commercial purposes.
Therefore, Johnny Manziel will get his season started shortly after Johnny Football makes his career debut.
Johnny Football – the horse - is by a stallion the Casners are very familiar with in 2008 Travers Stakes winner Colonel John, who was a homebred standout for WinStar Farm before Casner sold his interest in the breeding and racing operation to longtime friend Kenny Troutt in 2010.
From all accounts, Johnny Football is being touted as a talented horse, but he has his work cut out for him if he hopes to catch his namesake.
Johnny Manziel won the Heisman Trophy after a 2012 campaign in which he led the Aggies to an 11-2 record, including a 29-24 victory over eventual National Champion Alabama and a 41-13 thrashing of Oklahoma in the Cotton Bowl. Manziel threw for 3,706 yards and 26 touchdowns and rushed for 1,410 yards and 21 touchdowns in one of the most remarkable freshman seasons in NCAA history.
At least on Saturday, Johnny Football – the horse - gets a head start.
Interested in learning more about how to become a racehorse owner? Learn more about the thrills and excitement of owning your own racehorse or joining a partnership or syndicate at: https://www.ownerview.com/getting-started/journey