Travers: Traffic, Tips and Taking Charge
Image: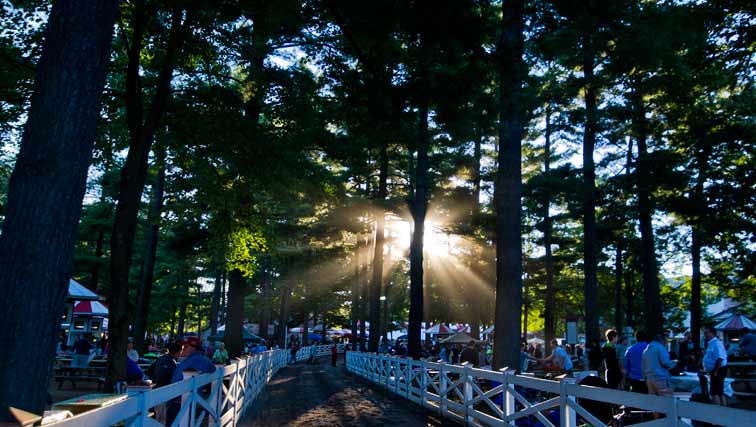 Description:
Photo from Travers Stakes day courtesy of Eclipse Sportswire
Fans of horse racing, listen up - it is your duty to share this game with those you love. It is your responsibility to evangelize the "Sport of Kings" to those you care about. It is your obligation to bear witness to those you respect and admire about the thrill of watching (and betting on) these majestic animals. To not do so is treasonous. Fear not, however. I will help you with this guide to converting souls to horse racing fans.
This past weekend, I asked a friend of mine, a comedy writer named Dylan, to accompany me to the races at Saratoga Race Course. Dylan had never been to the races before and was curious.
What better racetrack to introduce a neophyte to than Saratoga? And what better day to bring someone to the races for their first ever go than on Travers Stakes day?
I assured him he wouldn't regret it and told him to meet me at 9 a.m. to head out. I ended up picking him up in the Fort Greene section of Brooklyn about 10 a.m. We proceeded to sit in traffic on the FDR (Franklin D. Roosevelt East River Drive) for about an hour. Post time for the first race was upon us and we hadn't even made it out of the city yet. This brings me to the first rule …
RULE 1: GET UP EARLY
The races often don't start until noon or later, save for those 14-race cards like on Travers day, but you should still get up plenty early - especially if you live three hours away from the race track in the most densely populated city on Earth. But even if you live just down the street from the track, it's still a good idea to get up early. The horses work out on the track in the early morning hours. And at Saratoga they have the traditional "Breakfast at Saratoga" where fans can gorge themselves on a buffet out next to the track while watching the horses working out with their trainers. And the whole thing is narrated by resident expert Mary Ryan.
HALL OF FAME TRAINER D. WAYNE LUKAS OVERSEES WORKOUTS AT SARATOGA
Photo courtesy of Eclipse Sportswire
And you'll want to go ahead and throw your newspaper down or set up your folding chairs in whatever spot you plan to sit in during the day, because by 8:30 a.m. the entire backyard will be claimed by the early risers. If you want any shade or, better still, a table, you'll need to get up early.
For us, we would be lucky to make the fourth race. Traffic from New York City was horrible from the moment we hit the Manhattan Bridge until maybe exit 17 on the Thruway. We cursed and yelled at idiot drivers for hours, so it wasn't much different than if we had been at the track.
Eventually we made it to Saratoga in time for the sixth race. There were still eight races left on the card, though! Plenty of chances to lose our money.
The parking situation? Not so great at that point. Nor was the seating situation. We smartly brought our own chairs, so we had that working for us, but by that time the track was so full it looked like Martin's swimming pool from that one episode of "The Simpsons." We had to find a small patch of dirt to squeeze our chairs into. Oh yeah, real quick …
RULE 2: BRING CHAIRS
Or get tickets, whatever works for you and the track you're going to. Although honestly rule one should just be "Go to Saratoga" since it is the finest race track in about the nicest little town in all of America. And at Saratoga, there's a scene in the backyard that is as lively as you'd want it to be without any of the horrors of the infields during the first two legs of the Triple Crown.
BRING A CHAIR ... OR FOUR
Photo courtesy of Eclipse Sportswire
It's a good place for a couple of working stiffs to enjoy a day at the races. It's also a good place to set up the pack-and-play and stick the kids, or throw a blanket on the ground and open the picnic basket, or put up the tent and gather the sorority sisters near the paddock.
As we toured the backyard, we saw all these things. Families, college kids, beautiful women in high heels and burly, shirtless men, all frolicking together in the Saratoga sunshine and kicking up dust around the paddock. One enterprising man was renting out "lucky ties" for $1 a race and had a line of customers.
FEELIN' UNLUCKY? TRY A TIE
Photo courtesy of Eclipse Sportswire
Another group that looked to be a fraternity was all dressed up in suits with shorts. The backyard is packed on Travers day, but it's subdued enough to still be pleasant for those of us who don't wish to be pelted by beer cans as we run across a line of port-a-potties.
The front of the track is another story. The grandstand seats are a comfortable place to watch the races. The track has resisted any effort to enclose the grandstand in brick and mortar and glass for 150 years now, and thankfully so. The box seats are outfitted with touch screens now, but other than that technological innovation, they are still infused with the ghosts of racing royalty past who sat among them. The entirety of the grandstand and clubhouse feels breezy and open. There is no bad place to watch a race at Saratoga.
BACKYARD FESTIVITIES
Photo courtesy of Eclipse Sportswire
So Dylan and I chose to hang out upstairs behind the grandstand to watch the races rather than stay in our chairs wedged tightly between the sea of people in the backyard. Perhaps if we had arrived, say, four hours earlier we'd have had a more comfortable spot to hang out back there. This was going to be fine, though. The attendance this Travers day was 47,597 people, so it wasn't so crowded that you couldn't see the race from above the grandstand.
Dylan was anxious to bet. He asked me who I liked in the first race we arrived for and then whipped out a twenty and handed it to me.
"To win?" I asked, incredulously.
"Yeah, what else?" he responded.
This statement could be interpreted any number of ways. On one hand, it could be seen as boastful confidence. "Of course I want to bet to win. That's how I roll … with winners." But that's not what this was.
When Dylan asked "what else?" what he meant was "there's other ways to bet?" I quickly ran down the menu of betting options, all of which seemed to either bore or confuse him, and he settled in on the win bet. It is the most romantic of wagers, I have to admit.
We whiffed that race, which disappointed Dylan. Despite living in the very trendy and expensive Fort Greene neighborhood, Dylan's apartment is over a Chinese food shop and he shares it with about seven strangers he met on Craigslist. He is not a rich man. Did I mention that he's a comedian? I told him that he can bet as little as $1 or sometimes even ten cents on a race. He was surprised, but still seemed unwilling to do much more betting the rest of the day.
RULE THREE: PACE YOURSELF
Figure out how much you can bet per race the entire day given what you're willing to lose, and then bet that much every race. You'll never lose more than you planned that way. This is good advice for anyone, but particularly novice bettors at the track for the first time who aren't yet so hopelessly degenerate that they frequently invest half their bankroll on a single race just because they are "feeling it."
PACE YOURSELF TO ENJOY A FULL DAY OF RACING
Photo courtesy of Eclipse Sportswire
I was feeling the late pick four and sank some money into it. I was alive in the first two legs with two huge favorites, though I had a good 7-1 horse that damn near nosed the favorite in the first leg.
Dylan was intrigued by the concept of picking winners in multiple races, and it was easy to see why. For beginners, the win bet makes the most sense. It's the natural way you'd think about betting on a horse race. So the idea that you'd pick the winner of multiple races seems a lot more intuitive than the idea that you'd pick the exact order that horses will finish in a single race. Take note, racing industry. These are the wagers of the future.
In the third leg of the pick four, my hopes along with those of everyone at the track died with the longshot Capo Bastone's amazing upset in the King Bishop Stakes at 28-1. Despite going deep, I didn't have this bomb on my ticket. Instead I took Overanalyze, the Arkansas Derby winner and Kentucky Derby vet, feeling especially inspired after watching another Kentucky Derby has-been, Frac Daddy, blow the doors off the field earlier in the day. Overanalyze disappointed, yet again. Capo Bastone shocked the world, and we were headed into the Travers without a live ticket.
CAPO BASTONE? WAIT A MINUTE, HE WASN'T SUPPOSED TO WIN
Photo courtesy of Eclipse Sportswire
Dylan had resisted betting much of the day but was determined to bet on the Travers. This is why we came, he reckoned. After heavy betting I was up a mere $15 and he was stuck his original $20, a disappointing result for us both. We needed to turn it around and we needed to do it on this race.
It was tough, though, to see how we were going to. There were a lot of great horses in the Travers, as there always is for a million-dollar race like this. Arguably the top three 3-year-olds in the country were competing: Belmont Stakes winner Palace Malice, Haskell victor Verrazano, and Kentucky Derby winner Orb. And all three were fetching short prices that would make it hard for Dylan and I to leave the track big winners. But this wasn't a Triple Crown race. This wasn't Monmouth or Gulfstream Park or Del Mar or some other fruity beach track. This was the Saratoga Race Course. This was the "Graveyard of Champions." This is where favorites came to eat dirt. We could beat the chalk, I tell Dylan. I will get you out of here a big winner. And even if I don't, where's the fun in winning with the favorite? There's something so much more exciting about being the only guy cheering at the end of the race, having everyone watch your triumphant march to the window to be the only guy in line to cash your ticket.
RULE FOUR: BET LONGSHOTS
There was a longshot in this race that I liked quite a bit. A horse that hailed from my home track: Oaklawn Park. A horse who, after he impressively won the Rebel Stakes in the run up to the Arkansas Derby, led me to make a decent Kentucky Derby future wager on him at 50-1. A horse trained by the Hall of Famer D. Wayne Lukas who, with his Preakness-winning Oxbow, was in the middle of some kind of a career second act. A horse who had shown recently that he could compete with these after taking off his blinkers and running a decent second to Palace Malice in the Jim Dandy.
I explain all of this to Dylan; the elder trainer, the blinker switch, the Jim Dandy. He tunes out for all of it save to laugh at the words "Jim Dandy."
"What's a Jim Dandy?"
Well, Dylan, it's funny you should ask. It's a race. But it's also a horse. And let me tell you about this horse.
Jim Dandy wasn't really all that impressive a horse, to be honest. I mean he ran an impressive 141 times in his career. That's a number you won't see these days. But he only won seven times. In fact, he was last in over half of those. Pretty awful stats. But Jim Dandy was what you call a "mudder." He liked to run in the mud. And on Travers day in 1930, boy did it ever rain.
There was this horse that was entered in the 1930 Travers, his name was Gallant Fox. He had run 10 times and won nine of those. Three of those were the Kentucky Derby, the Preakness, and the Belmont. Gallant Fox came to Saratoga as only the second Triple Crown winner in history. This was a fine horse, rain or shine, and the people were backing him in the Travers all the way. Most bookies had his odds at 13-10. Jim Dandy, who for some unknown reason (maybe second-place money?) was also entered in the Travers, was being offered by most bookies at 100-1.
You see, back in those days they didn't officially allow gambling at the racetrack. So all the betting was done on the grounds out there in the backyard by various bookmakers with chalkboards. And every bookmaker could offer their own odds, so it wasn't uncommon for people to shop around the horse they liked to find the best price.
In the "Roaring Twenties" there were a lot of colorful characters that hung around Saratoga during the race meet. Subway Sam Rosoff was one of them. He was a Russian immigrant who had built a fortune in New York City by running much of the construction of the New York subway system. Subway Sam was also a tremendous gambler who loved action. And he was here at Saratoga, as he was most days, for the 1930 Travers. He wanted to bet on Jim Dandy, of course. But not because he thought Jim Dandy was a better horse than Gallant Fox. He just loved the fact that Jim Dandy was being offered at 100-1. Can you imagine winning a bet like that? Betting $500 to win and getting paid $50,000? The mere fantasy of it was worth the $500 to a tycoon like Subway Sam. But who would get this sucker's $500 first? A bookie named Max Kallik, who everyone called Kid Rags, knew how to lure him in.
Kid Rags told Subway Sam that if he'd bet his $500 with him, he'd give him 500-1 odds. Five hundred to one! That meant that if Jim Dandy pulled off the upset of the century, old Subway Sam would get $250,000 and probably put Kid Rags out of business! Kid Rags wasn't worried. He told Sam that he'd even take Sam out to dinner with the $500 to show him there were no hard feelings.
Well, the mudder done good that day. Jim Dandy won that race and beat the Triple Crown winner by eight lengths in the slop. You knew that already, I'm sure. After all, they named a damn race after the poor seven-win bastard. You had to know one of the seven would be the 1930 Travers Stakes. And Subway Sam got paid, too. They quoted him in the papers saying "the money was nice, but that wasn't the main event. ... What a sensation to be right!"
Dylan had his twenty out of his pocket and in his hand already. "What did you say the horse's name was from the Jim Dandy again?"
"Will Take Charge."
RULE FIVE: HAVE GOOD ANECDOTES
The crowd along the back of the grandstand had swelled at this point, which made it hard to see the race on the track below. We were forced to watch on the monitors above us as Will Take Charge, the five horse, made his way forward in the stretch to contest the pacesetting longshot Moreno, just catching him in the final strides. We whooped. We hollered. We jumped up and down. And we seemed to be the only ones.
After the race was over, we watched the slow-motion replay again just to be sure that Will Take Charge got there at the finish. Confident that he did, we cheered some more. Those around us were quiet, dumbfounded. Some stranger came up to us in the middle of our shoving and jumping and acting like idiots to tell us that it wasn't the five, it was the nine. My heart stopped for a second. I looked back up at the screen, the number five on the horse's saddle cloth was obscured partially by the saddle, making it look like a nine. But the saddlecloth was clearly green, which meant it was obviously the five. I got angry and shouted "why are you even talking to us?" Then once my heart went back to beating, we went back to celebrating.
THAT'S DEFINITELY A FIVE!
Photo courtesy of Eclipse Sportswire
RULE SIX: DON'T BE A HATER
Subway Sam was right, it feels good to be right. We were mostly celebrating ourselves as brilliant horseplayers and chalk-beaters. But I gotta say, Sam, most of us aren't subway tycoons. Most of us have rent to pay. And hitting a $20 win bet on a 9-1 shot and an exacta on with a 23-1 shot on bottom for more than $500 feels pretty good, too.
The drive back to New York was much faster than the drive up. Dylan wanted to know two things - would he be able to watch the race again on YouTube and are we coming back next year.
That, my friend, is a solid bet.
EXPERIENCE TRAVERS DAY