Los Ponies DerbyJackpot Plays for Labor Day Weekend
Image: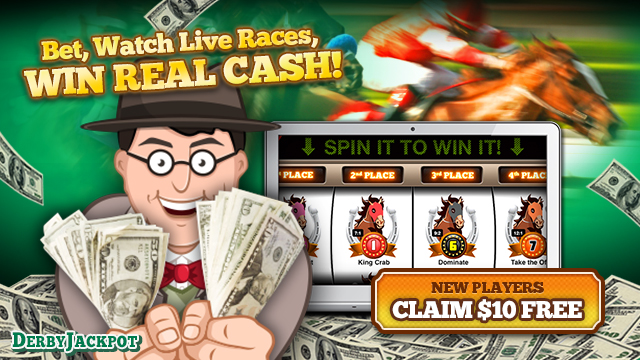 Description:
America's Best Racing brand ambassador Jose Contreras – who puts his picks out for the public regularly on his own blog www.losponies.com - will help DerbyJackpot players with his insight in a regular blog feature for ABR.
Each week, Jose will give out his "Best Bet" of the weekend, ideal for a "Monkey Bet" (a win bet) on DerbyJackpot, as well as his Lonshot Play of the weekend, a nice opportunity to swing for the fences on a Monkey Bet or to take a shot with "The Granny" (a show bet, or top-three finish).
Jose also will lay out either a quick-hitting Granny Parlay or a Gonzo Bet. The Granny Parlay essentialy is a bet in which players will have an opportunity to place one Granny bet after another on a sequence of four or five races within an hour or so of each other, essentially letting it ride as they go "all in" search of a nice return on investment. The idea of the parlay is to steadily grow your bankroll until you have a sizeable stash of cash to let it ride on the final leg for a nice payout. The Gonzo Bet requires players to select the first two finishers in a given race in order, the same as a traditional exacta bet.
Place your bets at DerbyJackpot. Races open for betting about five minutes before post time. It's fun, it's easy, and you can win cash. Open your account today.
CLICK THE IMAGE BELOW TO SIGN UP AND START WINNING!
Saturday
Best Best (Monkey Bet/Win Bet)
Saratoga Race 7, post time 4:06 p.m. ET
#6 Justa Runner: Trainer Bob Baffert brings this runner in from California off a strong win at BetFair Hollywood Park in July. He has shown speed in both of his starts on synthetic surfaces and, being that he is by Indian Charlie, he should love the dirt even more. He will be dangerous on the front end and if he gets away without much pressure, he can be long gone.
Longshot Bet (Granny Bet/Show Bet)
Saratoga Race 4, post time 2:31 p.m. ET
#7 Yellow Mountain: This gelding came off a layoff since May and ran a good closing second three weeks ago under this same jockey. His jockey has had a good meet and his trainer has hit the board with 50% of his eight starters on the meet. The biggest question today is the longer distance but given the low profile connections, he should be a big price at post time and definitely worth taking a shot with.
Exacta Box (Gonzo Bet)
Saratoga Race 9, post time 5:12 p.m. ET
#1 Fast Bullet/#1A Justin Phillip: This duo of horses from the Zayat Stables will be tough to beat. Fast Bullet likes to be on the lead and Justin Phillip likes to close ground late. They have finished first and second before, and it would not surprise me if that happens again today. But there might be some value in the exacta box with a few prices.
#5 Lea: The only time this horse ran on the dirt, he won easily and earned one of his top performances. Even though that race was on a sloppy dirt surface, he handled it well and I believe he should have no problem with a dry dirt track today. If it happens to rain, then he will definitely be a top contender.
#8 Goldigger's Boy: He comes into this race off a good second-place finish after an eight-month break. He is no stranger to this track, he finished second in a Grade 3 last year. This is a much tougher group that he is facing but if a speed duel develops on the front, he might be a big price to pick up the ground late.
Sunday 
Best Bet (Monkey Bet/Win Bet)
Del Mar Race 4,  post time 6:32 p.m. ET
#1 Ransom Canyon: This horse comes in from Arlington Park, where he ran a good second in one of his three starts. He has raced at Del Mar last summer he earned a second, third, and fourth in three tries, all while ridden by today's jockey, Garrett Gomez. I believe his first start of the year (finished 5th) was too short of a race, and the sixth-place finish was a disappointment given the yielding turf course. If that assumption is true, then his second-place finish going a mile on a firm course tells me he will run a good effort over today's firm turf course. The closing style that he showed here last year should apply well to today's longer distance.
Longshot Bet (Granny Bet/Show Bet)
Del Mar Race 5,  post time 7:01 p.m. ET
#8 Maker Or Breaker: She comes into this race off a last-place finish in her first start on the tur,f but the good news is that she is back on Del Mar's synthetic track today. Last year, she made an impressive debut run to get up and win after a very slow start and then followed that with a head defeat on this same track. There is not a lot of speed today, she adds the blinkers and jockey Martin Garcia should have her in a great spot early in the race.
Exacta Box (Gonzo Bet)
Del Mar Race 9,  post time 9 p.m. ET
#2 Play It Loud: He arrives in the barn of Jeff Mullins for the first time today and he wins at a 22% clip with new horses. This runner is also a nice prospect, he won his debut on the turf by more than four lengths and then almost won a Grade 3 race when missing by a neck at odds of 36-1. He shows three good workouts at Del Mar and Hall of Fame rider Gary Stevens has the call.
#3 Infinite Magic: Was last seen winning the Grade 3 American Derby at Arlington Park by a head. He definitely likes the turf and his off-the-pace style should fit this race very well. He has two turf wins from three turf tries in his career. The only question is whether he will like the Del Mar turf.
#6 Olympic Blue: He ran third at odds of 47-1 in the opening-day Oceanside Stakes and then won an allowance easily while not asked by his jockey. That race definitely set him up as a confidence-builder effort and his odds today should once again be very good.
#9 Dice Flavor: He got back to the turf in the Grade 2 La Jolla on this track and responded with a win under this jockey. I expect him to be closing ground once again, and today he gets a little more distance to show his late kick.