Pletcher Closing In on 10th Saratoga Title
Image: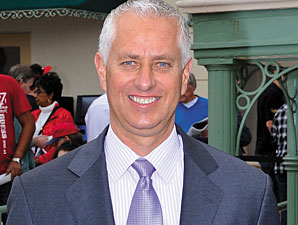 Description:
For a modern-day record 10th time, Todd Pletcher will leave Saratoga Race Course with the meet's coveted training title.
Named for Racing Hall of Fame trainer H. Allen Jerkens, the Saratoga championship will be the fourth in a row and ninth in 12 years for Pletcher, who first won in 1998. Hall of Famer Bill Mott also has nine training titles to his credit, the last in 2007.
Entering the Spa's final weekend, Pletcher had a 12-win advantage over runner-up Chad Brown, 34-22, and his $4,065,857 in purses was nearly double that of Brown, who was second with $2,147,038.
Through Aug. 29 Pletcher was 15-for-45 with 2-year-olds at the meet and had captured 14 stakes, 10 of them graded, including four grade I victories: the TVG Coaching Club American Oaks and Alabama Stakes with Princess of Sylmar, the Whitney Invitational Handicap with Cross Traffic, and the Foxwoods King's Bishop Stakes with Capo Bastone.
"We're very, very pleased," Pletcher said. "We've had a very good meet in terms of 2-year-olds running pretty well. Other than the Travers, I couldn't imagine it going much better."
Pletcher trained two top contenders for Saratoga's signature race, the $1 million Travers Stakes (gr. I), in Verrazano and Palace Malice. Favored at 8-5, Verrazano faded to seventh, while Palace Malice missed the break and trailed throughout before rallying strongly to finish fourth.
"When you have one (horse) get away badly and lose by a length behind slow fractions, you can't help but feel like one slipped away from you," said Pletcher, who won two or more races on a single card nine times at the meet, including a four-win day Aug. 11.
The all-time leading trainer by wins at Saratoga, as can be ascertained from available records, Pletcher needs six wins to reach 400 career victories at Saratoga.
"I think anytime you can come up here and win four grade Is, you have to be pretty happy," he said. "We've won (14) stakes overall, so we're really, really pleased. Hopefully, we can finish really strong, too. I couldn't have dreamed of having a better meet."