Alpha Edges Flat Out in Woodward Thriller
Image: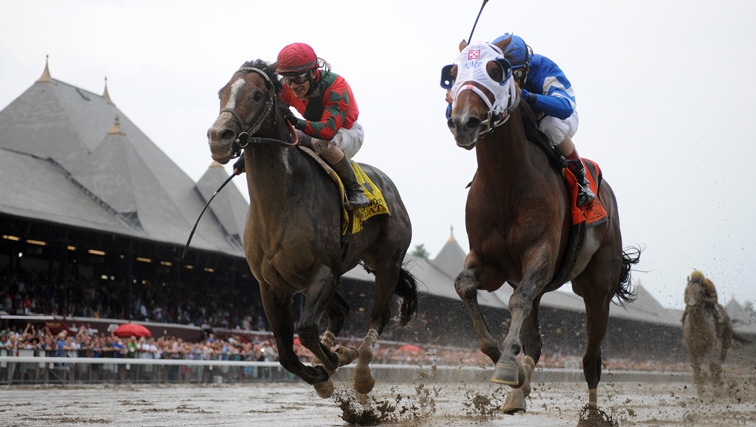 Description:
Alpha, inside, held off the bid of Flat Out to win the Woodward Stakes on Saturday at Saratoga Race Course. (Photo by Adam Coglianese/NYRA)
If trainer Kiaran McLaughlin had a magic lamp and three wishes, it seems fairly certain what one of those requests would be.
Somewhere in the mix, he'd ask to move this year's Breeders' Cup to Saratoga Race Course.
As evidenced by Saturday's $750,000 Woodward Stakes at a wet but still picturesque Saratoga, McLaughlin has a very good horse who can blossom into a superstar when paired with a historic track that's celebrating its 150th anniversary this year.
Matched against a small, but select field of four rivals, Alpha won for the fourth time in five starts at Saratoga. He took the lead at the start and held off a stretch bid by Flat Out to take the Grade 1 Woodward by a head on a sloppy track.
That .800 batting average is impressive in its own right, but considering three of those wins have come in the Woodward, the Grade 1 Travers (via a dead heat) and Grade 2 Jim Dandy Stakes, there's surely magic in the mountain air when Alpha springs from the starting gate at the Spa.
"At least this shows he's not a one-shot wonder," McLaughlin said. "I'd love to get the Breeders' Cup here [at Saratoga] but we'll enjoy this and see what we do next."
The start of the Woodward pretty much dictated the finish as jockey John Velazquez – subbing for the injured Joel Rosario – originally intended to stalk the probable pacesetter, Paynter. But when Paynter lunged and hit the starting gate, Velazquez seized the opportunity and rushed out to a two-length lead after an opening quarter mile in 24.46 seconds.
"The fact that Paynter didn't break well, and we did, made a big difference in the race. I told John if he can break well and throw mud at the rest of them, please do," McLaughlin said. "I'll take the blame for his last two races [a sixth in the Whitney at Saratoga and a fourth in the Suburban] but he was dead-fit today."
As Paynter, the 3-2 favorite, floundered in the slop, Alpha maintained a clear lead until Flat Out came charging at him at the top the stretch. Yet just when it appeared as if Flat Out would surge to the front, he began to drift out, allowing Alpha to dig down and hold off a final bid from the two-time Jockey Club Gold Cup winner and notch his first victory since last year's Travers.
"I was worried when Flat Out came up to us at the three-sixteenths pole, but when he didn't go by, I knew my horse would put in a good fight," Velazquez said.
Alpha, owned by Godolphin Stable, covered 1 1/8 miles in 1:49.28 and returned $17.40 as the 7-1 outsider in the small. Successful Dan was third, 6 ¾ lengths behind Flat Out, and Ron the Greek fourth.
Zayat Stables' Paynter, the 2012 Haskell winner who made a heroic return to the races this year after battling colitis and laminitis last year, was last, nearly 13 lengths behind the winner.
Justin Zayat, the racing manager for Zayat Stables, said Paynter, "never got a hold of the track. We'll be back another day."
Where and when Alpha comes back is a matter of conjecture at this point. After all, Saratoga closes Monday.
For an Equibase chart, click here.
ALPHA (inside) EDGES FLAT OUT IN WOODWARD
Photo courtesy of Adam Coglianese/NYRA