Getting to Know Points Offthebench
Image: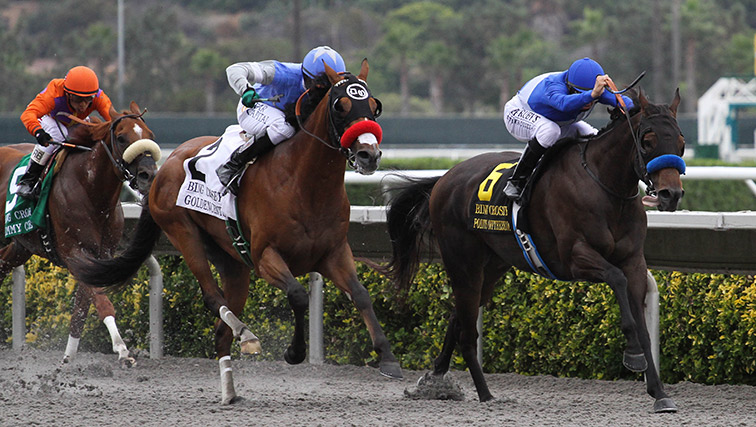 Description:
Points Offthebench (inside) edged Goldencents to win the Bing Crosby on Sunday at Del Mar. (Photo courtesy Eclipse Sportswire)
When Points Offthebench won the Bing Crosby Stakes on Saturday, it was a great day for trainer Tim Yakteen.
Not only had the gelding won a starting spot in the Breeders' Cup Turf Sprint but he had also won a Grade 1 race in his stakes debut. But all of that couldn't compare to Yakteen's accomplishment, his first Grade 1 victory as a trainer.
"My first Grade 1 winner. It's been a long time, at least eight years," Yakteen said, referring to when he started training on his own. "I didn't think I'd have to wait this long. He was training great, we drew a great post and he was ready for the task, so I felt confident going into the race. He ran huge and Mike [Smith] gave him a great ride."
Racing Resume
Points Offthebench was lightly raced the first two years of his career, only making three starts combined in 2011 and 2012, all at sprint distances, however he won two of those three starts. While he had nearly a yearlong layoff between his 2012 and 2013 starts, he came back to run a respectable second in his return.
But when Points Offthebench returned to form, it was all rainbows for the gelding. He went into the Bing Crosby with a two-race winning streak, including a 2 ¼-length win in his start prior to the Bing Crosby.
JOCKEY MIKE SMITH CELEBRATES BING CROSBY WIN ON POINTS OFFTHEBENCH
Photo courtesy Eclipse Sportswire
Points Offthebench had to work hard to fight off 3-year-old Goldencents in the Bing Crosby but got the job done, winning by a head. Teamed with Smith for the first time, the jockey was given a few tips by Yakteen, who knew his charge might act a little green during a race.
"Tim told me two things about him beforehand," Smith said. "He said don't make the lead too early with him and he'll need some help changing leads. This horse is still learning and I had to help him switch [leads] in the stretch. I made that lead and I knew that [Goldencents] was coming. But my horse dug back in. He's a good horse; he really is."
Even though Points Offthebench is now qualified for the Breeders' Cup Turf Sprint, the horse has never actually raced on that surface. The closest he has come is Del Mar's all-weather surface, although turf horses frequently make the switch to synthetics. That could play to Points Offthebench's favor if the same is true of his form if and when he switches to turf.
Breeding
By successful California stallion Benchmark, Points Offthebench has a decent family behind him.
Benchmark is the sire of 382 winners and 26 stakes winners, including 2006 Santa Anita Derby winner Brother Derek. Benchmark never tried the turf during his 16-race career so it is unknown how he would have faired on Del Mar's recent change in surface. Benchmark did race at sprint distances a few times however, winning at seven furlongs while breaking his maiden.
Benchmark was best at the shorter routes but has proved a good sprint sire with Idiot Proof setting a track record for six furlongs in a Grade 1 race. According to Equineline, the average winning distance for Benchmark's turf runners is a little bit less than 7 ½ furlongs (with an average distance raced of about the same). The stallion also has five stakes winners and 57 winners overall on the turf, not too shabby for a sire with a limited number of foals to race on the surface. Both facts should prove that genetically, the 6 ½-furlong distance of the Breeders' Cup Turf Sprint should be right in Points Offthebench's wheelhouse if his record at the distance (2-for-2) didn't already show that.
While Points Offthebench's dam, Mo Chuisle, never raced, she did produce another sprinting graded stakes winner in the form of Points Offthebench's full brother Bench Points. Bench Points only tried 6 ½ furlongs twice, losing in both attempts, but he did win at both six and seven furlongs, including the Grade 3 Lazaro Barrera Memorial Stakes at seven furlongs.
While looking deeper into Points Offthebench's female family finds more of a distance influence, this shouldn't be any cause for concern as the gelding has proven he loves shorter races. If there is anything to be worried about in relation to the Breeders' Cup Turf Sprint, it is definitely Points Offthebench's lack of turf experience. But with three months until the Breeders' Cup, his connections still have multiple chances to see how the gelding handles the turf in race-like conditions, including one more "Win and You're In" event for the division in North America.
Points Offthebench will be an interesting horse to watch in the coming months. He's proving to be on an upswing that may lead to an upset in November if his form keeps improving  going into possibly the biggest weekend of his career.