Marylou Invites You to Win Whitney
Image: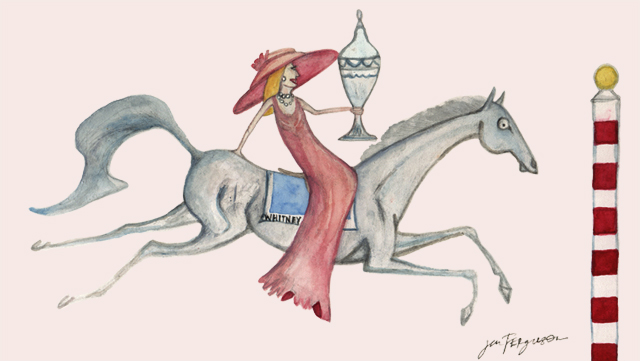 Description:
If horse racing in Saratoga Springs, N.Y., has a muse, it most assuredly is Marylou Whitney, whose love for the town, its horses and its people rivals that of any proper patron saint. And if you need another reason to love her back, she is a founding member of the Thoroughbred Retirement Foundation, major contributor to the Kentucky Horse Park, and a founder of Saratoga Performing Arts Center (SPAC) and the National Museum of Dance and Hall of Fame.
Whitney has supported local medical centers, created programs to help backstretch workers at the racetrack, founded libraries, and brings the New York City Ballet to SPAC every summer. She recently built the Saratoga YMCA a new pool and has done so many other acts of largesse that it would be impossible to list them all here.
Whitney spends her summers in Saratoga finding ways to help charities both with her resources and her infectious spirit of celebratory fun. She won the Eclipse Award of Merit in 2010 and at the same time was officially proclaimed the "Queen of Saratoga" by Gov. Andrew Cuomo. This year, she presides over "Saratoga 150," to celebrate Saratoga Race Course's 150th anniversary.
The Whitney Handicap, named for her family, is a Grade 1 stakes race whose winner will have an automatic entry into the Breeder's Cup Classic. While the connections of the winner of Saratoga's marquee event, the Travers Stakes, get a canoe in the racecourse lake painted in their colors, the winner of the Whitney may get a bigger more special thrill being handed the Whitney trophy by none other than the "Queen of Saratoga," who herself is in her 88th year.
Running for this honor are Fort Larned (who won last year), Ron the Greek, Mucho Macho Man, Cross Traffic, Alpha, Csaba, Successful Dan and Fast Falcon—all class competitors who are sure to give Marylou a run for the money.