Shawn Faust: Picture Perfect
Image: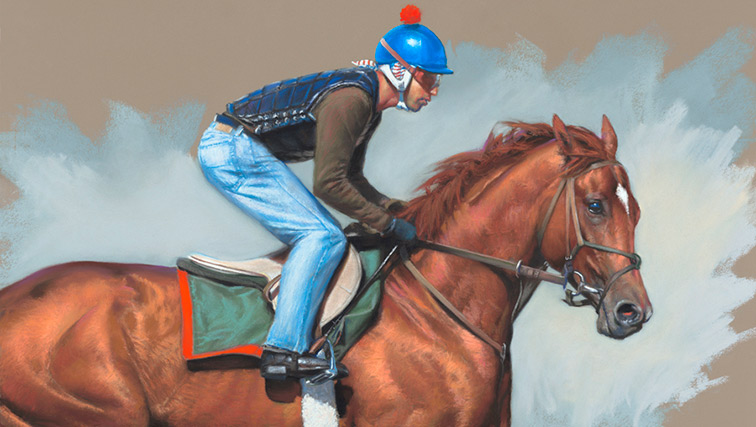 Description:
Shawn Faust's painting of Animal Kingdom at Fair Hill before he won the Dubai World Cup.
In horses Shawn Faust found kindred spirits. 
Powerful to gentle, docile to wild, Faust gets to tell their stories on canvas.  The manes are like a short rainbow, ears alertly pricked, the eyes bright and prominent. 
"People admire the majesty, elegance and physical beauty," says Faust.  "That's foremost, but I want to go beyond that, touching the soul and getting into the horse's head.  I want people to grasp the inner feelings I have when I'm painting that horse." 
To bring a horse to life, Faust's brushstrokes develop multiple layers of paint to reach the final detailed painting with just the right brilliance and balance.  The artist typically spends a month or two researching the look of the horse.  Next he draws a full outline or silhouette. The painting process can take a full month.
"Everything from the head and the bone structure to muscle tone and weight distribution," Faust explains. "I'm paying attention to every little nuance.  I want to hear the owner say, 'Yes, that's my horse!'" 
For the fifth year running Faust has his own exhibition at the historic Gideon Putnam Hotel in Saratoga Spa State Park with many originals as well as prints for sale. Earlier this year he took second place with "Big Fellow," a depiction of a Clydesdale in the "Ex Arte Equinus," a prestigious international equine art competition that featured more than 3,000 entries.  
BIG FELLOW
Over the past two decades Faust has lovingly painted scores of top-flight thoroughbreds and racing legends such as trainer Allen Jerkins. One of his works is of 2013 Dubai World Cup winner and 2011 Kentucky Derby champ Animal Kingdom.
"I visited him when he was in training one morning at Fair Hill (Training Center)," Faust says. "His head was turned a bit looking away from the rail.  So you could see the markings on his forehead. The positioning of the exercise rider, it all came together. It was a quite enjoyable morning."
ANIMAL KINGDOM
Faust's celebrated career was launched at age four. He was just tagging along when his grandfather was teaching some early art skills to an older brother.
"My grandfather broke a piece of pastel to make it small for me, and boy I was hooked," Faust recalls with a wide grin.
A fine arts graduate of the University of Delaware, Faust initially worked as a freelance illustrator.  His natural talent was cut and polished through years of grueling drawing classes that are the foundation for his lifelike paintings.  In the early 1990s when he wanted to enhance his portrait studies in oils, Faust enrolled in a class with Daniel Greene, one of America's foremost artists in oils and pastels. 
"Daniel stressed the eyes," explains the artist.  "He told us, 'if you don't have anyone to sit for you, go find a cow, a deer or a horse.'  Here was my chance to get up close to horses." 
After returning home Faust slipped notes into mailboxes at nearby horse farms around Chesapeake City, Md.  He received a call from Richard Golden of Northview Stallion Station, giving permission to paint some of his thoroughbreds. 
His first subject was White Ice Cream. She shadowed Faust along the paddock fence, then stopped and posed.  His camera clicked away. 
"I was intrigued by the horse owner's description: it's a very attentive eye or a confident eye," Faust says.  "I began to see it that day." 
Golden was bowled over with the head portrait of White Ice Cream.  Then he quipped, can you put the body on a horse? 
Faust did.  Polish Numbers now hangs along with Faust pieces in the Goldens' Florida and Maryland homes.
"Shawn has always captured our horses' expression and conformation in the same way that we view them," Golden observes.  "His paintings make us feel like we are looking at our horses through our eyes and not how someone else pictures them."
Prominent owner Stuart Janney III (co-owner of Kentucky Derby champ Orb) spotted the Polish Numbers piece and commissioned the artist to paint Coronado's Quest. 
"From there I expanded to standardbreds, quarter horses and some that had passed away," Faust recalls.  "My business just kind of took off."
These days Faust has an impressive network of clients in the thoroughbred industry.  He remembers arriving at Larry Jones' barn at Delaware Park and seeing Hard Spun-- one of the elite 3-year olds in the class of 2007—who had just returned from a morning workout and was cooling out. 
"He knew where I was with my camera and when he went past he gave me the 'whole eye,'" Faust says. "Just checking me out. That's how Larry saw him every day, just being himself." 
"I've seen lots of artists over all my years at the track, but Shawn's work really caught my eye," Jones relates.  "Cindy and I think his painting of Hard Spun is exceptional. We snapped it up."
The artist and his wife Christy live with their two sons in Bear, Delaware. In his home studio a study of Hessonite sits on his easel, getting the final touches before the painting heads up to Saratoga.  Faust watched the 5-year old mare race at the Spa last summer.  Trained by David Donk for owner William J. Punk, Jr., she has put together back-to-back champion seasons as 2012 champion New York-bred older female and 2011 champion New York-bred turf female. Hessonite won the first stakes race of the historic 2013 Saratoga race meet.
CHAMPION MARE HESSONITE
"I got a call from David saying the owner was interested in me painting the horse so I visited her both at Saratoga and Belmont. She is such a classy mare and those blue silks with the gold star really made the picture pop."
Hessonite was ridden by Ramon Dominguez who was forced to retire in June due to a head injury suffered while riding early this year.
"My heart goes out to Ramon, I painted a number of top-flight racehorses he was aboard," Faust relates. "Beyond being a great athlete, Ramon was one of the nicest, most respectful jockeys I've ever met. Five years ago I did a portrait of Ramon alone. Great pose, looking out pensively, the whip tucked behind his back. He is one of the all-time greats."
FAUST WITH HIS PAINTING OF RAMON DOMINGUEZ
Faust is following in the legendary footsteps of the painter Anthony Alonzo as the featured artist at the Gideon Putnam Hotel during Saratoga's 150th anniversary. When Alonzo's health wouldn't allow him to return to the Gideon Putnam show five years ago, the show's director and premier sculptress Jan Woods tabbed Faust. She had known him for a number of years from their connection to the American Academy of Equine Arts.
"Jan asked me to step in," Faust says. "I've always admired Anthony's work, it was exceptional. It's such a wonderful environment for an artist to be in this great old hotel that has so much history and getting to mingle with some of the most prominent thoroughbred owners in America. I'm honored to be here."
Faust has received a bevy awards for his striking artwork. He took home the People's Choice Award with his portrait "Outrider" from the American Academy of Equine Art. In a competition open to artists worldwide, "Outrider" was a Top Ten finalist selection by the International Art Magazine, one of the best art magazines in the world.
Elizabeth Beer is the owner of Beresford Gallery in Unionville, Pa. and Saratoga Springs. She likes how Faust portraits tell a story.
"Shawn captures both the conformation and emotion, and that is really hard," Beer explains. "People want more than just a reproduction.  They want it to tell them something about the horse.  He does it beautifully with the look in the eye, the tilt of the head." 
FAUST'S PAINTING OF CHAMPION HANSEN
Faust feels blessed and fortunate to be painting his "stable" of living legends. 
"When people walk away from a painting, I want them to experience the same awe that I have for these wonderful animals." 
So by all means, when you get to Saratoga this summer take a ride over to the Gideon Putnam and check out Faust's work. And, no, I don't get a commission.