Pedulla's Top Moments of the Triple Crown
Image: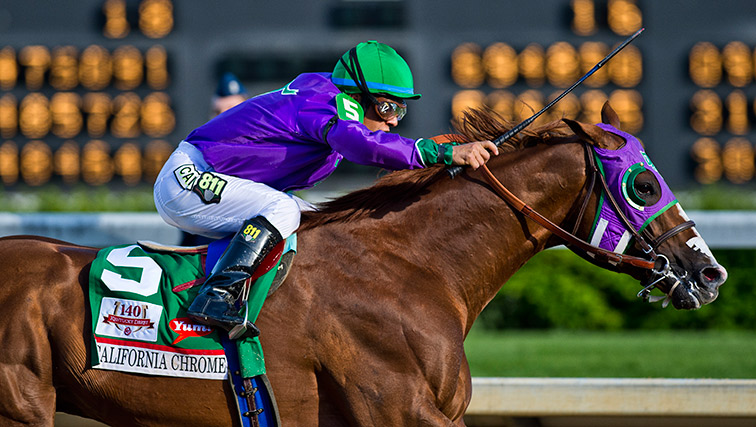 Description:
California Chrome's Kentucky Derby win was one of the highlights of Tom Pedulla's Triple Crown season. (Photos by Eclipse Sportswire unless otherwise noted)
Tom Pedulla took followers of America's Best Racing on the Triple Crown trail with him, beginning with the Fountain of Youth Stakes and the Florida Derby at Gulfstream Park, then traveling to the Blue Grass Stakes at Keeneland and on to the Kentucky Derby, Preakness and Belmont Stakes. He shares his 10 favorite memories from that journey:
MAGNIFICENT DERBY: There is nothing like the Kentucky Derby to bring a horse to national prominence. This year's Run for the Roses placed California Chrome in the hearts and minds of even casual racing fans throughout the country. When he sprinted clear of his foes at the top of the long Churchill Downs stretch, it was a sight to behold.
PREAKNESS ENCORE: The Preakness brought another convincing performance from Chrome. Under intense pressure early, he stayed cool and ultra-responsive to Victor Espinoza. The jockey's heady ride helped make the difference in a 1 ½-length victory against Ride On Curlin.
BELMONT BUZZ: I admit to the bias of a native New Yorker. Major events in my hometown somehow seem bigger than they do when they are held elsewhere. From Brooklyn to the Bronx, it was cool to feel the buzz in the city surrounding Chrome's Triple Crown bid. As disappointing as it was to see Chrome fall short, he was in position to win. I do not believe anyone went home believing he or she had not witnessed a great event while having a blast.
UP CLOSE AND PERSONAL: To be anywhere near Chrome is to stop and stare at him and admire his magnificence. His gleaming chestnut coat speaks of the health and vigor within. His chrome – those white socks and that striking white blaze – make an unforgettable picture. He is as striking as they come.
APPRECIATING TONALIST: As much as the spoiler of a Triple Crown bid tends not to be appreciated, Belmont winner Tonalist deserves better treatment than that. To win the Grade 2 Peter Pan in his fourth career start and then the Belmont in his first stab at a Grade 1 race speaks volumes about his ability. It will be fun to monitor his progress.
"BRONCO BILLY:" As much as reporters try to stay impartial, it is impossible not to want to root for "Bronco Billy" Gowan, whose Preakness runner-up Ride On Curlin is among four horses he trains. He and his wife, Tracy, are as hands-on with their horses as can be. In a landscape that tends to be dominated by massive operations, there is much to admire about their small, loving operation.
TWICE A RUNNER-UP: It is hard to imagine what it must be like to place second in consecutive years in the Kentucky Derby. That is the fate of trainer Dallas Stewart, who watched Golden Soul and Commanding Curve be second best in the Run for the Roses each of the last two years. To Stewart's credit, he is quick to say, "It is up to me to get the job done."
CASTELLANO'S STORY: One of the great perks of being a sportswriter is the opportunity to interview high-profile athletes. The pleasure was mine recently when I had the opportunity to sit down with Javier Castellano for an article that ran in the Belmont Stakes program. He told me of the death of his father, Abel, after a robbery attempt in their native Venezuela in 2000 and how the memory of Abel has taken him to great heights. "When I win these big races, I always think about him," Castellano said. "No words can ever describe how proud my father would be."
TOUTING COMMISSIONER: When an ESPN radio interviewer sought a live longshot in the Belmont, I gave him the name of Commissioner, who missed by a desperate head against Tonalist. The opinion was based on time spent with WinStar Farm's Elliot Walden after Commissioner ran a disappointing sixth in the Fountain of Youth Stakes at Gulfstream Park in late February. Walden remained confident in the son of A.P. Indy, who went on to nab second in the Peter Pan as a prep for the Belmont. Like Tonalist, he is a 3-year-old worth watching.
FUN WITH FILLIES: The Grade 1 Ogden Phipps, part of the rich Belmont Stakes undercard, brought together a rare group of fillies headed by the trio of Beholder, Princess of Sylmar and Close Hatches. Sure enough, the three of them dueled in the stretch with Close Hatches toppling Beholder after placing second to her in the Breeders' Cup Distaff last autumn at Santa Anita Park.