Belmont Stakes Sets Milestones for NBC Sports
Image: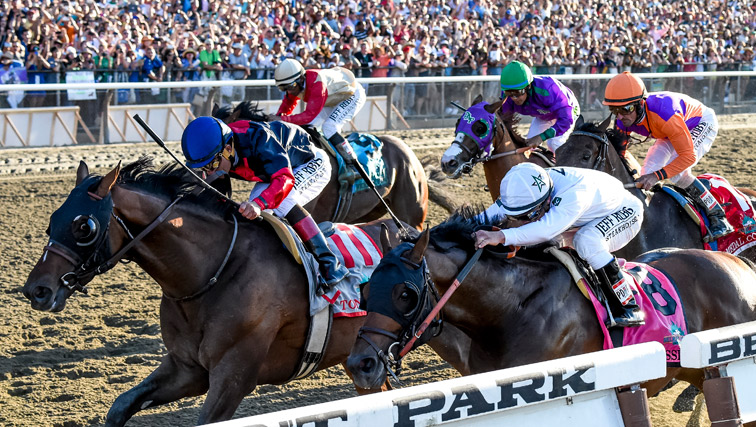 Description:
Photo by Eclipse Sportswire
Edited press release
Dubbed NBS Sports' "Championship Saturday", the Belmont Stakes registered as a milestone for NBC Sports.
According to NBC, the Belmont Stakes, which featured California Chrome's attempt to win the Triple Crown, averaged 20.6 million viewers. The broadcast was the second-highest Belmont Stakes viewership on record, coming in behind the 21.9 million viewers who tuned in to watch Smarty Jones attempt at the Triple Crown in 2004.
The 2014 Belmont Stakes was also the most-watched weekend sporting event since the February 16 Sochi Winter Olympics telecast. Some other stats from NBC about the Belmont Stakes telecast:
*   The 2014 Belmont Stakes (6:23-7:15 p.m. ET) topped by 57% the average viewership for the last Belmont in which a Triple Crown was at stake (13.1 million on ABC in 2008 for Big Brown).
*   NBC's Belmont Stakes registered a 12.0/27 household rating – a 46% increase over the 8.2/20 for ABC's Big Brown telecast in 2008, and ranking as the third-highest rated Belmont since Seattle Slew won the Triple Crown in 1977. NBC's telecast of Smarty Jones' bid in 2004 registered a 13.1/29, and CBS' coverage of Pleasant Colony's Triple Crown attempt in 1981 posted a 12.6/36.
*   NBC's 4.0 rating among Adults 18-49 ranked as the highest in the demographic since the 2004 Belmont Stakes, and tied the 2003 Belmont as the second-highest in People Meter history.
*   NBC's Belmont viewership and rating increased by 194% and 167% respectively over the 2013 race won by Palace Malice (7.0 million viewers and 4.5/11 HH rating).
*   Locally, Belmont Stakes ratings increased in 53 of 56 metered markets vs. the last Triple Crown attempt in 2008, and were up in all 56 metered markets vs. the '13 telecast.  The New York market, the home of the Belmont Stakes, registered a 15.8 rating/37 share which ranks as the second-highest ever in the market behind only Smarty Jones' attempt in 2004 (20.5/38).
*   Fans live streamed 6,798,019 million minutes of the Belmont Stakes on NBC Sports Live Extra a record for any horse race streamed by NBC Sports Digital. Coverage included an isolation camera on California Chrome, bonus analysis from NBC Sports commentators, and replays and footage from the Kentucky Derby and Preakness Stakes. The Belmont Stakes was watched by 389,680 unique viewers.
Not surprisingly, Louisville, Ky. was the top metered market for the Belmont Stakes with three cities tying for second. Baltimore, where the Preakness Stakes is held was ranked fifth.