Stewards Suspend Delaware Trainer 90 Days
Image: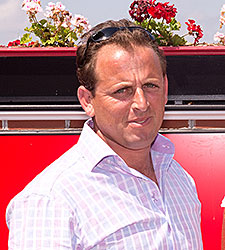 Description:
Trainer Juan Vazquez, who witnesses say was involved in a scuffle June 23 involving jockey Trevor McCarthy at Delaware Park, was suspended for 90 days by the track's stewards on June 26.
In a decision released by the stewards Thursday, Vazquez also was fined $2,500. His suspension is to begin June 29 and run through Sept. 26, 2014. During that time, the stewards have required Vazquez to complete an anger management program.
Vazquez, who also holds an owner license, leads all trainers at the current meeting with 14 wins and he ranks second in earnings at $205,552.
According to John F. Wayne, executive director of the Delaware State Racing Commission, there was a scuffle involving Vazquez and McCarthy as the jockey stepped off the scales in the winner's circle following the fourth race June 23.