Seven Ideas to Spice Up Your Trip to Monmouth
Image: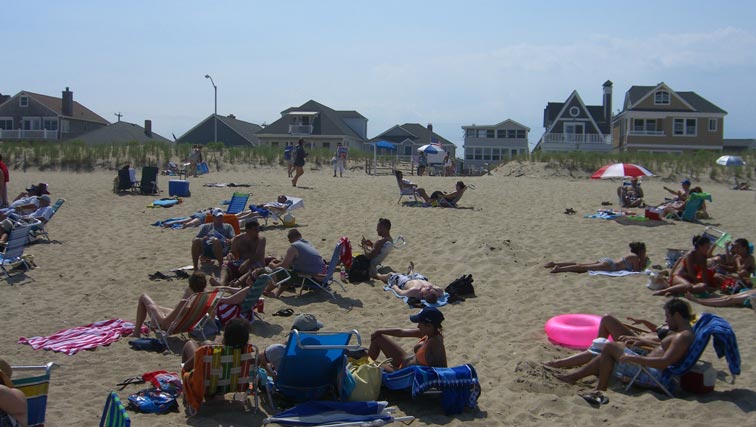 Description:
Be sure to take a day to visit the beack on your trip to Monmouth Park. (Photo by WikiMedia Commons)
Monmouth Park is a destination racetrack for a number of reasons.
The track is aesthetically magnificent - from the jaw-dropping sand sculpture just beyond the turnstiles to the quaint paddock that often is surrounded by fans of all ages. The grounds are absolutely immaculate and there's a constant breeze that makes you want to just take a deep breath in and exhale with glee.
That breeze brings with it an unmistakable - and strangely irresistible - saltiness from the ocean and the sand at the beach just minutes away from this jewel of a racetrack.
I love Monmouth Park so much, and I often tell people a story that demonstrates my long-term affinity for the track. The story is about me enrolling in summer classes at Monmouth University - while home from college at Syracuse University - just so that I could justify going to and, eventually, working the concession stands at the track.
Seriously, the track is that awesome.
But apart from the action at Monmouth Park, there are any number of activities in the communities surrounding the track that make it the perfect destination for a weekend getaway.
If you're planning on coming out (and why wouldn't you?), I've put together a short list of places to visit and things to see in New Jersey when you're in for United Nations Stakes or Haskell Invitational Stakes weekend in late July. I have to give a big shout out to my friend Patrick Masterpalo, a lifelong Monmouth-area resident and a huge racing fan, for suggesting many - OK, most - of the items on the list below. 
1. The Beach
This one is sort of a no-brainer. If you happen to be doing anything that brings you to within a 5- minute drive of a beach, you go to the beach. I've always found a day at Monmouth Beach to be extremely relaxing. There's also plenty to see strolling the boardwalk or walking down Ocean Ave.
2. Stone Pony
One of the many attractions in nearby Asbury Park, the Stone Pony is one of the most well known musical venues in the world. Jersey legends like Bruce Springsteen and Jon Bon Jovi got their start there, and the Stone Pony consistently draws top headliners. On July 25, the Friday before the Haskell, the Stone Pony hosts the "Under the Sun Summer Tour" featuring acts like Sugar Ray, Smash Mouth, Blues Traveler and Uncle Kracker.
3. Golfing at Old Orchard
Whether you're an early riser or enjoy getting in a late afternoon round, Old Orchard Country Club in Eatontown is a spot to check out. The course spans some 6,670 yards and is absolutely gorgeous. Old Orchard has been around since 1929 and delivers a nice mix of classic and modern features in its aesthetic layout. Rates are approachable, starting at $20 for 9 holes after 3 p.m. 
4. Pier Village
If you like to shop or simply walk around and window shop, Pier Village in Long Branch is a must. In addition to the shops, there are several great spots to grab a bite in Pier Village, including Michael Angelos Pizzeria, Bite Your Belgian and Red Mango. Plenty to see and a lot to do here, conveniently located right near #6 on the list ... 
5. Oceanfest
Considered one of the largest Fourth of July celebrations in the state of New Jersey, Long Branch's Oceanfest features artistic and musical performers, games for kids and, of course, a massive fireworks show. If you're coming in for the United Nations on July 6, Oceanfest makes a good enough excuse to extend the trip into a 3-day weekend visit, especially if you're traveling with kids.
6. Barnacle Bill's
This restaurant was rated one of the best in Monmouth County by Yelp. And while it's credited with having one of the tastiest burgers in the area, Barnacle Bill's is perhaps best known for it's plate of Steamers, or clams. Go ahead and Google photos of their food. Warning: You'll soon be extremely hungry.
7. More Great Eats
Listing just one spot wouldn't be nearly enough. The beauty of the area is that there are a ton of incredible dining spots right on the water. My friend Patrick was good enough to send me an entire list of can't-miss oceanfront eats. The list includes Sirena (Italian), Avenue (French), McLoone's Pier House (American), Rooney's (seafood) and Charley's (seafood/steaks).